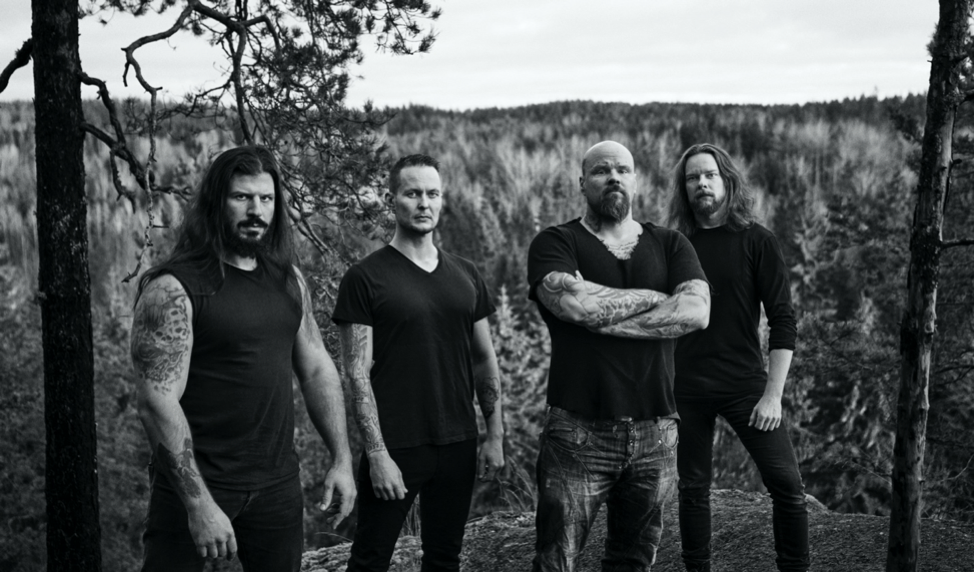 North American Tour Dates Rescheduled – See Below!

Exclusive Virtual Concert Announced Due to Tour Postponement

CLICK HERE

to Buy Tickets

Wolves Of Karelia out April 10, 2020 via Napalm Records | Pre-Order

NOW

!
Finnish heavy melodic death metal unit WOLFHEART recently announced the upcoming release of their new full-length Winter War epic, Wolves Of Karelia, out April 10, 2020 via Napalm Records.
Today, WOLFHEART has revealed another fantastic offering cut from Wolves Of Karelia, entitled "Hail Of Steel". The track signals oncoming war with an ocean-like wave of rhythm and hair-raising guitars, cascading into an extreme, melodic wall of blastbeats and symphonics. Accented by piercing clean vocal harmonics and pummeling double bass, the track sets the grand stage for the entire album. The new music video is equally as searing – a fiery performance fitting for the epic track.
WOLFHEART frontman Tuomas Saukkonen says about the track and video:
""Hail Of Steel" is an embodiment of the fierce chaos of war. The Finnish army had 32 tanks against 3000 Russian tanks, 114 planes against 3800 Russian planes, three times bigger troops, etc., so those Fins really saw steel and fire raining from the sky."
Watch the official music video for "Hail Of Steel"
HERE
:
Just as wildlife itself maintains harmony with a violent clash of beauty and unpredictability, Wolves Of Karelia explores the band's previously coined genre of "winter metal" – smoothly bridging a traditional approach of extreme genres while maintaining atmospheric and acoustic elements. Listen to another new single, the forlorn ode "Ashes",
HERE
.
The album's lyrical and musical content is inspired by the Winter War waged between Russia and the band's native country, Finland, which took place during the winter of November 1939-March 1940. Finland ultimately managed to stop the Russian troops from invading their country. WOLFHEART mastermind and frontman Tuomas Saukkonen was inspired by the personal stories of local veterans, conveying the tales of what they experienced and survived from their perspectives. Somber, frostbitten and heroic, Wolves Of Karelia portrays these tales with stunning musical precision.
Wolves of Karelia Tracklist:
1. Hail Of Steel
2. Horizon On Fire
3. Reaper
4. The Hammer
5. Eye Of The Storm
6. Born From Fire
7. Arrows Of Chaos
8. Ashes
Wolves of Karelia will be available in the following formats:
– 4 Page Digipack
– Digital Album
– Shirt & Digipack
– Black LP Sleeve
– Silver LP Sleeve – limited to 100 copies
Pre-order Wolves of Karelia
NOW
!
In response to the unfortunate but necessary rescheduling of their 2020 North American Devastation on the Nation tour dates, WOLFHEART recently announced an exclusive virtual concert experience! The performance is being pre-taped at the Finlandia Klubi in Lahti, Finland and will provide fans with an absolute rager of a concert without anyone having to leave the comfort and safety of their own homes.
The purchase of a virtual ticket will grant access to a full HD pro-mixed multicam video of the entire set, a Q&A video and a bonus full gear overview video, to be delivered on April 9, 2020. To learn more and to purchase your "ticket" to this exclusive virtual WOLFHEART concert,
CLICK HERE
.
WOLFHEART Rescheduled 2021 North American Tour Dates:
Devastation on the Nation tour
w/ Rotting Christ, Borknagar, Abigail Williams and Imperial Triumphant
2/11 – Berkeley, CA – Cornerstone
2/12 – Portland, OR – Bossanova Ballroom
2/13 – Vancouver, BC – Rickshaw Theatre
2/14 – Seattle, WA – El Corazon
2/16 – Salt Lake City, UT – Metro Music Hall
2/17 – Denver, CO – The Roxy Theater
2/18 – Kansas City, MO – The Riot Room
2/19 – Minneapolis, MN – Skyway Theatre
2/20 – Chicago, IL – Reggies
2/21 – Detroit, MI – Sanctuary
2/23 – Toronto, ON – Mod Club
2/24 – Montreal, QC – Foufounes Electriques
2/25 – Quebec City, QC – Le D'Auteuil
2/26 – Manchester, NH – Jewel
2/27 – Brooklyn, NY – Saint Vitus Bar
2/28 – Baltimore, MD – Ottobar
3/02 – Pittsburgh, PA – Spirit Hall
3/03 – Lexington, KY – Cosmic Charlies
3/04 – Asheville, NC – The Grey Eagle
3/05 – Birmingham, AL – Zydeco
3/06 – Tampa, FL – The Orpheum
3/07 – Atlanta, GA – The Masquerade (Hell)
3/08 – Houston, TX – White Oak Music Hall
3/09 – Fort Worth, TX – Rail Club Live
3/10 – Austin, TX – Come and Take It Live
3/11 – El Paso, TX – Rockhouse Bar
3/12 – Phoenix, AZ – Club Red
3/13 – San Diego, CA – Brick By Brick
3/14 – Los Angeles, CA – 1720
WOLFHEART is:
Tuomas Saukkonen: Guitar, Vocals
Joonas Kauppinen: Drums
Lauri Silvonen: Bass, Backing Vocals
Vagelis Karzis: Session Guitar
More info: