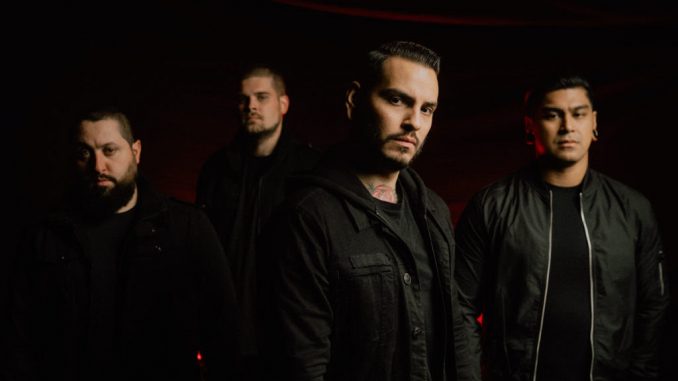 And Streaming Via Entertainment One / Good Fight Music
[photo by Chris Klumpp]
View / Share WITHIN THE RUINS' "Devil In Me"
HERE
.
Today marks the official unveiling of Black Heart, the latest studio album from progressive deathcore faction WITHIN THE RUINS, out now on Entertainment One (eOne) / Good Fight Music.
In celebration of the record's release, the band is pleased to unveil a video for "Devil In Me." Comments vocalist Steve Tinnon of the disquieting clip, "We're extremely excited to release the video for 'Devil In Me!' The concept for this was something new for the band, and we all stepped out of our comfort zone a little bit to make it happen, but we're very happy with how it turned out! The idea was to visually bring to life most of the lyrics in the song and tell the story of what it's about. I wanted the viewer to not only hear, but see, the transformation I'm referring to, and understand the metaphors in the track. It was fun to be able to tell the story without a lot of musical performance to push it along, and we've been eager for everyone to see it!"
Vicious, unrelenting, and hyper-focused, on album number six, WITHIN THE RUINS hammers home ten songs of sheer terror with an unforgiving mandate to destroy. Combining the breakneck precision of classic slabs like Invade and Elite with the unrestrained raw aggression of Halfway Human, Black Heart emerges from the most extended space between records with remarkable urgency and energy.
Black Heart is available on CD, LP, and digital formats. For ordering options, visit
THIS LOCATION
.
Born and bred in the same heavy metal fertile Northeast soil as New Wave Of American Heavy Metal progenitors Killswitch Engage and All That Remains, WITHIN THE RUINS charted their own course in the genre, offering a unique take on familiar ingredients: the dark sounds of classic death metal, the technical melodicism of Scandinavia, and the precision staccato crunch of Meshuggah. In contrast to much of the genre, they maintain an emphasis on the songs over the shred. Showmanship and diversity coexist, smartly sidestepping contrived or predictable sonic choices.
Vocalist Steve Tinnon arrived for his full-length debut with a mountain of things to get off his chest, screamed throughout Black Heart with both intensity and dexterity. He previously fronted another band that included WITHIN THE RUINS bassist/vocalist Paolo Galang, making this version of the outfit a supergroup of sorts, combined with co-founders, guitarist Joe Cocchi and drummer Kevin McGuill. As with previous records, Cocchi produced his parts as well as his bandmates, together with longtime producer, mixer, and mastering engineer Joshua Wickman of Dreadcore Productions.
New powerhouses like "Domination," "Deliverance," "Hollow," and "Outsider" take their place alongside WITHIN THE RUINS anthems like "Gods Amongst Men," "Beautiful Agony," and "Enigma." The group stands tall among their peers in postmodern death metal, technical progressive metal, and the so-called "deathcore" movement, with Gojira like flourishes of color and meditation. Indeed, WITHIN THE RUINS represents the pinnacle of possibility when a band keeps their feet firmly rooted in the foundations of modern death metal, chews upon tidbits of classic thrash, and all the while reach upward to grasp toward new creative heights of their own design, with hunger and skill.
"Few of us will ever know the ecstasy and freedom of being as amazing at something — anything – as the players of WITHIN THE RUINS are at locking down twisty riffs, odd time signatures and jittery, tight-as-fuck riffage." – Decibel Magazine
"WITHIN THE RUINS have very much developed a sound over the years – the guitar blips and bloops, weedily-weedilies and lots of hard stops – and that sound is perfectly intact, worry not. Tinnon… sounds absolutely monstrous here, doing that trademark sound justice." – MetalSucks
"If you've ever wondered what it would be like to lay waste to a helpless alien civilization with just your bare hands, then the new WITHIN THE RUINS record, Black Heart, is for you… a solid record that is chock-full of blistering riffs and immense groove, embellished with many atmospheric tapping lines and licks." – Everything Is Noise
"…one of the best deathcore and djent albums of the year from a band that consistently brings the best riffs in the deathcore genre." – Metal Trenches
"The undisputed kings of crossover metal are back… the instruments aren't as much played as they are wielded like weapons… Each track flies by in a blur of energetic and manic noise with unbelievable technical flair and melodic touches that give it some extra drama." — GBHBL.com
"So good… straight up guitar porn. This is just fun riffage…" – Metal Birb on "Deliverance"
"WITHIN THE RUINS have always produced the kind of high-flying, furious fretwork-laden metal that ends up being very appealing, so this is one you should be anticipating…" – The New Fury
"WITHIN THE RUINS is back and delivers all out intensity with their new vocalist and their insane guitar shredding… Pure technical excellence." – Heavy New York
"This band is pushing the boundaries and truly adding something new to the genre. If you love hardcore metal and have been waiting for that record… that new heavy, spine-tingling sound that makes you want to jump up out of your chair and thrash everything in your house… this is it." – Brutal Planet