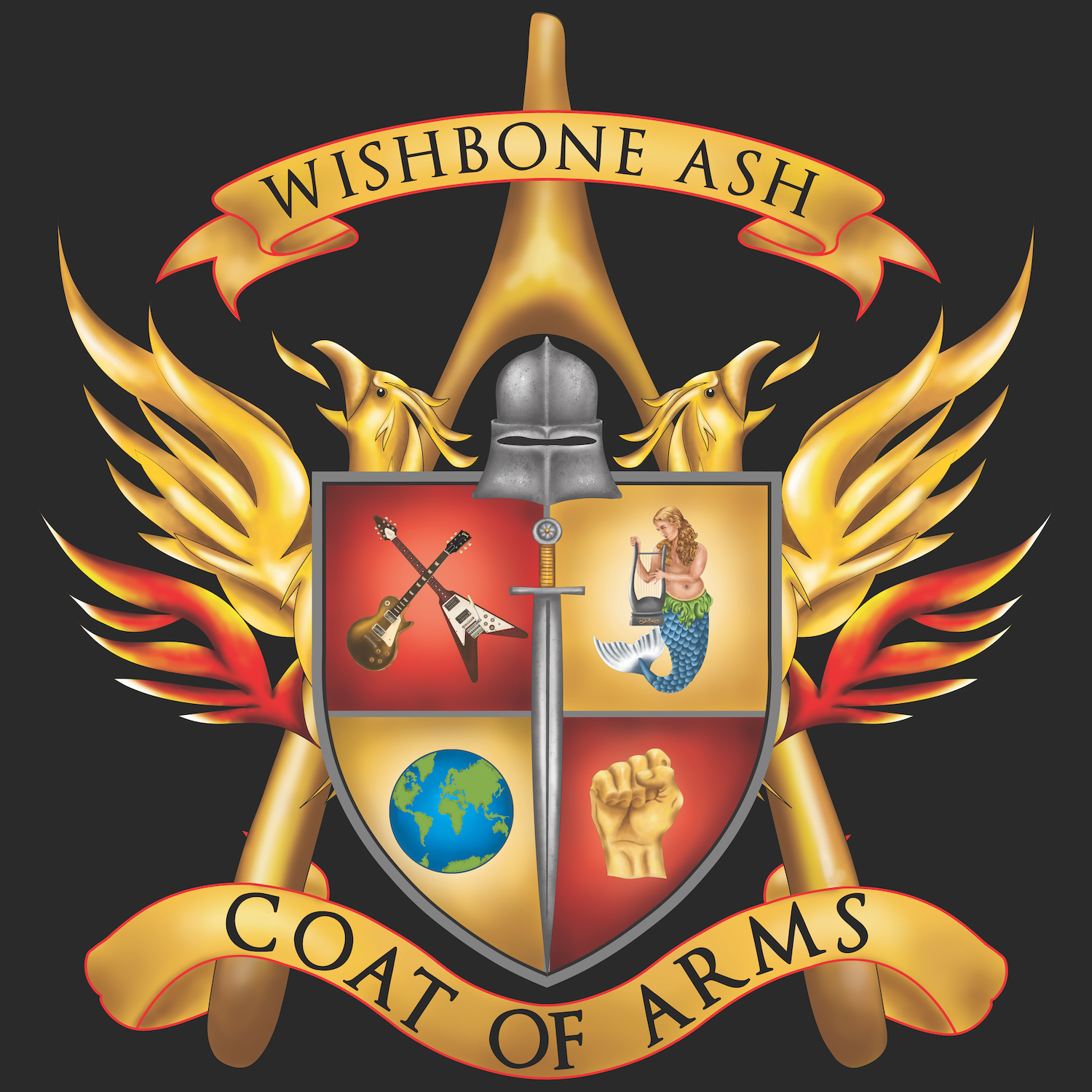 Coat of Arms – a shield with symbols and figures that represent a family, person, a group or other organization. (YourDictionary.com)
In medieval times, a coat of arms identified warriors in battle. Today it represents the most important aspects of something. It is the visual representation of its bearer; a graphical description of the fundamental characteristics of the person or thing.
Rock band Wishbone Ash releases their latest work, COAT OF ARMS on February 28, 2020. I don't speak for the band or their label, Steamhammer/SPV, but if you take a look at the symbols included in their cover art coat of arms, you'll see the symbology included accurately represents both the band's history and future.
Let's start with the two phoenixes representing renewal and rebirth. Wishbone Ash has been around for 50 years since the release of its debut album, self-titled Wishbone Ash (1970). No band can hold that kind of staying power without learning to reinvent itself while staying true to the sound that fans love. Andy Powell, guitarist and vocalist, states, "On the one hand as a composer you try to not to repeat yourself in your creative output but….on the other hand you want to remain faithful to your style."
The other symbols on their coat of arms, twin lead guitars, a mermaid symbolizing eloquence, the fist of strength, a globe of community; all represent the band and this latest release perfectly. Deep emotions of reflection and lost love, global concerns of tragic wildfires and global climate changes, unparalleled guitar hooks, gritty melodies and creative harmonies make this release worth the listen and then some.
The lead in, "We Stand As One" begins with a classic rock beat, but highlights the guitar-steeped style from the start. There's more spectacular guitar work in follow up song, title track, "Coat of Arms", but this time with less rock and more roll with a tumbling tune that ambles along until it kicks in with a bluesy back beat that gets your groove in gear.
"Floreana" slows it down with a ballad carried as much by the guitar as the vocals. After a laid back "Drive", the melancholy 'It's Only You I See" calls the emotions of lost of love. "Too Cool For AC" and "Back In The Day" definitely have a 'throwback feel before the gentle and hypnotic melody of "Consider Me Now". "When the Love Is Shared" sneaks in a few more guitar licks, then the album wraps it up with "Personal Halloween" which Powell terms "sleazy-funky flair".
If you like your rock a little hard, a little old school, and timeless with a nod to both tradition and modern styles, check out Coat of Arms from Wishbone Ash, releasing on February 28, 2020 from Steamhammer / SPV. It's a new release polished with all the tradition 50 years of experience can bring.
Video: We Stand As One
Wishbone Ashe is: Andy Powell – guitar, vocals Mark Abrahams – guitar Bob Skeat – bass Joe Crabtree – drums
Tracklisting:
01 – We Stand As One
02 – Coat Of Arms
03 – Empty Man
04 – Floreana
05 – Drive
06 – It's Only You I See
07 – Too Cool For AC
08 – Back In The Day
09 – Consider Me Now
10 – When The Love Is Shared
11 – Personal Halloween