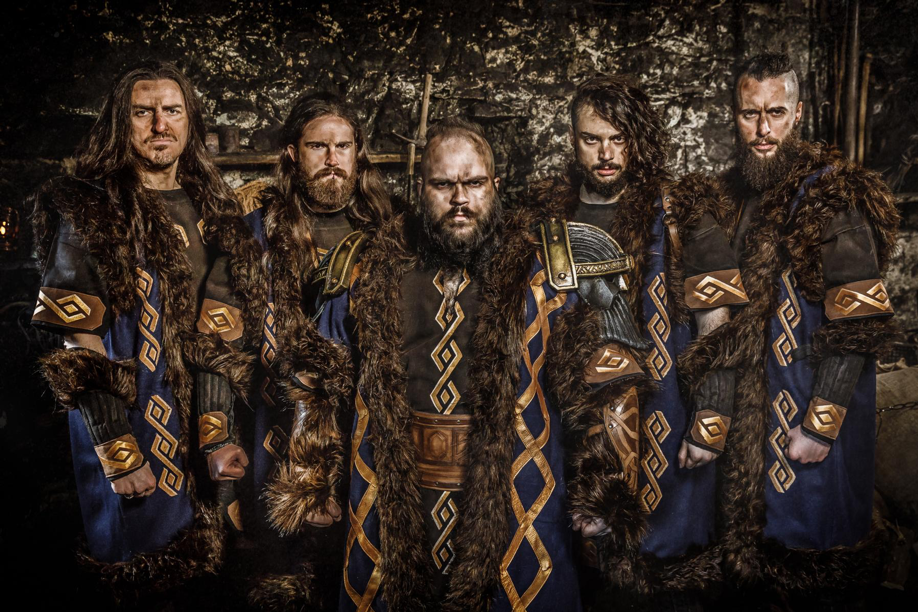 Dwarven Army WIND ROSE add another chapter to their epic, story-filled new album, Wintersaga, by releasing "Drunken Dwarves" today via Napalm Records. The track follows the release of their popular first single, "Diggy Diggy Hole", which recently crossed five million views on YouTube. "Drunken Dwarves" talks about exactly what the name suggests: drunken, mead-filled nights, starting a tavern brawl, and singing and partying until they fall (asleep, hopefully).
WIND ROSE on "Drunken Dwarves":
"WHAT IS BETTER THAN A DWARF??!
A DRUNKEN DWARF!
You sang, you danced and you drank all over Europe on this song with us, now your request has been heard and answered.
"Drunken Dwarves" will blow you away among rivers of beer, mead and metal!"
The new video takes us to a tavern in Middle Earth where our favorite dwarven army is giving a concert in a small, rustic tavern with many spectators. In true dwarf-fashion, they feast, drink and enjoy the concert, but behold – an old enemy nears. Will he be accepted into the midst of the dwarves to be able to enjoy the concert or will his story end quite differently? Find out for yourself and join the dwarven party!
Watch "Drunken Dwarves"
HERE
:
Wintersaga will be released on September 27, 2019 via Napalm Records. Be prepared for epic songs, heavy riffs and an overall stunning setting!
Wintersaga is available for Pre-Order
HERE
!
The new album, Wintersaga, is available in the following formats:
· Regular Jewel Case Edition
· 1 LP Gatefold (black)
· 1 LP Gatefold (gold) – strictly limited to 200 copies
· Wooden Deluxe Box: CD, flag & pendant & 7" Single – Limited to 300 copies
"We don`t write songs, we smith them against the anvil." And that`s power metallers WIND ROSE in a nutshell! The five-piece that started out in Pisa, Italy in 2009 is no secret to genre connoisseurs thanks to three well-received albums and tours with Wintersun, Ensiferum and many more. But now their big moment in the spotlight has come – WIND ROSE are ready for the final breakthrough with Wintersaga! They have perfected their mixture of heroic steel and folky, mead-drenched anthems in the meantime: party tunes don`t get better than "Drunken Dwarves". Seriously. Counterbalance arrives in shape of epic power metal anthems like "The Art Of War"or "We Were Warriors", carefully treading the fine line between neck-breaking riffing and dramatic orchestration. A highly entertaining and unforgettable ride over mountains, snow and ice!
Catch the dwarven army WIND ROSE live in the following cities:
w/ Gloryhammer, Beast In Black
18.10.19 UK – London / Heaven – SOLD OUT!
19.10.19 UK – Manchester / Club Academy – SOLD OUT!
20.10.19 UK – Bristol / Swx
22.10.19 UK – Birmingham / The Mill
23.10.19 UK – Nottingham / Rescue Rooms – SOLD OUT!
24.10.19 IE – Dublin / Academy
25.10.19 UK – Glasgow / Slay – SOLD OUT!
26.10.19 UK – The Mighty City Of Dundee / Church – SOLD OUT!
w/ Gloryhammer, Nekrogoblikon
17.01.20 DE – Hamburg / Große Freiheit – MOVED FROM GRÜNSPAN
18.01.20 DE – Oberhausen / Turbinenhalle II
19.01.20 BE – Antwerp / Trix
21.01.20 DE – Saarbrucken / Garage
22.01.20 DE – Berlin / Festsaal Kreuzberg
23.01.20 DE – Nuremberg / Hirsch
24.01.20 DE – Stuttgart / LKA Longhorn
25.01.20 DE – Munich / Backstage
26.01.20 NL – Leiden / Gerb De Nobel
28.01.20 FR – Paris / Trabendo
29.01.20 FR – Toulouse / Le Metronum
30.01.20 ES – Madrid / Mon
31.01.20 ES – Barcelona / Razzmatazz 2
01.02.20 FR – Lyon / Ninkasi Kao
02.02.20 IT – Milan / Legend
04.02.20 DE – Hanover / Musikzentrum
05.02.20 DE – Frankfurt / Batschkapp
06.02.20 AT – Vienna / Szene
08.02.20 DE – Leipzig / Hellraiser
WIND ROSE are:
Francesco Cavalieri – vocals
Claudio Falconcini – guitars
Federico Meranda – keyboards
Cristiano Bertocchi – bass
Federico Gatti – drums
More info: