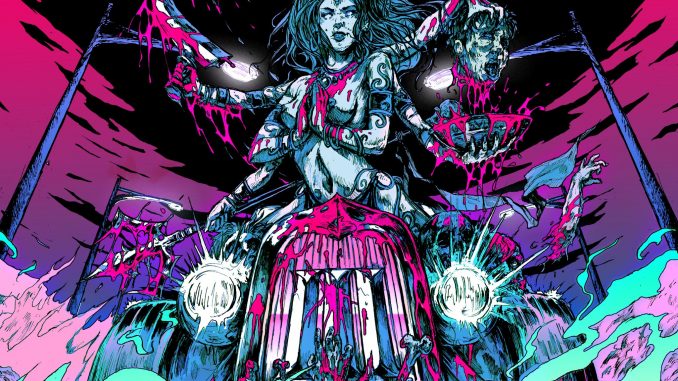 New York City's Wildstreet will release their long awaited album simply titled III on Friday, June 25 through Golden Robot Records.
The album will be Wildstreet's third overall release but first through Golden Robot Records.
The band's approach to the release was a tad different though. The album contains eight tracks total. All but one of the tracks has seen the light of day via video singles starting in 2017. With the release of the videos, Wildstreet has been building a following in America and across the Atlantic.
"Tennessee Cocaine," released via video in 2019, gets the III party underway followed by "Three Way Ride." Quickly the listener will recognize Wildstreet's knack for fist raising choruses accented by that rock attitude.
The momentum quickly established continues with "Set it Off" and then 2020's "Still Love You." It's a song that can rule the airwaves of Music Television, that is if music was still played. Make no mistake, it's a track that will bring out the cell lights even in the smallest of venues. If illumination is not available, then PDA may result. It's that type of song with a great chorus that's receiving significant airplay.
Along with its predecessor in the track listing "Set it Off," both have hit a #1 slot in a major US market. An impressive feat for an unsigned band at the time. It's evidence that shows Wildstreet has something going. The release of III proves it and delivers it and that's just the first half of the release.
The second half, tracks five through eight maintain the rock anthem vibe Wildstreet has delivered with III.
"Midnight Children," "Born to Be," "Raise Hell" and "Mother," see Wildstreet branching out a bit. Whether the brisk, 3:00 "Raise Hell" or the creepy and seductive track "Mother," Wildstreet just doesn't write party material. Seeing "Mother" live should be a visual experience.
As for touring, Wildstreet is a band that helps to define "road dogging" and work ethic and the results show.
The band hits the road for 26 dates starting Wednesday, July 7 in Brookly for the Kings of the World Tour. Major cities are including in the tour routing which concludes Sunday, August 8 in Hanover, MD.