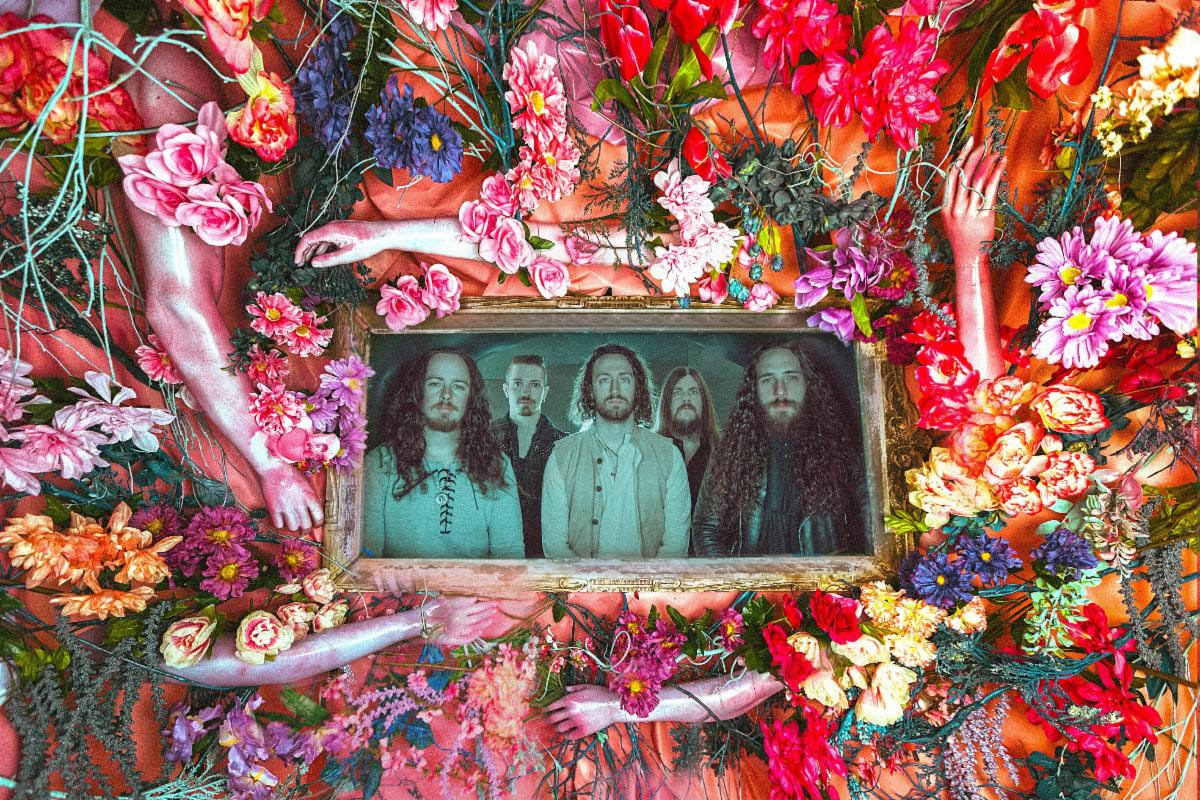 "Veil of Imagination" Available November 1
Epic progressive metal band WILDERUN has revealed the third single, "'O Resolution!," from their upcoming album Veil of Imagination, out this Friday, November 1.
Says vocalist/guitarist/pianist Evan Berry, "'O Resolution!' really showcases the bombastic, symphonic side of the album. We wanted this song to fuse together the band and orchestra in an even more seamless way than past songs, giving it more of a 'wall-of-sound' feel, rather than having the different sonic textures clearly separate. This track displays a lot of the different elements found on Veil of Imagination in a fairly concise presentation."
With elements of progressive metal, folk and orchestral music providing a dynamic backdrop, Veil of Imagination takes listeners through vivid, emotional landscapes, while the lyrics weave tales that are simultaneously fantastical and personal.
"Lyrically, this song is about the inescapable human tendency to need all things in life to come to some sort of resolution," Berry adds. "I've noticed in my own life how difficult it is to let ambiguous and ever-changing things just be, always attempting to find some sort of conclusion or ending, whereas I think a lot of life's contentedness is found in the acceptance of the unsolved and the unknown. I titled it as such as a way of presenting the concept of 'resolution' as some sort of cosmic deity, in a weird way, considering it controls so much of why we act as we do, and possibly why we suffer."
Formed in 2012, WILDERUN has previously released two albums, 2012's Olden Tales & Deathly Trails and 2015's Sleep at the Edge of the Earth. With this slightly different approach to creating music, Veil of Imagination transforms and expands upon WILDERUN's already indefinable style, resulting in an album that is at once beautiful and fierce. Clean vocals transform into deathly growls as the band alternates between exquisitely-composed orchestrations and savage metal, all executed with technical prowess.
Veil of Imagination is a stunningly epic, emotional and whimsical odyssey through landscapes of earth and mind.
WILDERUN has scheduled select live dates around the release of Veil of Imagination.
WILDERUN tour dates:
11/1/19 ­ Rochester, NY @ The Montage Music Hall
11/2/19 ­ Baltimore, MD @ The Depot
11/3/19 ­ Philadelphia, PA @ Connie's Ric Rac
11/7/19 ­ Hamden, CT @ The Cellar on Treadwell
11/8/19 ­ Florence, MA @ 13th Floor Music Lounge
11/9/19 ­ Cambridge, MA @ The Middle East Upstairs
"Their third and latest album, the kaleidoscopic concept record Veil of Imagination, due November 1st, fuses clean vocals and death growls to densely woven instrumentation that embraces elements of extreme metal, folk and orchestral music in a way that evokes classic
Opeth
but never stoops to mere homage."
–
Revolver
"This is the kind of album that will resonate with you long after its last tone has gone silent. Wilderun show how songs that are truly progressive and full of emotion at the same time are supposed to be written. The music is composed, performed and arranged with great skill and taste…" – Metal Temple
"Nowhere to be found in 'Veil of Imagination' is a predictable moment, but instead one may find a constantly rolling wave of intrigue and curiosity, a desire to discover which direction the ever-changing mood will then turn to. Each piece fits together seamlessly, transitioning from guitars to symphonic tracks, blending them together in unparalleled harmony, and then diverging again." – Sonic Perspectives
WILDERUN is:
Evan Anderson Berry ­ – Vocals, Guitars, Piano
Dan Müller – Bass, Synths, Orchestrations
Jon Teachey -­ Drums
Joe Gettler ­- Lead Guitar
Wayne Ingram – Orchestrations
WILDERUN online: