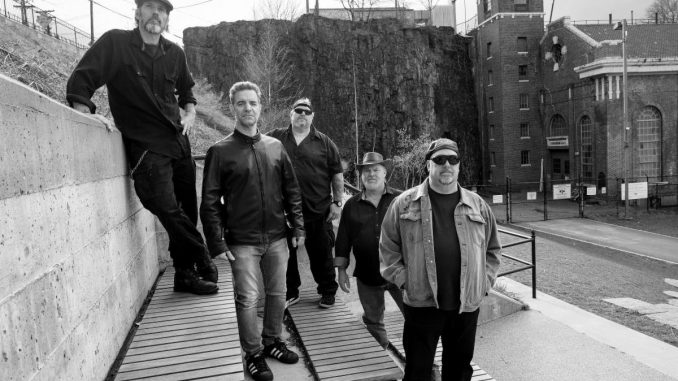 New Jersey hard rock quintet WHO ON EARTH is back with another hard-hitting single and video from their forthcoming debut album, 'Blame', due out this fall. The new track, titled "On The Brink", delivers a potent combination of earth-moving vocals, guitar virtuosity, powerful bass, and thunderous drums that have seemingly been lost in the modern-day shuffle!

Speaking about the lyrical themes behind "On The Brink", bassist Pete Rizzi says:
"It is sung from the perspective of anybody who is in the middle to lower class. It's the 99% of the population who are constantly bombarded with fake news, manipulated media, misleading advertising, and inflation. Trying to make ends meet is becoming more difficult and depressing. We do the best we can, despite all of these factors working against us, while reminding ourselves that friends and family are what matter the most."

Inspired by the NWOBH and classic rock acts of the past, Who On Earth is comprised of Coosh (vocals), Pete Rizzi (bass), Joe D' Aqui (drums), Steve Eagle (guitar), and Rob Damms (guitar), with the band slated to release their debut LP, 'Blame', later this year. The album was produced, engineered, mixed, and mastered by guitar virtuoso Mike Orlando (Adrenaline Mob) at his Sonic Stomp Studio in NY. Orlando also contributed his incredible skills as a guest guitarist on the record.

For more WHO ON EARTH, the band is playing at Orange Loop Rock Festival in Atlantic City, NJ TOMORROW (June 11). For more details, visit orangelooprockfest.com.
About WHO ON EARTH:

Somebody needed to pick up the torch for hard rock and heavy metal with real grit and gusto and without a gimmick. Enter Who On Earth. The New Jersey quintet— Coosh [vocals], Pete Rizzi [bass], Joe D'Aqui [drums], Steve Eagle [guitar], and Rob Dams [guitar]—deliver a one-two punch of hard-hitting hooks and airtight instrumentation bolted down by pummeling grooves and piercing riffs. With virtuoso guitarist and producer Mike Orlando [Adrenaline Mob, Noturnall] in their corner, the musicians pay homage to rock's past as they usher in its future on their independent full-length debut, Blame.

It all gestated from a question…"We wanted to fill in the blank of 'Who On Earth is going to bring back good rock and metal?'," explains Pete. "We grew up on the new wave of British heavy metal and classic rock. We went through grunge and other great genres of metal. We wanted to resurrect the melodies, hooks, and guitar solos. We went back to our roots, yet upgraded everything with modern production."

The group made their bones through countless gigs across the Tristate area in every dive bar and concert hall with a stage. Along the way, Coosh and Pete tore up venues as part of MadHaus, performing marathon covers. In 2021, the longtime friends chose to forego covers, hunker down, and compose an original album. Pete invited Joe D'Aqui—the ever-versatile drummer of his thrash band PIERCED—to join the fold. In order to bring the record to life, the band hit the studio with none other than Mike Orlando. Over the course of the next year, the guys endured numerous COVID delays as they recorded with Orlando behind the board as producer, engineer, and "stunt" guitarist. Nodding to everyone from Black Sabbath, Iron Maiden, and Metallica to Rush, Alice In Chains, and Tool, they placed storytelling in the spotlight.

"Most of our songs are complete stories from start to finish," notes Coosh. "We're talking about our lives."
In the end, Who On Earth fills a void for rock 'n' roll.

"We just tried to write good songs," Pete leaves off. "We've gone back to what we grew up on. It's still valuable and relevant. It can't die."
WHO ON EARTH Lineup:
Coosh – vocals
Pete Rizzi – bass
Joe D' Aqui – drums
Steve Eagle – guitar
Rob Damms – guitar