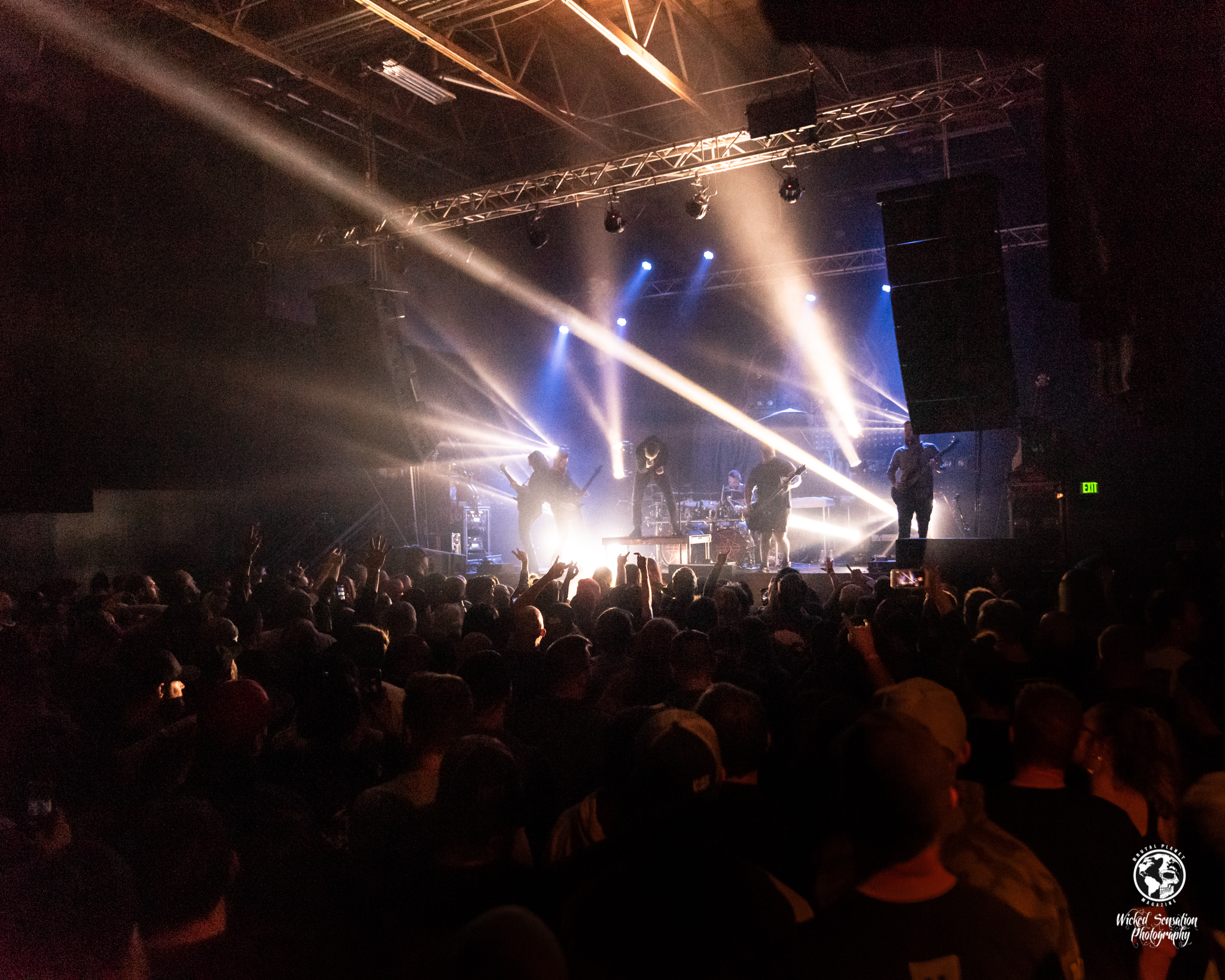 A concert like this is really hard for me to shoot. I have to find a balance of when do I headbang and when do I take pictures? It lies somewhere in the middle. As I move from one place to another, my head is in constant motion because Whitechapel completely crushed their set. Opening with "Forgiveness is Weakness" from their 2018 release, The Valley a circle pit erupted only moments into the show. Opening with the brutal double bass and the lyrics, "He is finally dead" still has me moving to the rhythm writing this review.

Very few words were shared outside of singing. Each of the band members connected with the audience. Some pointing out to those fans totally engrossed and screaming back the lyrics to them. This night, six of the nine songs of the setlist were from The Valley. It is a killer album! Also included was "Brimstone" with its marching, militaristic style beat, and guttural vocals. These lyrics are deep and come from a dark place. "Kill, Torture, Terrorize, Welcome to my mind." The crowd was in sync and bouncing in rhythm to the music.

Without a doubt, there are some deep-rooted things in vocalist Phil Bozeman's head. " As I lay me down to sleep I pray to the Lord to put me six feet deep." This a lyrical passage in the next song, "Black Bear." For part of the show, I hung back at the soundboard. The guy running the lights for Whitechapel was headbanging, singing back word for word the lyrics and changing the lights almost in a trance-like state.

Skip ahead two songs to the band playing "When a Demon Defiles a Witch." A personal song with roots to Phil's mother. Whitechapel plays brutal heavy metal, yet no fan was injured. No one had to be taken by ambulance, was anyone arrested. That goes against everything haters of this style of music want you to believe. The end of the set was here. No Whitechapel show is complete unless "The Saw Is The Law" is played. It was the closer and a fitting cherry on top.

This was my second time seeing the band and I was not disappointed. Thank you to Phil Bozeman – Vocals, Ben Savage – Guitar, Zach Householder – Guitar, Alex Wade – Guitar, Ben Harclerode – Drums, and Gabe Crisp – Bass for putting on a killer show! Get out and see these buys, buy merch and support these bands!!!

Setlist: "Forgiveness Is Weakness, Brimstone, Black Bear, Third Depth, When a Demon Defiles a Witch, This Is Exile, Hickory Creek, Our Endless War, The Saw Is the Law"