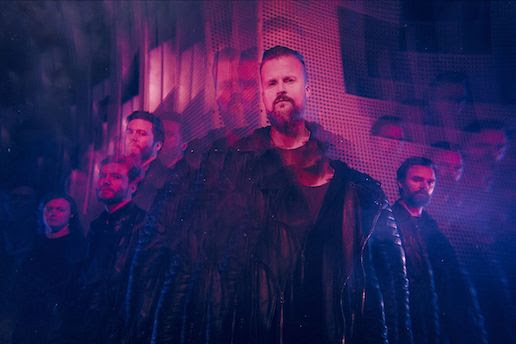 WHITE VOID RELEASE NEW MODEL ARMY COVER "THE HUNT"
(FEAT. GREG MACKINTOSH / PARADISE LOST)
Today, eclectic Norwegian hard rock band
WHITE VOID
, centered around Lars Nedland (Borknagar, Solefald), is releasing a cover of the song "
The Hunt
" by British indie rock and post punk heroes NEW MODEL ARMY from their 1986 album "
The Ghost Of Cain
". The track features a guest lead guitar appearance by none other than PARADISE LOST's
Greg Mackintosh
.
You can watch a video for "The Hunt" below.
WHITE VOID – The Hunt (New Model Army)
WHITE VOID – "The Hunt (New Model Army)" Music Video:
https://youtu.be/XzLB_ftD_Oc
LISTEN TO "THE HUNT" ON ANY STREAMING SERVICE:
https://bfan.link/the-hunt
Lars Nedland comments:
"The last two years have been strange for musicians. Lockdowns and isolation isn't the best way to go about as a band, so White Void tried to counter this by staying busy and recording new music. First up: a cover song of one of our favourite artists, New Model Army.

This song was recorded during lock-down, so we were never in the studio at the same time, and that got us thinking: What if we created a video mirroring the situation this recording arose from?

We all set up cameras in our respective home studios, hit record, and performed the song together – while still being apart. We even had guest guitarist Greg Mackintosh of Paradise Lost set up a camera in his studio and record as he played the song's solo.

So, this video is a testament to how corona affects musicians and to how new situations spark creativity and new expressions.

And with that, we invite you into our homes and "The Hunt". We hope you enjoy it"
Greg Mackintosh (Paradise Lost, Vallenfyre) adds:
"When I was approached about contributing to a NMA cover I was kind of amused because I've had a rehearsal room next door to them for the last 20 years.
Then I heard it was 'The Hunt' which is up there as one of my favourite songs by them. Then Lars sent me their version of the song which I thought was great and I figured I may be able to add some sprinkles on top.
The result is a really vibrant and passionate take on a great song by a unique band.
I think Justin would approve."
WHITE VOID's debut album Anti was released on March 12, 2021.
WHITE VOID – Anti
OUT NOW!
1. Do. Not. Sleep.
2. There Is No Freedom But The End
3. Where You Go, You'll Bring Nothing
4. The Shovel And The Cross
5. This Apocalypse Is For You
6. All Chains Rust, All Men Die
7. The Fucking Violence Of Love
8. The Air Was Thick With Smoke
"White Void will hopefully get the focus they deserve for this absurdly good debut."
– Kerrang (UK)

"White Void's Anti's is a whirlwind ride around metal, occult rock and psychedelia."
– Metal Hammer (UK)

"Exciting debut and hopefully more than a short-lived fun project!"
– Metal Hammer (DE)

"(Anti is)… a seething miasma of concepts, nagging hooks and dark, unrelenting power."
– Classic Rock (UK)

"If you're floating through the rock cosmos with your ears wide open WHITE VOID are a band that demands to be discovered!"
– Rock Hard (DE)

"Intellectual, startling, and original, 'Anti' is the start of something special."
– Fistful of Metal (UK)
WHITE VOID
is absence of direction and sense in life. It's a description of the fundamental disharmony between the individual's search for meaning and the meaninglessness of the universe.
Eclectic hard rockers WHITE VOID are a curious bunch. Forged in the space between the occult rock of the seventies, the no-excuses-hard rock of the eighties and the British New Wave movement, they balance on the event horizon that separates old from new. Aggression from melody. Dream from drive.
Add to that the fact that the bandmembers of WHITE VOID have their backgrounds in Norwegian black metal, chiptune electronica, pop music and blues, and you'll see why Anti is an album that's hard to pin down. It's darkly melodic, it's driven, and it's infused with earworms, hooks and licks. Boasting a shameless attitude, though, it comes forth as deeply true to the core of our shared hard rock heritage.
In the center of WHITE VOID stands Lars Are Nedland, long time member of BORKNAGAR and SOLEFALD. Leading a team of musicians including Tobias Solbakk of IHSAHN fame, electronica staple Vegard Kummen and blues rock virtuoso Eivind Marum, he navigates the waters of hard rock riffs, new wave harmonies and blues rock solos with determination and elegance.
Still, Anti probably doesn't sound like you think. It's an album riddled with contrasts and references, musically as well as philosophically. The concept is based on Albert Camus' Absurdism and deals with how you cope with an existence that is in its core absurd. Musically it draws on the past while forging towards the future. And the result? Well, enter the Void to find out!
More audio-visual content from WHITE VOID:
WHITE VOID is:
Lars Nedland- Vocals
Tobias Solbakk – Drums
Vegard Kummen – Bass
Eivind Marum – Guitar