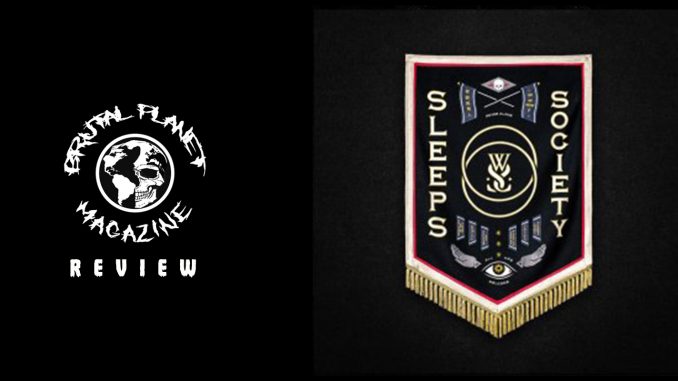 By: Austin Bowcutt
British metalcore stalwarts While She Sleeps are back at it again with their new release Sleeps Society. The blending of powerful songs, immersive visuals, and a direct connection to their fans may be the blueprint to the future of music.
On October 15th, 2020, While She Sleeps released the title track "Sleeps Society," along with a video release.
This cinematic call to arms begins with a mock news conference that criticizes the current hierarchy of music publishing. The band has had it with the scourge of streaming services, record companies, and management plundering from the band. The solution? A subscription platform via Patreon that will provide fans with unprecedented access to the band. By delivering content straight to the fans, While She Sleeps is able to be true to themselves. This new way of operating opens the door for fans to tailor their interaction to the band exactly how they want. There are four different membership levels, ranging in price from $7.50 to $86.00 monthly. You can find all the details on membership to the Sleeps Society at www.whileshesleeps.com
Their full-length album release coming April 16th features 11 tracks of all the screams, riffs, and breakdowns you have come to expect from these musical assassins. My favorite song on this album is "Nervous," featuring Simon Neil (Blify Clyro). Opening the song with a melancholic piano motif breathing into you a sense of calm. Then…. BOOM! The whole band comes in full force, with Neil and Taylor screaming the lines, "I'm nervous, I think it's time to believe, but i'm nervous, that the answers right in front of me." The track "Call of the Void" has by far the most impressive guest artist, THE FANS. This track features The Sleep Society. While She Sleeps is demonstrating the integral role that the fans have and will continue to play in the creatives and mechanics of the band.
All in all, if you are a fan of this band, this is the album you hoped would come from this group. It shows a growth of spirit and a no-holds-barred look to the future of music. Sleeps Society by While She Sleeps will be released on April 16th, 2021, via Spinefarm Records.
You can find more information about this band at www.whileshesleeps.com