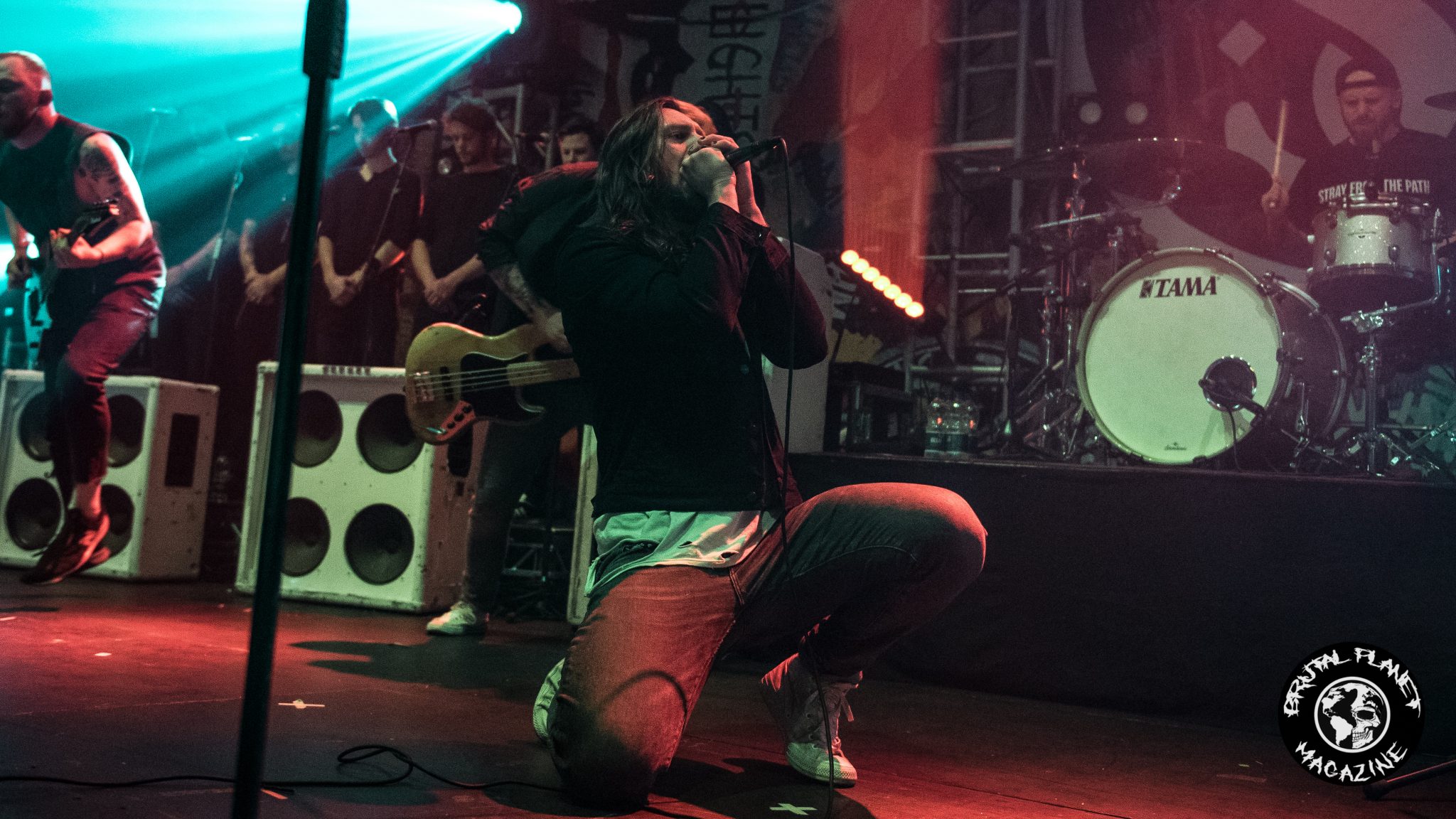 While She Sleeps have been pushing boundaries within the British metalcore scene since the release of their award winning album You Are We. Just when we thought nothing could top it's success, the Sheffield quintet dropped a sensational new album So What? that proves these guys still have so much more to give. Throughout February, the band have been on tour around Europe with half of their shows sold out. Their run comes to an end at the incredible Roundhouse in London for a memorable album release party that was special in so many ways.

Stunning surroundings
First off, let me just tell you a little more about this wonderful venue. Located in Chalk Farm, Camden Town, this Grade II listed building was originally built in 1847 as a railway roundhouse. It's circular perimeter has since had some modern extensions but the heart of the venue still shows off it's authentic uniqueness and beautiful structure. Once inside, the birdcage-like iron framework that circles the floor guides your eyes to explore it's stunning surroundings. This venue has to be one of the most amazing ones I've stepped foot in, and not to mention, it sounds incredible too.

While She Sleeps were already spoiling fans tonight with an impressive line-up of support bands. First up were French metal-core band Landmvrks. Now unfortunately due to a lengthy guest list queue, I missed most of their set; But I did make it in just in time for the last song "World of Pain" and my god, it was GOOD. Their heavy riffs, gut wrenching screams and melodic chorus' are right up my street. I was really gutted to miss these guys.

The room began to pulse
Next up we're local pop punk marvels, Trash Boat. It's been a busy year for these guys. Making waves across the US and Europe, their name has been splashed across some huge festivals and big name tours. There seemed to a large amount of Trash Boat fans in the room tonight. The crowd hollered back at every song and the room began to pulse with moshers and crowd surfers.
The setlist oscillated between their debut album Nothing I Write Can Change What You've Been Throw and their latest release Crown Shyness. Vocalist Tobi Duncan mentioned this was their first chance to play their new album here in the UK after their lengthy tour since summer 2018.
Although their run with While She Sleeps has come to an end, Trash Boat still have their diary full as they begin their own headline tour kicking off in September. I strongly recommend you get yourself to one of these shows.

The crowd was sent wild
That's not it for the support tonight. Causing a storm, New York hardcore punks Stray From The Path waste no time sending the crowd wild. "We are one big family and race does not matter" were blurted out by vocalist Andrew Dijorio (Drew York)'s as he steamed onto the stage. Their outspoken lyrics cut straight through some controversial topics which fuels the intensity of their set.
I mentioned earlier that tonight had been special in many ways, and the announcement that they were about to film "Badge & A Bullet" for their new music video had the crowd screaming. With Drew calling for 100 crowd surfers to reach over the barriers, the security team definitely had their work cut out tonight.
A stunning performance
Exclusively for this special show, While She Sleeps were joined on stage tonight by the beautifully talented Choir Noir for a stunning performance that would blow the minds of everyone in the room. Kicking straight into "Anti-Social," the crowd were thrown into complete chaos. The security team were kept busy as almost immediately a flow of crowd surfers were chucked over the barriers. Although there was a close call, I was pleased not to have been knocked out in the photo pit tonight.

The delicate intro to the next song swept the room and the suspense built up rapidly. What happened next was something that would stay in my heart for a very long time. As vocalist Lawrence "Loz" Taylor prepares to drop the first line, the dormant choir awaken. With a huge explosion, the words 'YOU ARE WE' suddenly ignited the room. The atmosphere was like no other and the energy continued throughout "Brainwashed" and "Seven Hills." With every epic breakdown, the crowd were swallowed up and spat back out. "Civil Isolation," "Empire of Silence" and "Feel" gave them no respite as the popular tracks from You Are We kept the room bouncing.

Utterly breathtaking
While She Sleeps have always been good at writing songs that would sound incredible live. This was certainly emphasized on the new album with the appearance of even more group vocals; So hearing new tracks "Haunt Me" and "The Guilty Party" played tonight with the addition of a live choir, was utterly breathtaking. Tonight's sold out show was a huge achievement for the band. Guitarist Mat Welsh said 'If someone told me 13 years ago that this would happen, I wouldn't f*cking believe it.' You could see the emotion they were feeling on stage tonight and this just fuelled the crowd even more. 'Let's make this room look like a fucking festival' is screamed out by Loz and the crowd started to climb on each others shoulders. With phones lighting up the room, the spine-tingling sound of the choir began as they kicked into "Four Walls" before leaving the stage,

The pumped up crowd weren't ready to leave just yet. 'WHILE SHE SLEEPS' echoed around room. After a short break, the band returned and threw the room straight back into the Sleeps pit with "Silence Speaks," "Our Courage, Our Cancer" and last but not least, "Hurricane."
If I could relive this whole show tonight, I would. While She Sleeps never dissapoint, and tonight's show has been something truly special. Everyone in that room tonight was extremely lucky to witness While She Sleeps at it's very best.