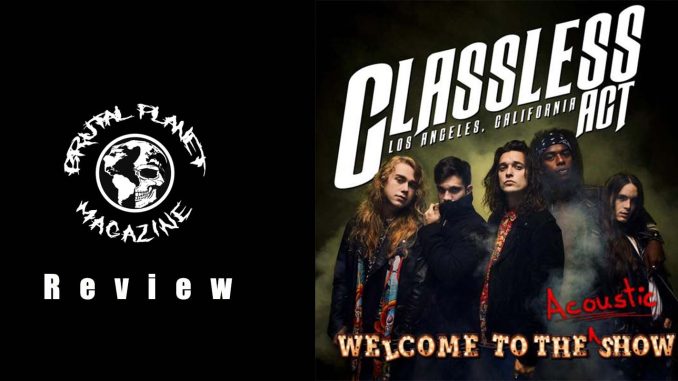 Review by
Brittany Skidmore
Who knew that social media would be the reason that these five musicians found
each other and formed the new and plunging forward band Classless Act! These
guys come together and make rock sound new again. They take you right back to the
'80's with vocals by Derek Day, Dane Pieper and Griffin Tucker on guitar, Franco
Gravante on bass, and Chuck McKissock on drums.
Their new album Welcome to the Acoustic Show – EP starts out by throwing you
straight back into the 1980's with the song "Classless Act." It has a great classic rock
sound infused with a touch of soul. You find yourself not sure whether to get up and
country-dance with the harmonica, or head bang while wearing an epic Tommy Lee
wig! Either way, it makes you want to get up and dance.
"This is for You" takes on a slightly more serious sound. Still upbeat and fun, just a
bit heavier in the lyrical department. "Time to Bleed" and "All That We Are" are both
great songs worth a listen, but the album ends with my personal favorite "Storm
Before the Calm." This one is definitely the slow and heavier song of the album.
Don't let that chase away – the lyrical value is great. Derek Day's vocal range is
tested and proven true with an amazingly powerful glissando mid song. Powerful,
memorable, and moving.
This album is a great teaser for the future of Classless Act. Fresh new faces bringing
that classic rock sound that so many of us love and connect with. I look forward to
hearing what comes next! Check out classlessact.com, and find their music on your
favorite music streaming service!
CONNECT WITH CLASSLESS ACT
Facebook | Twitter | Instagram | YouTube | TikTok | Twitch