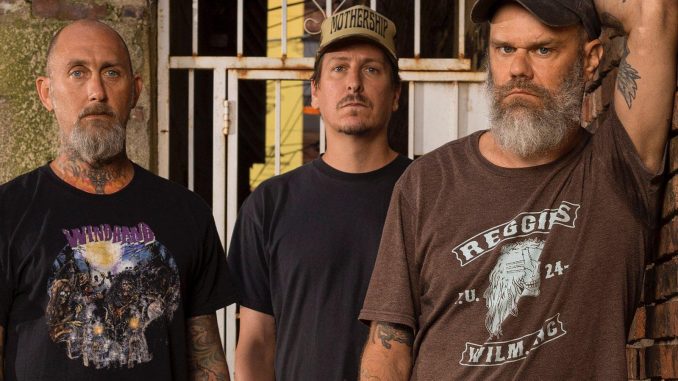 Cape Fear metal legends WEEDEATER will be kicking off a headlining tour of the U.S. starting today, February 22 in Carborro, NC!

Upon the North American tour's conclusion on April 8, WEEDEATER will then cross the pond for a UK/Ireland tour with special guests Mars Red Sky & Telekinetic Yeti! The run will kick off on April 30!

The full itinerary can be found below! All tickets can be found at THIS LOCATION.
WEEDEATER U.S. Tour (w/REBELMATIC):
02/22: Carborro, NC @ The Station [TICKETS]
02/23: Columbia, SC @ New Brookland Tavern [TICKETS]
02/24: Savannah, GA @ Underground Weekend Fest [TICKETS]
02/25: Cape Coral, FL @ Nice Guys [TICKETS]
02/27: Orlando, FL @ Wills Pub [TICKETS]
02/28: Melbourne, FL @ Pineapples [TICKETS]
03/01: Jacksonville, FL @ Jack Rabbits [TICKETS]
03/02: Piedmont, SC @ Tribbles [TICKETS]
03/03: Asheville, NC @ Asheville Music Hall [TICKETS]WEEDEATER U.S. w/ Adam Faucett (all dates), High Tone Son of a Bitch (3/16 – 4/02), Telekinetic Yeti (4/04 – 4/06):
03/16: Charleston, SC @ Trolley Pub [TICKETS]
03/17: Atlanta, GA @ Sabbath Brewing [TICKETS]
03/18: New Orleans, LA @ Poor Boys [TICKETS]
03/19: Little Rock, AR @ Whitewater Tavern [TICKETS]
03/20: Austin, TX @ The Lost Well [TICKETS]
03/22: Mesa, AR @ Nile Theatre [TICKETS]
03/23: San Diego, CA @ Soda Bar [TICKETS]
03/25: Joshua Tree, CA @ Heavy Psych Sounds Fest [TICKETS]
03/26: San Francisco, CA @ Heavy Psych Sounds Fest [TICKETS]
03/27: Sacramento, CA @ Cafe Colonial [TICKETS]
03/29: Portland, OR @ Bossanova Ballroom [TICKETS]
03/30: Seattle, WA @ El Corazon [TICKETS]
03/31: Boise, ID @ Shredder [TICKETS]
04/01:Salt Lake City, UT @ Aces High Saloon [TICKETS
04/02: Denver, CO @ Hi Dive [TICKETS]
04/04: Sioux Falls, SD @ Icon [TICKETS]
04/05: Rock Island, IL @ Wake Brewing [TICKETS]
04/06: Chicago, IL @ Reggies
04/07: Murfreesboro, TN @ Hop Springs [TICKETS]
04/08: Knoxville, TN @ Brickyard [TICKETS]

WEEDEATER UK & Ireland Tour (w/special guests Mars Red Sky & Telekinitic Yeti):
04/30: Bournemouth (UK) @ The Bearcave [TICKETS]
05/01: Cardiff (UK) @ The Globe [TICKETS]
05/02: Dublin (IE) @ Grand Social [TICKETS]
05/03: Glasgow (UK) @ Cathouse [TICKETS]
05/04: Sheffield (UK) @ Corporation [TICKETS]
05/05: Manchester (UK) @ Factory 251 [TICKETS]
To request an interview with WEEDEATER or for accreditation, please contact Katy Irizarry at Katy@season-of-mist.com. Additional assets, such as press photos and more information on the band, is available HERE.
Photo credit: Scott KinkadeAll of WEEDEATER's albums are now available at fine record stores nationwide and online at the WEEDEATER Bandcamp page.

WEEDEATER was formed by front-man/bassist "Dixie" Dave Collins. Following the release of their 2001 debut '…And Justice For Y'All', WEEDEATER immediately established themselves as a force in the U.S. tour circuit and quickly gained notoriety in the American metal scene. In the time since, the band have released three critically-acclaimed albums: 'Sixteen Tons' (2002), 'God Luck And Good Speed' (2007), and 'Jason… The Dragon' (2011), and toured around the world. The band has played prestigious festivals such as Maryland Deathfest, Hopscotch Festival, Stoned From The Underground, Asymmetry Festival, Roadburn Festival, Hellfest, and many more.

For more on WEEDEATER, follow their official FACEBOOK, TWITTER, and INSTAGRAM pages.