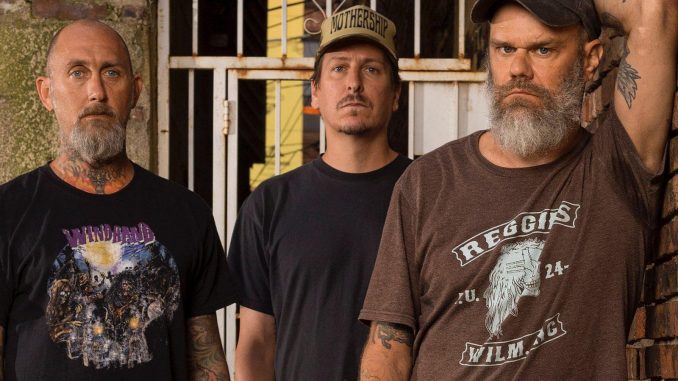 Cape Fear metal legends WEEDEATER are hitting the road in August with support from Joe Buck Yourself and Adam Faucett! The trek will kick off in Greensboro, NC on August 5 and will conclude in Asheville, NC on August 20. Tickets are available now and all links and dates can be found below!
WEEDEATER U.S. TOUR DATES (w/ Joe Buck Yourself and Adam Faucett)
08/05: Greensboro NC @ The Blind Tiger [TICKETS]
08/06: Savannah GA @ El Rocko Lounge [TICKETS]
08/07: Orlando FL @ Wills Pub [TICKETS]
08/08: Tampa FL @ The Orpheum [TICKETS]
08/10: Mobile AL @ Alabama Music Box [TICKETS]
08/11: New Orleans LA @ Santos Bar [TICKETS]
08/12: Lafayette LA @Freetown Boom Boom Room [TICKETS]
08/13: Dallas TX @ Trees [TICKETS]
08/14: Houston TX @ The Secret Group [TICKETS]
08/15: Austin TX @ The Lost Well [TICKETS]
08/16: Oklahoma City OK @ 89th Street – OKC [TICKETS]
08/18: Huntsville AL @ Sidetracks Music Hall [TICKETS]
08/19: Greenville SC @ The Radio Room [TICKETS]
08/20: Asheville NC @ Asheville Music Hall [TICKETS]
To request an interview with WEEDEATER or for accreditation, please contact Katy Irizarry at Katy@season-of-mist.com. Additional assets, such as press photos and more information on the band, is available HERE.
**Please note that guest list availability is limited and unavailable in some markets as venues and artists are still recovering from the unprecedented financial devastation caused by the Covid-19 shutdown. Photo credentials and interviews, however, will not be affected by this & we will accommodate media outlets to the best of our abilities. Thank you for understanding!***
Photo credit: Scott Kinkade
All of WEEDEATER's albums are now available at fine record stores nationwide and online at the WEEDEATER Bandcamp page.
WEEDEATER was formed by front-man/bassist "Dixie" Dave Collins. Following the release of their 2001 debut '…And Justice For Y'All', WEEDEATER immediately established themselves as a force in the U.S. tour circuit and quickly gained notoriety in the American metal scene. In the time since, the band have released three critically-acclaimed albums: 'Sixteen Tons' (2002), 'God Luck And Good Speed' (2007), and 'Jason… The Dragon' (2011), and toured around the world with the likes of DOWN, SAINT VITUS, HIGH ON FIRE, and THE MELVINS, HANK III, EARTH, SUNN O))) and more. The band has played prestigious festivals such as Maryland Deathfest, Hopscotch Festival, Stoned From The Underground, Asymmetry Festival, Roadburn Festival, Hellfest, and many more.
For more on WEEDEATER, follow their official FACEBOOK, TWITTER, and INSTAGRAM pages.