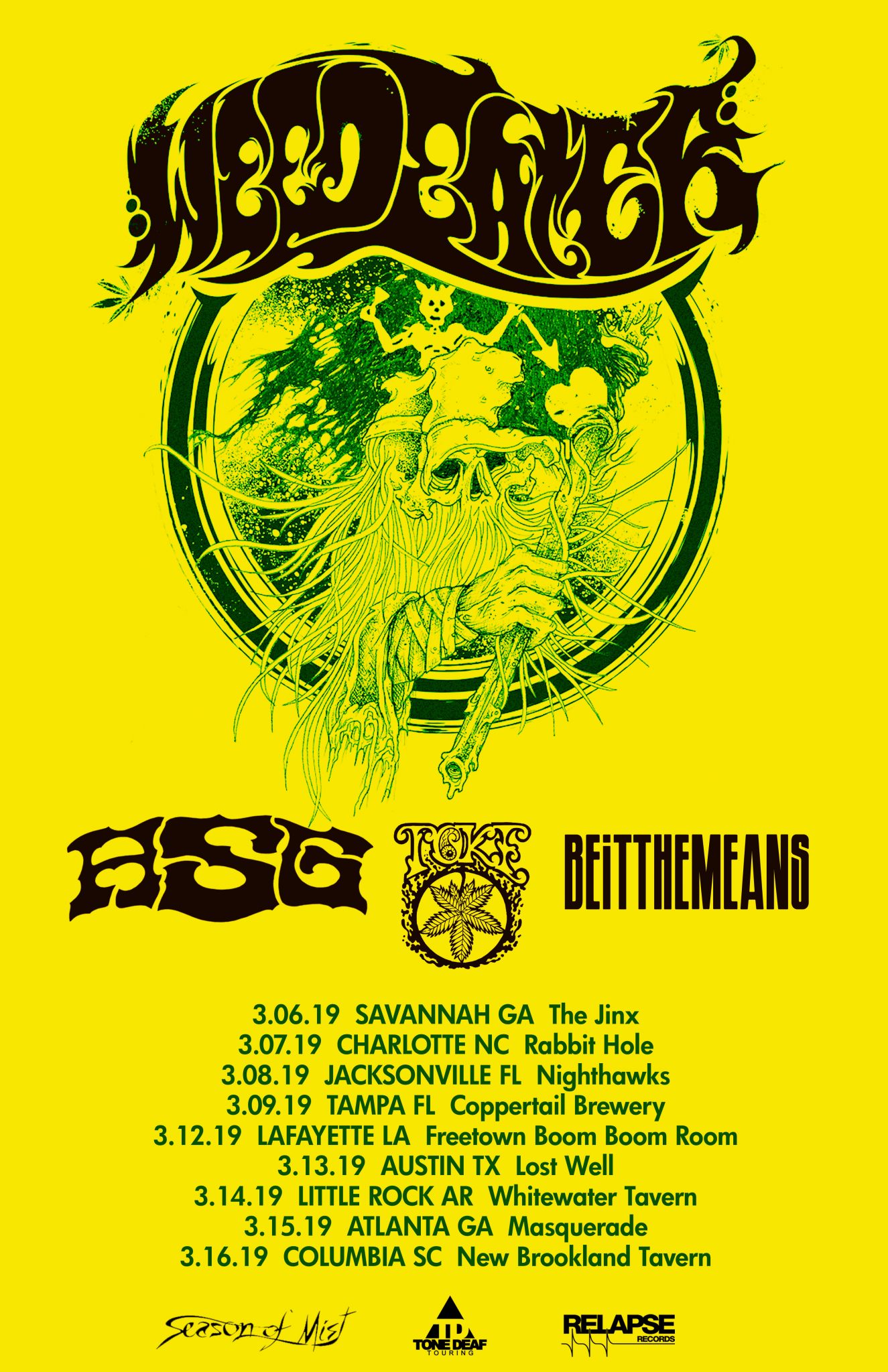 WEEDEATER Announce U.S. Headliner Tour
Cape Fear metal legends WEEDEATER have announced a March U.S. headliner tour in which they will be supported by ASG, TOKE, and BEITTHEMEANS. Kicking off on March 6 in Savannah, GA, the band will hit nine Southern U.S. cities and will conclude the trek on March 16 in Columbia, SC. More dates will be announced. A full itinerary can be found below.

Additionally, the band is currently on tour in support of CORROSION OF CONFORMITY and CROWBAR. The remaining dates can also be found below.

WEEDEATER are available for interviews upon request. To speak with the band or to secure a spot on the guest list, please contact Katy Irizarry via phone (215-625-8400) or email at Katy@season-of-mist.com.
WEEDEATER Headliner w/ ASG, TOKE, + BEITTHEMEANS:
03/06: Savannah, GA @ The Jinx (tickets on sale Friday, Feb 8 at 12pm noon Eastern time)
03/07: Charlotte, NC @ The Rabbit Hole (TICKETS)
03/08: Jacksonville, FL @ Nighthawks (TICKETS)
03/09: Tampa, FL @ Coppertail Brewery (TICKETS)
03/12: Lafayette, LA @ Freetown Boom Boom Room (TICKETS)
03/13: Austin, TX @ Lost Well (TICKETS)
03/14: Little Rock, AR @ Whitewater Tavern (TICKETS )
03/15: Atlanta, GA @ Masquerade (TICKETS)
03/16: Columbia, SC @ New Brookland Tavern (TICKETS // EVENT LINK)
More dates T.B.A.!

WEEDEATER w/ CORROSION OF CONFORMITY, CROWBAR, + MOTHERSHIP:
02/07: Winnipeg, MB @ Park Theater (TICKETS // EVENT LINK)
02/08: Minneapolis, MN @ Fine Line (TICKETS // EVENT LINK) **SOLD OUT**
02/09: Chicago, IL @ Bottom Lounge (TICKETS // EVENT LINK) **SOLD OUT**
02/11: Lexington, KY @ Cosmic Charlies (TICKETS // EVENT LINK) **Headline Show, WEEDEATER Only**
02/10: Flint, MI @ Machine Shop (TICKETS // EVENT LINK) **SOLD OUT**
02/12 :Cleveland, OH @ Beachland Ballroom (TICKETS // EVENT LINK)
02/13: New York City, NY @ Gramercy Theater (TICKETS // EVENT LINK)

All of WEEDEATER's albums are now available at fine record stores nationwide and online at the WEEDEATER Bandcamp page.

WEEDEATER was formed by front-man/bassist "Dixie" Dave Collins. Following the release of their 2001 debut '…And Justice For Y'All', WEEDEATER immediately established themselves as a force in the U.S. tour circuit and quickly gained  notoriety in the American metal scene. In the time since, the band have released three critically-acclaimed albums: 'Sixteen Tons' (2002), 'God Luck And Good Speed' (2007), and 'Jason… The Dragon' (2011), and toured around the world with the likes of DOWN, SAINT VITUS, HIGH ON FIRE, and THE MELVINS, HANK III, EARTH, SUNN O))) and more. The band has played prestigious festivals such as Maryland Deathfest, Hopscotch Festival, Stoned From The Underground, Asymmetry Festival, Roadburn Festival, Hellfest, and many more.

For more WEEDEATER news and tour information, please visit the Season of Mist website, and the WEEDEATER website and Facebook page.