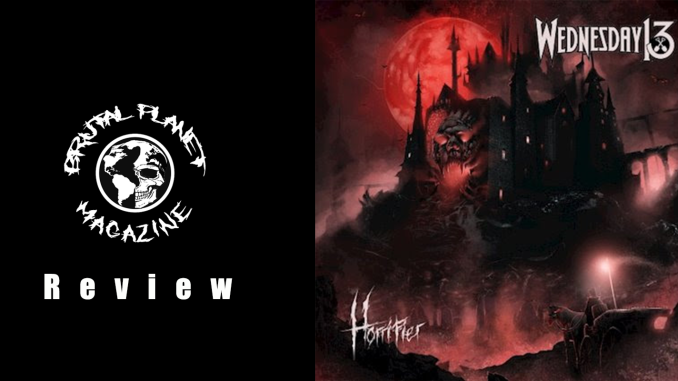 For 20 years now, Wednesday 13 has been making music that shocks and scares most, and even offends some. From the Murderdolls to Frankenstein Drag Queens from Planet 13, he is undoubtedly an artist with a lot of concept albums under his belt. I remember talking with Wednesday about the release of Necrophaze and asking him if he considered it to be concept album. He responded laughing: "If you consider death a concept, then yes it is." 2022 brings us another chapter in this long line of "Death inspired" concept albums. The latest chapter aptly titled – Horrifier.
The terror begins with the album cover itself. It is dominated by a ghostly castle, surrounded by shadowy figures. It clearly warns the listener of what they are about to unearth.
The nightmare begins with "Severed." The song has a sound similar to the opening of "Zodiac" from Necrophaze. A pulsing beat reminiscent of a John Carpenter horror movie opening. This song transitions into the second single from the album "Insides Out." This song will definitely make or break the listener.
Screeching guitar is paired with gruesome lyrics and combined with a truly wicked story that the video illustrates so disturbingly. Up next is "Exhume and Devour." The song has a slightly similar sound to "Keep Watching the Skies" and the lyrics say it all: "Necrophilla's the gift that keeps on giving."
The next track is the first single released from the album "You're so Hideous." The lyrics encapsulate the genius of Wednesday 13 and the video that accompanies the song is brilliant. The visuals in "The Exorcist" themed story are just what one would expect from the "Duke of Spook."
When it comes to my favorites on the album, "Good Day To Be A Bad Guy" is right up at the top. Musically the songs has a similar sound to "I Just Walked With A Zombie." Lyrically the song is just what one needs to cheer up after a breakup or even just a plain old shitty day.
"It's a real good day and I cant wait,
I've got really bad thoughts inside of me.
It's a real good day and I cant wait,
To do bad, bad Things"
Every good horror buff knows that a "Return to Haddonfield" is not a good thing for those that will feel the knife of Michael. Wednesday takes on a walk down the streets of this cursed town with deadly precision making this track another of my favorites on the album. The title track creeps up next and leaves nothing alive in it's wake. It has a "Screwdriver" sound to it. It's a guitar driven beast will leave the listener slashed and trashed.
"Hell is Coming" has a very early Kiss sound to it. It almost reminds me of a modern version of "God of Thunder". Vocally, Wednesday really nails it and hits this one spot on.
As far as a vocal dynamics go "Halfway To The Grave" is the song that really delivers. Wednesday pushes his upper register in the verses then drops down low in the chorus. Horror fans know that "Christine" was a car that made you wonder if a vehicle could really seek vengeance. "Christine: Fury In The Night" revives that Stephen King film and turns it into a heavy, horror driven, rock anthem.
If every hard rock album needs a ballad "The Other Side" would be that song. It has a very 80's ballad tone to it. It's a personal song about the loss of his mother and Slipknot drummer, Joey Jordison. This more mellow song wraps up the album perfectly.
With slasher like precision and persistence Wednesday 13 has once again delivered a perfect concept album based on his favorite subject matter: death. With 20 years of fear under his belt, Wednesday continues to find new ways to examine a subject we all fear and at times poke fun at it yet. Whether you are a seasoned corpse or fresh convert, Horrifier is the perfect way to finish off 2022. You can pick up your copy of – or stream Horrifier on October 7, 2022 via Napalm Records and keep your eyes out for dates near you on the "20 Years Of Fear" tour coming this fall.