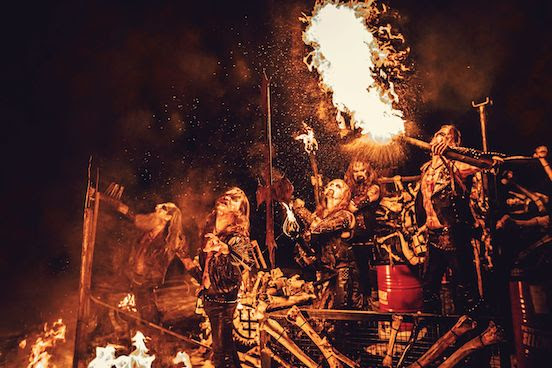 WATAIN RELEASE LYRIC VIDEO FOR NEW SINGLE "SERIMOSA"
NEW ALBUM, "THE AGONY & ECSTASY OF WATAIN" TO BE RELEASED ON APRIL 29TH
Right before the start of their extensive US tour with Norwegian peers Mayhem, notorious Swedish black metal collective
WATAIN
has unveiled "
Serimosa
" – the second single from their upcoming new studio album, "
The Agony & Ecstasy Of Watain
," which will be released on April 29th, 2022.
"Serimosa" sees a shift in pace from its furious predecessor "The Howling", heading towards more of a gloomy and Gothic landscape, yet bearing the unmistakable black mark of Watain. Lyrically, its contemporary acuteness and prophetic quality is just as unnerving as it is comforting.
WATCH THE "SERIMOSA" LYRIC VIDEO:
https://youtu.be/VFm-ARerxbI
LISTEN TO "SERIMOSA":
https://watain.bfan.link/serimosa.ema
E. Danielsson (vocals) comments:
"'Serimosa' tells of the electric notion of the coming of a great power. The appearance of cracks in the dam that holds the flood of the great sea. A visitor from the beyond, crossing the threshold into the material world.
Just like "Watain" – "Serimosa" is a word/name of power communicated out of unknown origin, appearing into the world sans history, to be approached with thought and reverence. Its linguistic root may be traced from the latin word Seri ("serum") along with Dolorosa ("pain") Nebulosa ("starfog") Lacrimosa ("tearfilled"), as if those words and their meanings were spoken as one. In her hand she holds the stern light of renewal, of transformation, of merciless cleansing. Thematically, Serimosa also holds similarities to the fiery Samhara aspect of Nataraja, the doomsday dance of Shiva marking the dissolution of order at the end of an eon.
May she bring you far and deep."
Pre-order / Pre-save The Album "
The Agony & Ecstasy of Watain
":
PRE-ORDER
"The Agony & Ecstasy Of Watain" – Tracklist

| | |
| --- | --- |
| 01. | Ecstasies in night infinite |
| 02. | The howling |
| 03. | Serimosa |
| 04. | Black cunt |
| 05. | Leper's grace |
| 06. | Not sun nor man nor god |
| 07. | Before the cataclysm |
| 08. | We remain |
| 09. | Funeral winter |
| 10. | Septentrion |
Available formats:
– Ltd. Deluxe Gatefold LP in Slipcase (incl. the album on CD)
Grey Marbled (667, NB mailorder excl.)
Dark Red Marbled (666, Band excl.)
(scroll down for a product picture)
– LP
Black
Green w/ Rainbow Splatter (2000, EU retail)
Solid Red (300, via EMP)
Pink (300, NB mailorder)
Blue Marbled (300, UK)
Solid Green (300, Seasons Of Mist)
Transp. Blue (300, Levykauppa Äx & Sound Polluution)
Solid Grey (300, Sweden Rock)
Dark Purple (300, Napalm)
White (300, US Retail)
Red w/ Rainbow Splatter (1800, US retail & NB US mailorder)
Green Marbled (300, NB US mailorder)
– CD Digipak
– Digital Album
WATAIN – The Howling (OFFICIAL VIDEO)
WATAIN will join forces with equally infamous Norwegian black metal legends MAYHEM for a tour through North America, aptly labeled "The Sanguine Sodomy Of North America," starting on March 7th, 2022. They will be supported by US blackened speed metal punks MIDNIGHT.
MAYHEM / WATAIN
The Sanguine Sodomy Of North America Tour 2022
Special Guests: MIDNIGHT

March 07: San Francisco, CA, The Regency Ballroom
March 08: Los Angeles, CA, The Wiltern
March 09: Phoenix, AZ, The Nile Theater
March 11: Salt Lake City, UT, The Depot
March 12: Denver, CO, The Summit Music Hall
March 14: Dallas, TX, Amplified Live
March 15: Austin, TX, Mohawk
March 16: Houston, TX, White Oak Music Hall
March 18: Atlanta, GA, Masquerade
March 19: Tampa, FL, Orpheum
March 20: Charlotte, NC, The Underground
March 22: Montreal, QC, Club Soda
March 23: Toronto, ON, The Phoenix
March 25: Worcester, MA, The Palladium
March 27: New York, NY, Irving Plaza
March 29: Baltimore, MD, Baltimore Soundstage
March 30: Pittsburgh, PA, The Roxian
March 31: Detroit, MI, The Majestic
April 01: Chicago, IL, The Vic
April 02: Minneapolis, MN, Skyway Theatre
April 03: Joliet, IL, The Forge
ABOUT WATAIN
Watain crawled out of Satan's cunt in 1998, and has since then ascended and grown into one of the world's most well known and notorious Black Metal bands. Their legacy is often referred to with fear, love, confusion or awe, but seldom with indifference.

Their infamous live shows have become a worldwide phenomenon; inimitable ceremonies of wild Black Metal fanatism where the sacred and solemn collides with raw unadulterated force. With their greatly anticipated seventh studio album, Watain continues to arouse and electrify their audience with an unmistakable, adventurous brand of Black Metal Magic, processed and distilled over the course of a 25-year long history.

Recorded live by long time collaborator Tore Stjerna in his infamous Necromorbus studio, now re-located to an old church on the Swedish countryside, "The Agony & Ecstasy of Watain" takes the listener one huge step closer to the innermost heart of a band that despite always being surrounded by rumors and controversy has always strived for a most sincere and genuine form of expression.

With 10 songs written by the founding trinity of Watain (E. Danielsson, H. Jonsson and P. Forsberg), it is also the first Watain album to be recorded live with a full line up completed by A. Lillo, H. Eriksson and E. Forcas.

The material is further enriched by noble contributions from Farida Lemouchi (ex The Devil's Blood, now in Molassess) and Gottfrid Åhman (ex In Solitude, now in PÅGÅ).

The lyrics, always a central aspect of every Watain album, range from manic proselytism to profound contemplation on the relativity between life and death, sacred and profane, holy and unholy, agony and ecstasy, eagerly excavating the winding depths of mind and spirit with a new sense of clarity and determination.

Characterized by a morbid sense of beauty mingled with raw primal force, Watain is the wolf that keeps hunting, fearless and free, in the dark night of man.
Photo Credit: Evelina Szczesik (Ever Vision Art)