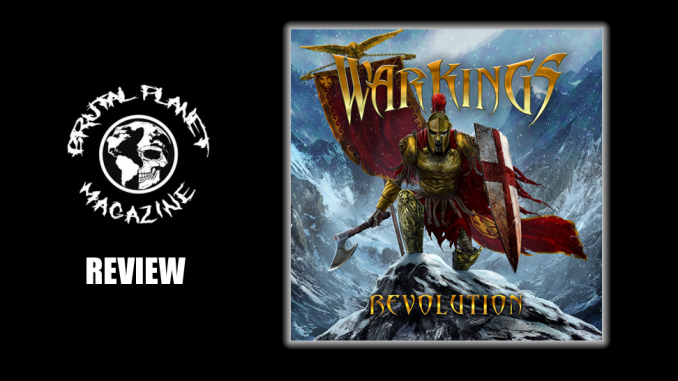 Once again, the history books are being defied as four legendary warriors from four different eras and four different locations emerge from the depths of Valhalla and unite to bring some of the most epic metal the genre has heard this year. The international band, "WARKINGS" is bringing the onslaught of their third release "Revolution." The album will be released on August 20, 2021, through Napalm Records. The band's members, who continue to hide their true identity and always stay in character on or off stage, are Tribune- vocals, Crusader- guitars, Viking-bass, and Spartan- drums.
The opening song, "We Are the Fire" is an in-your-face assault of thundering beats, heavy metal riffs, and Tribune's killer vocals. This track shows how heavy and how light-hearted this band is. Sure, they play dress-up, stay in character to the point it's uncomfortable, and write songs about battles and dead guys, but hey, they are incredible musicians and write really catchy metal! If you are unfamiliar with Warkings, they would probably be best categorized in a subgenre of heavy power metal. If you like bands like Sabaton or Powerwolf, you will love Warkings.
The second track, "Sparta Part II" is less intense than the first "Sparta" song on Warkings previous two albums, "Reborn," and "Revenge." While the first song featured vicious growls, (the re-recording on Revenge featured Melissa Bonny of Ad Infinitum,) "Sparta Part II" stays in the traditional power-metal vein replacing guest vocals with intimidating gang vocals. Both songs are excellent tributes to some of the greatest warriors in the history of the world.
The first single, "Fight," was released on June 15. This song could really be used as a rallying cry for any people at any time or place who are fighting for freedom. Like I mentioned earlier, Warkings can come across like a bunch of grown men playing dress-up, but if you look past the costumes and masks, there is a seriousness in their message that can and should stir up feelings in your heart to fight for what is right, honorable, and true. The second single, "Spartacus," was released July 21 and features guest vocals by Chris Harms of the German gothic band, Lord of the Lost. "Spartacus," is the heavy metal tribute to the legendary Thracian gladiator who led a revolt against Roman forces time after time.
Although "Revolution" is limited to ten songs, it is chock full of brutal riffs, thundering drums, and killer vocals. The album honors each of the band member's "histories." The song "Deus Lo Vult" is an accolade to the Crusades, and "Ragnar" appreciates Viking mythology. While every song includes incredible talent by guitarist, Crusader, the solos on "Ave Roma" and "By the Blade" really stood out. Unlike their previous albums, "Revolution" features no ballads- it is fast, heavy, and never lets up.
Warkings continues to release excellent music. There is not a bad song on this album. For these four musicians from central Europe, it must be a challenge to gain as much notoriety as they have over the last several years while still concealing their identities. I would encourage every fan of Power Metal to pre-order this album. "Revolution" shreds all while teaching history better than your high school teacher.