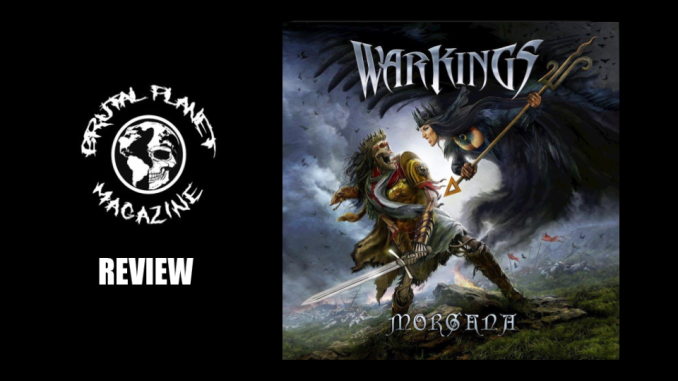 Nowhere in your history books would you find a Roman Tribune, a Viking, a Crusader, and a Spartan forming any sort of allegiance. However, the international band, "WARKINGS" is making history again as these four warriors join forces to dominate the arena of heavy metal and bring their fourth release "Morgana." The album will be released on November 11, 2022, through Napalm Records. The warriors joined up with legendary Morgana le Fay (Secil Sen of Twart) to deliver ten new songs, of which four feature Morgana herself, as well as two bonus cover tracks.
The opening song, "Hellfire" is an absolute ripper and is the first to feature the wicked witch. After an anthemic intro, Morgana immediately thrusts herself into the spotlight with her other-worldly growls. The chorus has a more uplifting feel to it, but overall, the song is wildly intense. The second track, "To the King," is classic power metal. This song was released as a single on September 28 and the accompanying lyric video racked up a ton of views in just one month. If you like the heavier side of this genre, you'll love the third song, "Monsters." In the midst of hard music comes Morgana once more. This time, she screams the refrain, "Monsters! We are the monsters!" I'm certain that the fans of Warkings will love it.

Next is "Last of the English," which starts out with an eerie chant and soon unleashes pummeling drums and victorious guitar riffs. This is the longest song on the album, coming in at just over five minutes. It's great, features an incredibly sick guitar solo, and is definitely worth checking out. "Heart of Rage" is one of my favorite songs on this album. It starts out with what sounds like a sitar and the Tribune's uplifting vocals. Soon, however, Morgana's ferocious voice enters, giving the song diversity in tone and timbre. "Row (Into the Storm)" features really cool sound effects of waves, as well as the gang vocals chanting "Row! Row! Row!" giving the listener the feeling of being on an actual ship that is rowing into danger. Warkings are masters of not only writing excellent power metal but also using effects to make you feel a part of history itself.
"Immortal" is another one of my favorites. The riffs are perfect and the guitar solo is top-notch. Sadly, this is the last track on the album to feature Morgana's vocals, but the fact that she is on four of the album's ten tracks is a treat. Let's not get greedy! "Shame" is another great song that includes sound effects to make you feel present in battle and calms down ⅔ of the way through to feature female clean vocals. "The Rite" is a solid power metal hit, and the album closes with "Legend Untold," a grand finale honoring the Arthurian saga. "Morgana" also features two bonus tracks: a cover of Powerwolf's "Amarta Strigoi" and Dragonforce's "Cry Thunder." This is another epic album by the greatest warriors in the metal scene. For those who love power metal bands that make battles and dates much more interesting than your high school history teacher, Warkings is a must!