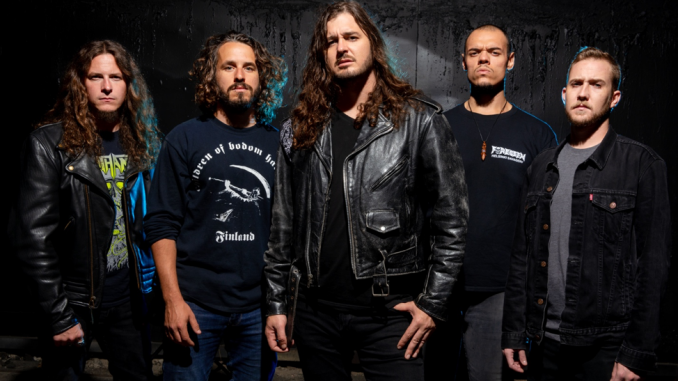 'Woe to the Vanquished' Recognized as Best Thrash Album of the Millenium by Metal Sucks
California modern thrash metal heavy hitters WARBRINGER are thrilled to announce a string of headlining shows on the West Coast this September! Having recently wrapped up a spring US tour supporting the legendary Max & Iggor Cavalera, Warbringer will kick off the 18-date headline trek on September 13th in Fresno, CA, and concluding in West Hollywood, CA at the iconic Whisky-A-Go-Go on October 1st. Joining the band on these dates are old-school melodic thrashers Heathen and pummeling Chicago trio Misfire.

Speaking about the newly announced live shows, frontman John Kevill states:

"This September, Warbringer is finally hitting the Western USA in support of 'Weapons of Tomorrow'. It's been way too long, and the band is fired up as hell to get out there and bang some heads. The bill this time includes none other than legendary Bay Area thrashers Heathen, as well as Misfire. It's looking like it will be a fantastic tour that will bring some serious riffs to the stage. Can't wait to get back out there, and looking forward to seeing all of you raging at the shows."

In addition to the aforementioned tour news, Warbringer is honored to be recognized by Metal Sucks, which awarded their 2017 full-length 'Woe to the Vanquished' the top spot on their "20 Best Thrash Albums Since the Turn of the Millenium". Read the story HERE!
WARBRINGER 2022 West Coast Headline Tour
wsg. Heathen & Misfire
9/13/2022 – Fresno, CA @ Strummer's
9/14/2022 – Santa Cruz, CA @ The Atrium
9/15/2022 – Sacramento, CA @ Goldfield Trading Post
9/16/2022 – Portland, OR @ Mano Oculta PDX
9/17/2022 – Seattle, WA @ El Corazon
9/18/2022 – Boise, ID @ The Shredder
9/19/2022 – Denver, CO @ HQ
9/21/2022 – Lincoln, NE @ 1867 Bar
9/22/2022 – Oklahoma City, OK @ 89th St. Collective
9/23/2022 – Dallas, TX @ Amplified Live
9/24/2022 – Austin, TX @ Come and Take It Live
9/25/2022 – Albuquerque, NM @ Launchpad
9/26/2022 – El Paso, TX @ Rockhouse Bar & Grill
9/28/2022 – Las Vegas, NV @ Backstage Bar
9/29/2022 – San Diego, CA @ Brick By Brick
9/30/2022 – Anaheim, CA @ Doll Hut
10/1/2022 – West Hollywood, CA @ Whisky-A-Go-Go
With their latest studio album, Weapons of Tomorrow, WARBRINGER have not only proven a true mastery of their craft, but have spurred the forward shift of an entire genre – transporting thrash metal into a brand-new era. Building upon their internationally-acclaimed blistering attack, Weapons of Tomorrow showcases a refreshed technical approach and a heightened focus on unique lyrical and vocal style. The record takes the promise of the band's previous release, 'Woe to the Vanquished', and carries it onward, presenting WARBRINGER at their absolute best to date – over 10 years into their careers.

Get Weapons of Tomorrow HERE
Warbringer – "Glorious End" (Lyric Video)
WARBRINGER is:

John Kevill – Vocals

Adam Carroll – Guitar

Carlos Cruz – Drums

Chase Becker – Guitar

Chase Bryant – Bass

WARBRINGER Online: