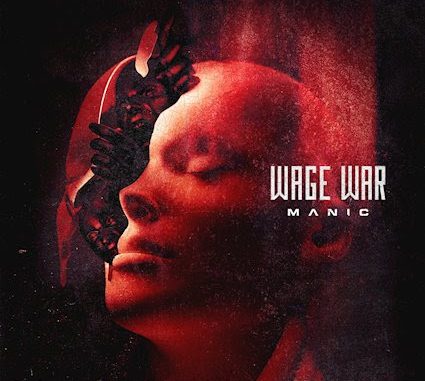 I write several reviews every month. I listen to a lot of music and enjoy a fair amount of the stuff that comes my way. I'm sure you can relate with me when I say that even when my first impression of new music is neutral if I listen to an entire album a couple of times through, I usually find myself really enjoying it. Although I appreciate and enjoy most of the albums that come my way, few albums leave me speechless. This week has been one of those exceptions. I have been listening to an album for nearly two weeks, listening over and over, not knowing how to put a review into words. This album leaves me speechless.
The incredibly talented metal band, Wage War, (Briton Bond- lead vocals, Cody Quistad- rhythm guitar, clean vocals, Seth Blake- lead guitar, Chris Gaylord- bass, Stephen Kluesener- drums) will be releasing their fourth full-length album, "Manic," on October 1st through Fearless Records. This Florida-based quintet has grown in popularity since their debut album, "Blueprints" came out in 2015. It's hard for many bands to get noticed nowadays, but with their perfect blend of talent and passion, as heard in singles like "Stitch," "Low," and "Prison," in just six short years Wage War has amassed a huge fanbase and even had their album "Pressure" named as one of Loudwire's "50 Best Metal Albums of 2019." This is a band that knows what they are doing and it is evident they won't be slowing down. Every album they release is better than its predecessor.
Manic starts out with "Relapse," and in true Wage War fashion- blending heavy riffs and beautiful melodies. Even though this opening track has the band's signature style all over it, it doesn't mean their style is staying stagnant. From the first to the last track, Manic encompasses musicians staying true to who they are, while simultaneously pushing themselves in new ways. The writing process for Manic was much different than it was for any of their previous albums. It was in the midst of a global pandemic that these five guys decided to lock themselves up in a cabin in the northern woods of Georgia- taking time to write, play, and push their creative boundaries. "Pressure was great for us," Cody says, "We took a lot of risks, which is important. So, we came into Manic, knowing what it takes to make a record that will please older fans, yet continue the journey and growth for us. We definitely pushed some limits. We'd never done this before, but we brought all our equipment to a cabin and wrote songs together. It was a special thing because we hadn't seen one another in so long. It was really inspiring, helpful, and fruitful to be in a room together."
The band's first single was "High Horse." If you haven't heard it yet, you are in for a shock. The official music video was released on August 5 and introduced fans to an intensity no one was expecting. If you've been disrespected, picked on, or put down in any way by someone who seems to portray themselves as superior to you, this song is for you. This might be the greatest victim to victor song since Pantera's "Walk" came out in the early nineties. The band's second single, "Circle the Drain," was released on August 25 and carries a different feel than its predecessor. The riffs are still heavy, but overall it is much more melodic than most of the album. "We saw a lot of issues come up last year socially with cancel culture and the Pandemic," Cody Quistad says, "The song urges everybody to just stop, take a look around, and realize the pain that happens. We have to learn and grow with each other. It's a humanistic approach to a rock song."
The latest single, "Teeth," which made its debut on September 14, is clearly about a toxic relationship. The chorus states, "Take what you need, use me up and then leave, Hard to believe you were [the] company I shouldn't keep. Take what you need, now I see underneath. Wounds cut so deep when you lie to me right through your teeth." Heavy stuff right? It doesn't stop there. As I listened to this album, I kept expecting the "throwaway songs." There were none. Every track continued to impress me. "Slow Burn" is another great melodic-driven song, and "Never Say Goodbye" features beautiful harmonies. "Godspeed," "True Colors," and "Death Roll" are chock-full of heavy riffs, solos, squeals, and killer breakdowns. One of my favorite songs is the album's title track, "Manic." This song takes on a totally different vibe- it's heavy, but in a metal meets electronic meets hip-hop sort of way. It's hard to describe, but if you love Wage War, I'm confident you will love what they did with this song.
I know it sounds cliche but this really is the band's best work. My favorite band of all time (who I have been listening to for nearly 25 years) also released an album earlier this year and I thought there would be no way I would like an album better than theirs in 2021, and here I am- constantly spinning Wage War's "Manic" and having an internal battle with myself over which album will be reigning champ when it comes time to make my "best of 2021 list." Ironic isn't it? The album lives up to its name. Frenzied and ferocious, "Manic" lives up to its name.