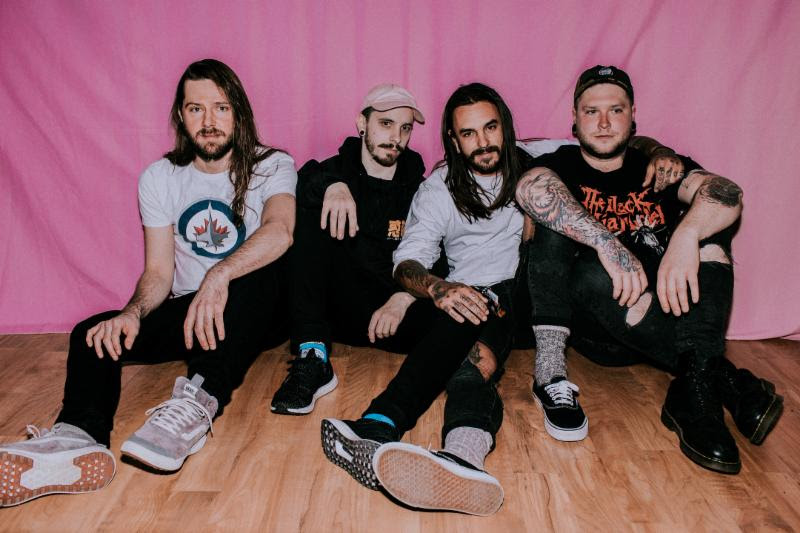 [photo by Kyle Joinson Photography]
New Noise Magazine is hosting the public premiere of a crushing video for "Acceptance," one of the standout tracks on their recently released EP Hunger EP by Victoria, British Columbia metallic hardcore quartet, VULTURES.
Writes VULTURES' guitarist Cole Lamb, "'Acceptance' is the second song of our EP, Hunger. This song is about a young boy who gets peer pressured into doing cocaine to be accepted into a group of friends and in return dies from an overdose and his mom is devastated. Our mission statement in 'Acceptance' is to raise awareness because this is a tragedy that happens everywhere. Hunger is about different perspectives of the people drug abuse affects."
See VULTURES' new "Acceptance" video, which was directed and filmed by Matt Gladman of Keywork Designs, through New Noise at
THIS LOCATION
.
The
Hunger
EP is now available on CD at the band's website
HERE
and digitally at Bandcamp
HERE
as well as through all other providers.
Also see
VULTURES
' previously released video for "Push" video
HERE
and the Claymation "Rat King" video
HERE
.
In conjunction with the release of Hunger, VULTURES played one-off hometown area shows supporting Cancer Bats and Despised Icon, followed by a three-week West Coast North American tour. Watch for new tour dates from the band to post in the months ahead.
VULTURES
conveys an unapologetic and visceral energy through their brand of hardcore. With sonic inspirations that include the likes of
Converge
, Dead And Divine, and The Dillinger Escape Plan, the band combines the technicality and bite of metal with the attitude of hardcore punk in order to deliver performances with unrivalled potency and aggression. Delivering six tracks that put forth an attack of driving riffs and incendiary finger-pointing in just under twenty minutes,
VULTURES
' second EP
Hunger
was produced, mixed, and mastered by Tim Creviston (Misery Signals, Spiritbox), and fitted with artwork created by Dusty Ray and arranged by Kevin Moore of Soft Surrogate. The EP also includes a guest vocal feature from Larissa Stupar (Venom Prison, Wolf Down).
"The Victoria, Canada, quartet play the kind of quick, vicious kidney-punching hardcore that'll have listeners of acts like Demiricous and Himsa slavering for more. Now, the band is preparing to release Hunger, a toothsome new EP full of grinding, destructive mayhem." – Kerrang! Magazine
"The band's sharp, precise riffing gives the hardcore band a distinctly metallic edge." – Decibel Magazine
"In just six tracks and twenty minutes, VULTURES will pulverize you into the ground." – Metal Injection
"…takes a little from the band's fellow countrymen Cancer Bats and twists and shakes it with a double shot of Buffalo's Every Time I Die, with the drum and vocal break during the track's first act particularly reminiscent of ETID… a testament to their youth and vigor that they deserve these kinds of comparisons." – Heavy Blog Is Heavy