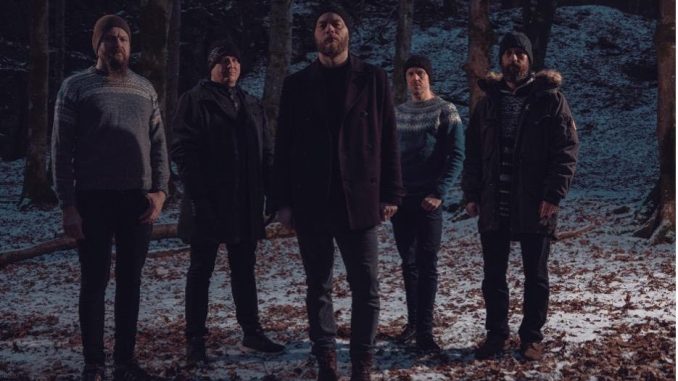 New Album, 'Ghosts from the Past', Out June 16th!
Pre-Order HERE
Well known for their wide appeal and their entertainingly theatrical, and hugely accessible stage antics, VULTURE INDUSTRIES recently celebrated their 20 years of existence with a special anniversary show in Bergen, Norway. Knowing that only a relative handful of their fans would be able to witness the show first-hand, the band made sure that their many world-wide audience would not miss out on this very special occasion and recorded the whole event.

Produced by Jarle Jovda Moe, who also made the "New Lords of Light" video, the show features a multi camera and multi track production, including not only favourites from the band's previous releases, but also tracks from the upcoming fifth full-length studio album, 'Ghosts from the Past'. It is, in other words the perfect opportunity for fans old and new to take stock of how far the band has come over the years and reminisce about the past.

Comment from the band, "We look forward to presenting the show to our friends and fans that could not come join us in the flesh in Bergen. The show was done with an extended line up, and you are in for a treat! We will be joining in the youtube chat and look forward to talking to you."

The show will be streamed in three separate segments, the first being on May 26th at 20:00 Central European Time (2pm EST in the US). Parts 2 and 3 of the show will be shown at the same time on June 3rd and 10th respectively.

The shows can be watched on the VULTURE INDUSTRIES YouTube channel HERE
'Ghosts from the Past' itself will be released on Dark Essence Records on June 16th and is easily VULTURE INDUSTRIES' strongest album to date. It marks a new direction for the band, one that leans towards the harder side of rock, and draws upon a wide range of influences. However, the quintessential VULTURE INDUSTRIES sound that makes the band so distinctive is still there for all to hear.

Recorded at the Conclave & Earshot Studios, 'Ghosts from the Past' was produced by the band and mastered by Tony Lindgren at Fascination Street. With album artwork by Kim Holm and artwork for the singles by Costin Chioreanu.
'Ghosts from the Past' Track List:
4. Deeper
5. Right Here in the Dark
6. A Strangers Curse
7. Tyrants Weep Alone
The album will be available in CD, Digital & Vinyl formats.
Pre-orders available now from the following:
Webshop HERE
BandCamp HERE
North American Webshop HERE
The band is currently finalizing more festival appearances and tour dates, but in the meantime the following shows have been confirmed:
16 June – Vaterland, Oslo (NO)
17 Jun – Good Omens, Trondheim (NO)
28/29 Jul – Artmania Festival, Sibiu (RO)
28/29 Jul – Artmania Festival, Sibiu (RO)
Dark Essence Records recently released the single "New Lords of Light" off 'Ghosts from the Past', and a video for the track, filmed and edited by Jarle Hovda Moe and with stock video from Carnival of Souls, can be seen HERE
VULTURE INDUSTRIES are:

Bjørnar Nilsen – Vocals, Keys

Øyvind Madsen – Guitar

Eivind Huse – Guitar, Vocals

Kyrre Teigen – Bass, Vocals

Tor Helge Gjengedal – Drums
FOLLOW VULTURE INDUSTRIES: