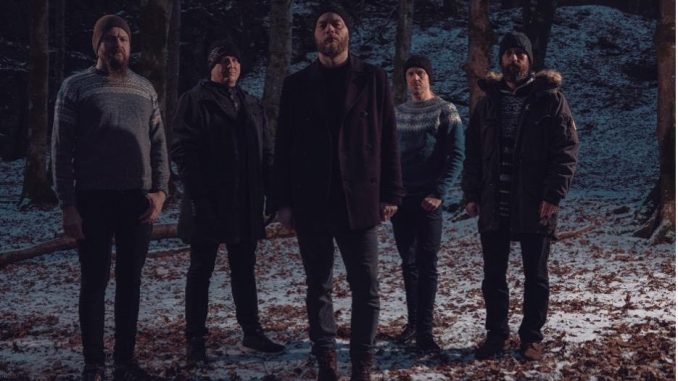 Listen HERE
Accompanying Time Lapse Video
of Album Artwork by Artist, Kim Holme
Watch HERE
New Album, 'Ghosts from the Past', Out June 16th!
Pre-Order HERE
With VULTURE INDUSTRIES' fifth full-length album, 'Ghosts from the Past', set to hit the streets on June 16th, Dark Essence Records have released a new single taken from the album, along with an accomanying video.

According the the band's Bjørnar Erevik Nilsen, the single, titled "This Hell is Mine" , is an older track, written from an entirely different perspective, but relevant in a whole new way today, as he explains:

"This track was based on some old lyrics I had written many years ago. Originally written in praise of the simple and austere toiling on the land. Today, though, 'This Hell is Mine' can be seen as a tribute to unyielding resistance against invasion and oppression."

"This Hell is Mine" can be streamed or downloaded HERE

The video for the single is by artist Kim Holm, and is especially interesting because it is a time-lapse insight into the work he put into creating the album artwork for 'Ghosts from the Past'. It can be seen HERE
'Ghosts from the Past' was recorded at the Conclave & Earshot Studios and was produced by the band and mastered by Tony Lindgren at Fascination Street. With album artwork by Kim Holm and artwork for the singles by Costin Chioreanu.

'Ghosts from the Past' Track List:

4. Deeper

5. Right Here in the Dark

6. A Strangers Curse

7. Tyrants Weep Alone

The album will be available in CD, Digital & Vinyl formats.

Pre-orders available now from the following:

Webshop HERE

BandCamp HERE

North American Webshop HERE
Written at a time when the band was undergoing considerable changes in their personal lives, and coupled with the arrival of the pandemic, VULTURE INDUSTRIES admit that they struggled somewhat to find a sense of direction and that, as a consequence, 'Ghosts from the Past' took longer to write than expected.

However, the resulting album is, without a doubt, their strongest to date. While 'Ghosts from the Past' has that unique sound that is so recognisably VULTURE INDUSTRIES, the fact that it leans towards the darker side of hard rock also marks a change of direction for the band.

Mirroring all the chaos of today, 'Ghosts from the Past' is a reflection of the fear of a world spinning out of control, and the sense of powerlessness that results when the world order begins to fall apart, only to be replace by autocratic warlords, whose only aim in life is to expand their own power and legacy.

As a band that can boast of still retaining the same members it had when it started twenty years ago, VULTURE INDUSTRIES lineup of Bjørnar Erevik Nilsen on vocals and keys, Eivind Huse on guitars and vocals, Øyvind Madsen on guitars, Kyrre Teigen on bass and vocals, and Tor Helge Gjengedal on drums, have drawn on a myriad of influences for 'Ghosts from the Past'. From dust-riddled Spaghetti Westerns accompanied by Ennio Morricone, past the monochrome melancholia of apocalyptic post punk, through deep valleys and steep hills shrouded in progressive darkness, and a Nordic Noir looking to solve the unexplained murder of the truth. It is, in fact, a piece of their collective soul.
With a wide appeal on stage and in studio output, VULTURE INDUSTRIES have carefully honed their stagecraft, earning the band a well-deserved reputation as a theatrical and hugely entertaining live act, one that is currently firming up its 2023 touring schedule.
Confirmed upcoming dates are as follows:
16 Jun – Vaterland, Oslo (NO)
17 Jun – Good Omens, Trondheim (NO)
28/29 Jul – Artmania Festival, Sibiu (RO)
Dark Essence Records recently released the single "New Lords of Light" off 'Ghosts from the Past', and a video for the track, filmed and edited by Jarle Hovda Moe and with stock video from Carnival of Souls, can be seen HERE
VULTURE INDUSTRIES are:

Bjørnar Nilsen – Vocals, Keys

Øyvind Madsen – Guitar

Eivind Huse – Guitar, Vocals

Kyrre Teigen – Bass, Vocals

Tor Helge Gjengedal – Drums
FOLLOW VULTURE INDUSTRIES: