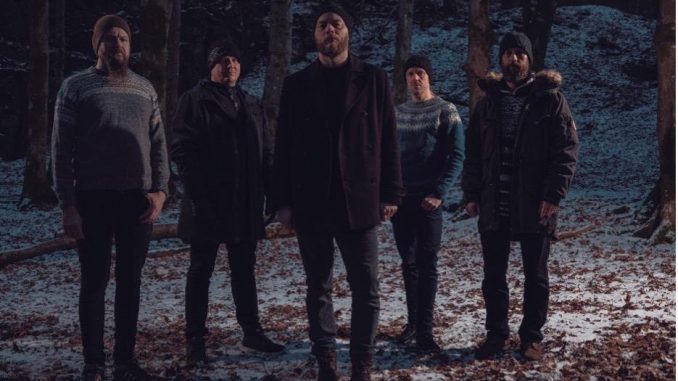 Watch HERE
New Album 'Ghosts from the past'
Out June 16 | Pre-Order HERE
Norway's VULTURE INDUSTRIES have unveiled the first offering from the band's upcoming new album! The dark progressive metal quintet is proud to announce that their new LP, 'Ghosts from the past', will see a June 16th release, and the first single, "New Lords of Light", is out today!

The new record, which will be released on Dark Essence and distributed via RedEye, is the band's first full-length release since 2017's 'Stranger Times'.

Speaking about the record's first single, the band shares:

"Starting life with the working title 'For Roky', I felt this one had a haunting feel, reminiscent of Roky Erickson. This was back during the pandemic summer of 2021, and I remember listening to early versions of the track in my car, driving up and down the west coast with my kids in the back. Processing the song in this way probably had a defining influence on the final product, so in the end it turned out upbeat and energetic, yet bound in somber atmosphere that harkens back to the 80s."

Watch the Music Video for "New Lords of Light" HERE
Bergen, Norway's VULTURE INDUSTRIES are back with their fifth studio full-length.

Commenting on the themes and external influences that inspired the creative process for 'Ghosts from the past', the band states:

"(this album) was written and recorded in a period of big changes, both in our personal lives and in the world around us, this album is somehow a mirror of this. It reflects fear of a world spinning out of control, and sense of powerlessness in the face of world order falling apart. Crumbling only to be replaced by old ideas fronted by autocratic warlords with no sight in mind but their own power and legacy."

Detailing the journey of recording the LP, the group adds, "With a writing and production period that started in 2018 and ended last year, the process was our longest haul to date, and for a long time we felt lost and struggling to find a sense of direction. Now, having finished the mix and mastering some months ago, it is a great relief to have some distance from the process and I would say ('Ghosts from the past') is our strongest album to date. We hope you enjoy what is essentially a piece of our soul."

'Ghosts from the past' draws a line from childhood spells of dark mystery and a sympathy for the outcast, to a present where monsters hide under your bed. Waiting, not to prey upon the sleeper, but to hide from the monstrosity of the day. Pulling on a wide range of influences; from dust-riddled Spaghetti Westerns accompanied by Ennio Morricone, past the monochrome melancholia of apocalyptic post-punk, through deep valleys and steep hills shrouded in progressive darkness and a Nordic noir looking to solve the murder of the truth.

Landing on something once described by a fan as "this is how Nick Cave would sound if he made metal," VULTURE INDUSTRIES has long since established itself as something singular, yet, once familiar, strangely recognizable.
'Ghosts from the past' Track List:
2. Saturn Devouring His Young
3. This Hell is Mine
4. Deeper
5. Right Here In The Dark
6. Not by Blood but by Words
7. Tyrants Weep Alone
VULTURE INDUSTRIES are:

Bjørnar Nilsen – Vocals, Keys

Øyvind Madsen – Guitar

Eivind Huse – Guitar, Vocals

Kyrre Teigen – Bass, Vocals

Tor Helge Gjengedal – Drums
FOLLOW VULTURE INDUSTRIES: