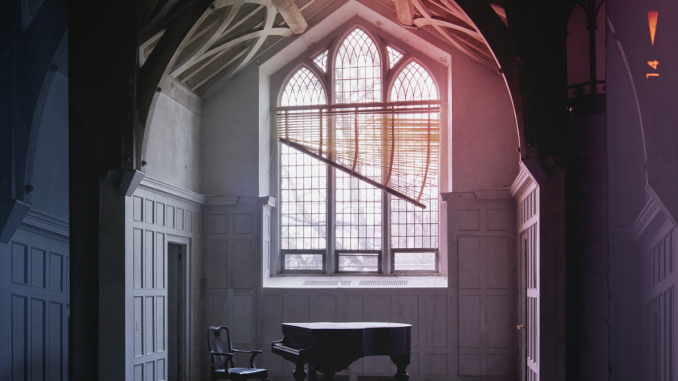 SONG APPEARS ON NEW ALBUM WELCOME HOME NOW OUT JANUARY 21 VIA SPINEFARM
New York City-based collective VRSTY (pronounced "Varsity") — Joey Varela [vocals], Javy Dorrejo [bass], Chris Cody [drums], and Paul Gregory [guitar] — have shared the new song "Soul." And it's another banger that blends different styles and hopscotches across genres and results in a completely fresh style all its own. The song track, well, plenty of "Soul."
Listen to the song, which is built on galloping, western-style nuances, and urgent percussion, topped off by Varela's smooth vocals, here.

"I love this song so much," comments Varela. "It's funny because this song was written way before the idea of a record was a thing and even before Spinefarm came along. This song came from a dream I had where I sold my soul to the devil and I heard the song playing in my head as I was dreaming."
He continues, "I woke up and wrote it, and it ended up becoming my favorite thing ever. It was also the first song I shared when I started putting together the record and it was the one everybody instantly fell in love with. In a weird way it's like this song is its own person and it sucks everyone in."

The song will appear on VRSTY's new album Welcome Home, out January 21 via Spinefarm. Pre-order it here. Please note the release date has changed.
Welcome Home is the band's debut full length for the label and follows last year's breakthrough Cloud City EP, which has accumulated six million streams in less than a year and yielded the head-turning singles "Shameless" and "Massive." The latter was the most played on SiriusXM's Octane for two weeks in a row in late 2020. VRSTY have perfected their seamless and fearless cross-pollination of metallic grooves and R&B-influenced, after midnight vocal swagger on this 14-track offering. VRSTY aren't just offering their own take on a genre; they have authored a fusion style that is entirely their own.
"Welcome Home is an incredibly personal album to me," Varela shares. "I know everybody says that, and hey, maybe they're not lying when they do. I sure as hell am not. It was definitely a task, at first, trying to figure out how to phrase or sing something without getting too personal. But somewhere along the way, I threw that idea out the window and decided to say exactly what I felt. You won't find me trying to sound cool or using any fancy wordplay. It's just me in my rawest form, saying exactly what I've felt or experienced over the years, which is what has made me who I am today. I think if anybody ever wants to get to know me, this record will give you everything you need to know. No secrets. Just me."
WELCOME HOME TRACK LISTING:
"Finesse" (Feat. Notions)
"Soul"
"Closer"
"Sick"
"Paranoid"
"Never Again"
"We, Always"
"Welcome Home"
"Love Sick"
"Hush"
"King of Pop"
"Gravity"
"Only Sad"
"11 a.m."