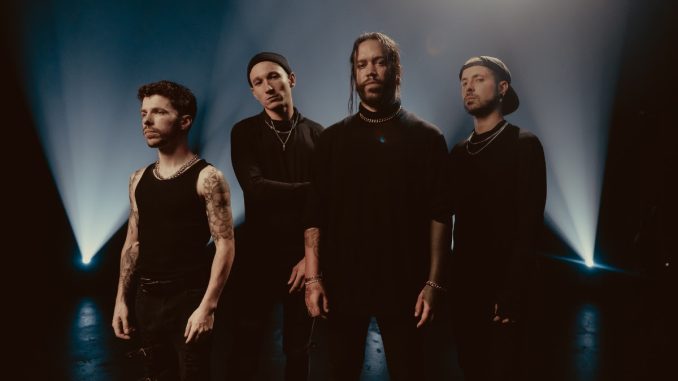 ALBUM ARRIVES OCTOBER 27 VIA SPINEFARM

BAND SHARES "FUCK YOU FOREVER" VIDEO — WATCH
New York City-based collective VRSTY (pronounced "Varsity") — Joey Varela [vocals], Javy Dorrejo [bass], Chris Cody [drums], and Paul Gregory [guitar] — have announced their new album Levitate. The album is out October 27 via Spinefarm. Pre-order it here.
Today, the band has shared the video for the kiss-off anthem "Fuck You Forever," which opens Levitate and is about that one thing that brings out the worst in you. VRSTY are not holding back with the song's message — or its guitar heft and stadium-sized choruses. So go ahead and play it for the most recent person to break your heart!
Watch it here.

"'Fuck You Forever' is very self-explanatory," says Varela. "It's a song about finally being done with being treated like an option and saying, 'Fuck you, I'm better than this.' It can sometimes be hard to see what you deserve when you're treated like you're not important but sometimes you just gotta say fuck it, fuck you, and move on."
LEVITATE TRACK LISTING:
"Fuck You Forever"
"Back to Back"
"No Chill"
"Black & Blue"
"Wide Awake"
"Dangerous"
"The Plug"
"The Way It Is"
"Doomed"
"Kill The Rich"
"Glad You Came"
"Powerless"
"Can You Love Me"
"The Feeling"
"Levitate"
VRSTY ON TOUR:
THE RIOT MUSIC TOUR: EAST COAST 2023:
WITH DROPOUT KINGS:
9/6 — Pittsburgh, PA — Crafthouse*
9/7 — Erie, PA — Basement Transmissions
9/8 — Harrisburg, PA — HMAC
9/9 — Baltimore, MD — The Crown
9/11 — Virginia Beach, VA — Scandals Live*
9/12 — Charleston, SC — Music Farm
9/14 — Columbia, SC — New Brookland Tavern
9/15 — Jacksonville, NC — Hooligans
9/16 — Jacksonville, FL — Jack Rabbits
9/17 — Fort Walton Beach, FL — Downtown Music Hall
9/18 — Orlando, FL — Conduit
9/19 — Tampa, FL — Orpheum
9/21 — Nashville, TN — The Cobra
*Headline Date
WITH MONUMENTS + FOR THE FALLEN DREAMS:
9/26 — Spokane, WA — Big Dipper (Only For The Fallen Dreams)
9/27 — Seattle, WA — Substation
9/28 — Portland, OR — Dante's
9/29 — Sacramento, CA — Old Ironworks
9/30 — Santa Ana, CA — Constellation Room
10/1 — Phoenix, AZ — Nile Underground
10/3 — Austin, TX — Come and Take It Live
10/4 — Houston, TX — Scout Bar
10/5 — Dallas, TX — Trees
10/6 — Springfield, MO — The Riff
10/7 — Chicago, IL — Reggie's
10/8 — Detroit, MI — Sanctuary
10/10 — Lakewood, OH — The Foundry
10/11 — Albany, NY — Empire Underground
10/12 — Clifton, NJ — Dingbatz
10/13 — Rochester, NY — Montage Music Hall
10/14 — Manchester, NH — Angel City Music Hall
10/15 — Brooklyn, NY — Meadows
ABOUT VRSTY:
VRSTY (pronounced "Varsity") make music as energetic and richly diverse as the city that spawned them. Assembled by band leader Joey Tyler, a Puerto Rican singer from New York City raised on R&B, pop, and Spanish music and equally inspired by metallic post-hardcore, VRSTY blends genres with fearless ambition and visceral enthusiasm. A handful of EPs preceded 2020's debut album, Welcome Home, itself followed by a three-part series of sequel EPs solidifying the band's reputation.

The band (comprised of guitarist Paul Gregory, bassist Javier Dorrejo, drummer Chris Cody, and Tyler) specializes in what Kerrang! described as "endless grooves and danceable parts, punctuated by breakdowns and completed with dark atmosphere." Meanwhile, "Massive,""from 2020's Cloud City EP, remained the Most Played on SiriusXM's Octane for two consecutive weeks. In a 9/10 review, Outburn described Welcome Home as "effortless, fun, and above all genuine." Blabbermouth raved: "While other bands may have introduced the concept of genre-bending, VRSTY have refined it."

Genuine authenticity and uncompromising passion are crucial to everything about VRSTY. Levitate, the band's stunning sophomore set, is powered by spirited conviction and a commitment to follow their muse wherever it leads. It's an album of rich melodic hooks and headbang-inducing grooves.

Tyler co-produced Levitate with Justin Deblieck (Ice Nine Kills, Motionless In White, Lorna Shore, Fit For A King). George Lever (Sleep Token, Holding Absence, Loathe) handled mixing duties.

VRSTY commands the crowd anytime they perform, connecting with anyone who struggles with feelings of low self-worth, bad relationships, or generally feels like an outsider. It's a feeling of shared community evident on the band's tours with the likes of 10 Years, Nonpoint, Secrets, and For The Fallen Dreams, among others. Ultimately, VRSTY aims to encourage, provoke, and inspire listeners.