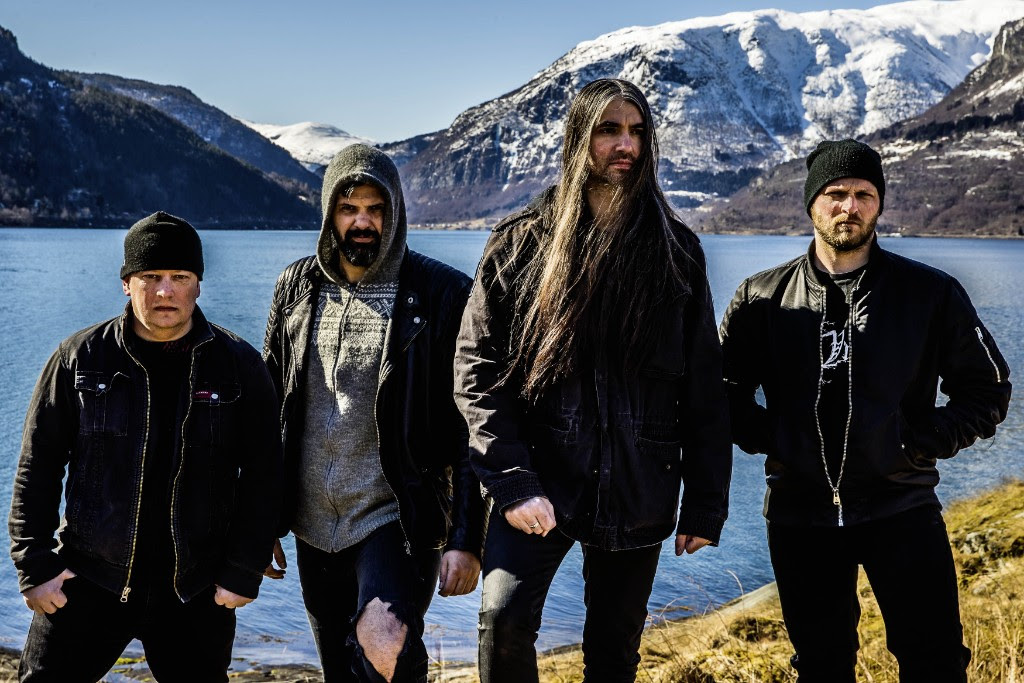 VREID
Premiere Lyric Video for "One Hundred Years" via Cryptic Rock, Kick Off North American Tour Next Week
Norwegian Black & Roll veterans
VREID
have partnered up with Cryptic Rock to premiere the official lyric video for the song, "One Hundred Years," which is taken from the band's latest release, 'Lifehunger.' The video can be seen
HERE
.
VREID songwriter/ bass guiratist Jarle Hváll Kvåle states: "To me, 'One Hundred Years' is the strongest song in our band's history. It's a song that captures the essence and multitude of Vreid. It's a song that we will guaranteed play in all our concerts. 'One Hundred Years' was inspired by a poem by the great Norwegian author Knut Hamsun. This lit a torch that resulted in this song about the everlasting duality of nature and human nature. The video is done by Håvard Nesbø, with spectacular filming of the dramatic and inspiring scenery and history of my beloved Vestlandet (western Norway). An eternal source to inspiration. He visualized the song beyond what I could have imagined."
Additionally, VREID will be direct support for KALMAH on their upcoming trek, making it the band's first time back in North America in six years! The tour will kick off next week on April 17 in Dallas, TX and will conclude on May 1 in Baltimore, MD. The full itinerary and ticket links are as follows:VREID (supporting KALMAH):
04/17: Dallas, TX @ Gas Monkey Bar & Grill [TICKETS // EVENT LINK]
04/19: Mesa, AZ @ Club Red [TICKETS // EVENT LINK]
04/20: Los Angeles, CA @ The Hi Hat [TICKETS // EVENT LINK] **SOLD OUT**
04/21: San Francisco, CA @ DNA Lounge [TICKETS]
04/22: Portland, OR @ Bossanova Ballroom [TICKETS // EVENT LINK]
04/23: Seattle, WA @ El Corazon [TICKETS // EVENT LINK]
04/25: Denver, CO @ Marquis Theater [TICKETS // EVENT LINK]
04/26: Kansas City, MO @ The Riot Room [TICKETS // EVENT LINK]
04/27: Chicago, IL @ Reggies [TICKETS // EVENT LINK]
04/28: Toronto, ON @ Velvet Underground [TICKETS // EVENT LINK]
04/29: Montreal, QC @ L'Astral [TICKETS // EVENT LINK]
04/30: New York, NY @ Gramercy Theatre [TICKETS // EVENT LINK]
05/01: Baltimore, MD @ Baltimore Soundstage [TICKETS // EVENT LINK]
05/03: Mexico City, Mexico @ Autodromo Hermanos Rodriguez

VREID have previously released their new grand opus 'Lifehunger' on Season of Mist. The Norwegian brigade, known for their ferocious lives shows, have done more than 500 shows across 25 countries, and are reported to be sharper, rawer and more intense than ever. Stream the album in full HERE or order it HERE.
VREID
were formed in 2004. The Norwegian metal brigade rose from the ashes of WINDIR after the tragic perishing of the "Sognametal" legends with the declared mission of exploring new musical paths.
The Norsemen proved true to their words and have so far delivered 7 albums and one DVD, which each received high praise from critics and fans alike. VREID chose a course of constant evolution that is marked by thematically denoted phases regarding their often historically inspired lyrics.
This became particularly clear with albums 'I Krig' (2007) and 'Milorg' (2009), which both revolved around concepts dealing with resistance and liberation of Norway during World War II. With their following three records, VREID returned to their Norse roots, especially on latest full-length, 'Sólverv' which received high critical acclaim in 2015.
VREID have hammered out their success partly by being a heavily touring band. The four-piece performed more than 500 shows in 25 countries so far. Their everlasting march to conquer new territories has led the Norwegians to headline tours in Europe, North America, Japan, and India.
VREID's style is often referred to as black 'n roll and Metal Hammer UK described their music as "a unique time travel in metal" as elements of 70's rock, 80's classic metal, and Norwegian black metal are all clearly audible.
Now with eighth album 'Lifehunger', black 'n roll is back! With eight brand new tracks, VREID are ready for the next chapter.
Line-up
Sture: Vocals & guitars
Strom: Guitars
Steingrim: Drums
Hváll- Bass and keys
For more on VREID, visit their official FACEBOOK, TWITTER, and INSTAGRAM pages.
For more on SEASON OF MIST artists, visit our official WEBSITE, FACEBOOK, INSTAGRAM, and TWITTER pages.