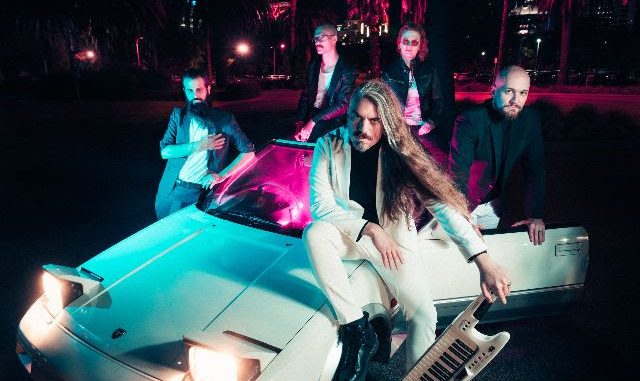 Drummer
Ash Doodkorte of
Perth's premier electro power prog sensation
VOYAGER
is now sharing an epic drum play-through for the band's new song, "Dreamer!" The single has been selected to compete in prestigious song contest,
Eurovision – Australia Decides
!
Watch the play-through, which was
filmed by Mike Dann & Ash Doodkorte at Hopping Mouse Studios
, at THIS LOCATION.
VOYAGER has also recently premiered the official music video for "Dreamer," which can be seen THIS LOCATION.
For several years, VOYAGER has been petitioning to be selected as one of Australia's musical representatives in Eurovision – Australia Decides. After being shortlisted in the previous year's competition, the band has finally been tapped to represent Western Australia, making it the first time that the region has hope of winning the Eurovision title! The band will soon reveal the song that has been selected in the contest!
VOYAGER vocalist and keytarist Danny Estrin has previously commented on the track, "As humans, we tend to look to the stars and glorify what could be. Simply, 'Dreamer' is about looking at the here, the now and valuing what we have around us. Especially over the last two years, hopes and dreams vs the tiny locked down bubble we live in has been a constant push and pull… It's good to be a dreamer, but the grass isn't necessarily always greener. We're bringing this track to 'Eurovision – Australia Decides' as our official entry and we can't wait to finally be on stage again!"
"Dreamer" can be streamed HERE.
VOYAGER – "Dreamer" (Drum Play Thru) 2022
"Integrating new-romantic 80s vocals against intricate textures of flashy synth, technical Opeth-esque riffs and ambient soundscapes, Voyager are a genre-defying cosmic melting pot of prog metal, djent and power pop." – Metal Hammer

In 2020, VOYAGER's music video for "Runaway" was exclusively premiered via 'Eurovision – Australia Decides!' Following an application via the Song Portal, the band finally received recognition for submitting a track and were paid tribute on the live television broadcast that aired on Saturday, February 8 on the Gold Coast. The can be seen at THIS LOCATION.

The song was taken from VOYAGER's 2019 release 'Colours in the Sun,' which received a wealth of international accolades. Recently, the single "Brightstar" was the first place winner in the Rock / Alternative category of the USA songwriting contest! Last year, 'Colours in the Sun' was the winner of The Independent Music Award in the Rock/Hard Rock Album category. The record was released in November of 2019 and landed a coveted #1 placement on the Australian Independent Albums chart! 'Colours in the Sun' also debuted at #7 on Independent Label Albums as well as #27 on Official iTunes Australia.

'Colours in the Sun' can be downloaded and streamed HERE.
Since their 1999 formation, whatever genre norms, boundaries and regulations thrust upon Perth, Australia's Voyager have been smashed. They embrace, if not brandish pop; employ a keytar on stage, and, bring forward a positive, if not uplifting feeling to their music, running head-first into the endless parade of heavy bands who see the world in a different light. It's perhaps why the title of their seventh full-length and first for Season of Mist,
Colours in the Sun,
is apropos: Voyager simply prefers to see the bright side of things.
"Observations of the malaises of the modern world and the baffling obsession with purity and difference all make me think," says frontman and founding member Danny Estrin. "We've never had it better and we've never had it more colorful. To me that's progress, it's adaptation, it's evolution and it's astounding."
The follow-up to 2017's Ghost Mile, Colours in the Sun finds Voyager enmeshed in rich, melodic, song-first tapestries, led by Estrin's smooth, capable clean vocal delivery. Estrin is self-aware of his vocals, calling them "unique and '80s." But whatever tag Estrin affixes to his voice, they are the propellent throughout Colours in the Sun, serving up a steady diet of soaring, emotive choruses, where melody is paramount and along the way, even getting some help from another distinctive belter, Leprous's Einar Solberg on "Entropy."

"Einar and I became good friends on our tours through Europe and Australia," notes Estrin. "I couldn't help but ask him to guest on the album. He is a fantastic musician and vocalist. I sent him a reference track which he swiftly ignored and laid his own tracks down. The result is stunning!"

The kaleidoscope of sounds that comprise the album's ten cuts is the result of Voyager's far-reaching influences, many of which go beyond the traditional realms of metal and rock. Estrin calls it "catchy at the top, proggy at the bottom, as if Dream Theater and Depeche Mode had a baby." It's almost as if the term "progressive" is too limiting for Voyager, particularly when the guitar tandem of Simone Dow and Scott Kay merge for complex rhythms while doing battle against Estrin's vaudeville-like keyboards (!) on "Reconnected."
The "proggy at the bottom" notice is served by way of the rhythm section of bassist Alex Canion and drummer Ashley Doodkorte, who stretch their musical tentacles across busy, active cuts such as "Saccharine Dream" and the syncopated "Water Over the Bridge." "I think we found our 'voice' on V (2014) and have been building on that ever since," says Estrin. "The synthwave prog sound is really something that has naturally developed and has been refined even more on the new album. Every record is progress — that's what progressive music is all about!"

According to Estrin, the Colours in the Sun album title encompasses a "vibrant multitude of people coming together under the hot Australian sun to create a beautiful and colorful soundscape." It's capped off by artwork courtesy of Doodkorte, who made the piece out of photographs near his house in Perth. A closer inspection reveals there are seven suns on the cover, one for each Voyager album, topped off by an updated version of the band's logo comprised of five strokes, one for each member. No doubt a fitting visual summation of a band whose progress can be the described in the most literal and figurative of terms.

"It's been a slow steady growth over the years," concludes Estrin. "Other bands come and go after a year of fame. I really feel like we've built up an incredible fanbase, especially over the last decade, and the deal with Season of Mist seemed the logical step to take it to the next level together."
Style: Electro Progressive Metal
Line-up
Danny Estrin – Vocals
Simone Dow – Guitars
Alex Canion – Bass
Scott Kay – Guitars
Ash Doodkorte – Drums

Recording studio:
Sumo Studios – Drums
Templeman Audio – Guitars and Bass

Producer / sound engineer:
Aidan Barton – Vocal Producer

Mixing studio and engineer:
Matthew Templeman
Fraser Cringle (assistant engineer)

Mastering studio and engineer:
Simon Struthers

Guest musicians:
Einar Solberg from LEPROUS on 'Entropy'.

Cover artwork artist:
Ashley Doodkorte
Bio:
David E. Gehlke

Press-kit: https://presskit.season-of-mist.com/Voyager/
Username: presskit
Password: Presskitofmist

Shop: https://smarturl.it/Voyagerinthesun
Download/stream 'Colours in the Sun': https://som.lnk.to/Voyagerinthesun
Download/stream "Dreamer": https://orcd.co/voyagerdreamer
Available formats:
CD Digipak
LP in various colours
For more on VOYAGER, visit the band's official FACEBOOK, INSTAGRAM, TWITTER, YOUTUBE, WEBSITE, and BANDCAMP.