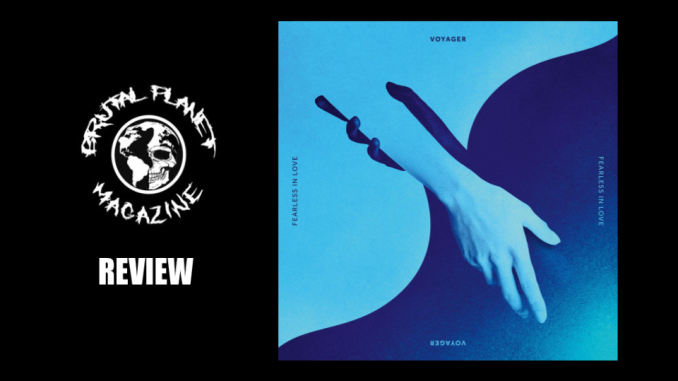 Voyager, the progressive metal band from Perth, Western Australia, released their eighth full-length album, "Fearless in Love" on July 14th through Season of Mist. It's been quite the year for the band already as they have received huge publicity for their Eurovision 2023 performance. Despite being a metal band, they made it to the finals and finished in 9th place overall.
In addition to frontman Daniel Estrin's powerful vocals, Simone Dow and Scott Kay (guitars), Alex Canion (bass), and Ashley Doodkorte (drums) show off their musicianship on each of the album's impressive eleven songs. The opening track, "The Best Intentions," gives the listener a good impression of the quality of metal this album has packed in it. In the first few moments, the listener is hit with a volley of synth notes, but the song soon burst with heavy guitar riffs and fast drum beats. Estrin's vocal delivery is wild, yet controlled.

Their mega-single, "Promise," was released on February 21st and was received with extremely positive reviews. The official music video is great, but the video of their live performance on Eurovision is even better. I'm sure many readers have already heard the song, but if you haven't, you really need to check it out. "Dreamer" was another single released quite a while back, and this synth-heavy mixes serious 80's vibes with subtle progressive breakdowns. I'm sure people have been using this as a dance song at parties. The official music video features moving fluorescent lights and a keytar. Enough said.


As is with many album releases, the singles are great, but some of the deep tracks are the ones that show off the incredible talent of the band. I particularly enjoyed the intro to "Submarine." This song features heavy prog riffs, wild keyboard and guitar solos, and a memorable vocal ending. "Twisted" starts out slower but soon picks up with groovy rhythms. There is an awesome bass part in "Listen," and "Gren (Fearless in Love)" feels like a musical roller coaster with anthemic choruses. It is a great way to end the album. All in all, the album is really well done. As a first-time listener of the band, I can tell they are well-versed in their abilities to record and perform.
There are countless metal bands around the world, yet these Aussies know how to stand out from most. Listening to this album is much like embarking on a voyage, really. It has its highs and lows, twists and turns, what you might expect, and moments of surprise. "Fearless in Love" brings a unique flavor of metal that everyone can enjoy.