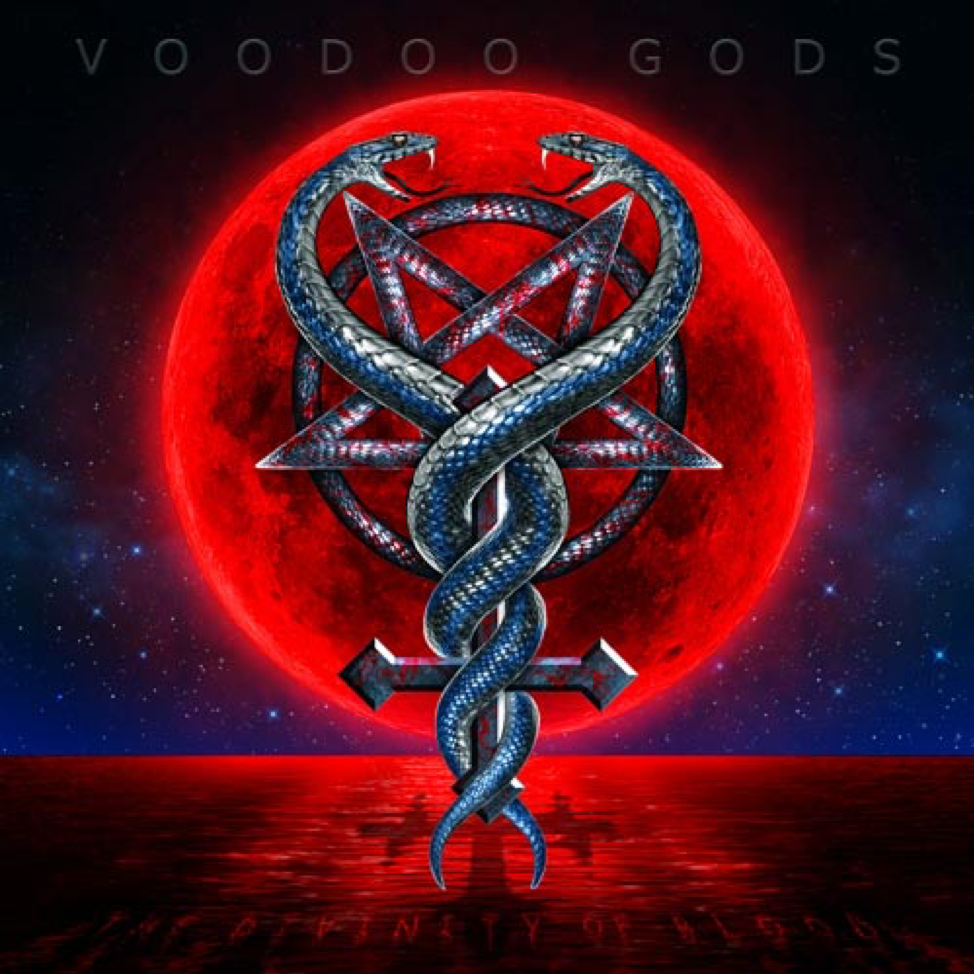 "The trust of riffs between death thrash metal conveys a nice cannibalistic feeling through Corpsegrinder's voice."
DEAF FOREVER | 8/10 Points
"… absolutely killer new Voodoo Gods album."
LEGACY | 12/15 Points
"It's a massive and brutal album for extreme Metal fans."
METAL-TEMPLE | 9/10 Points
"…brutality, filigree and musical prowess…"
The wait is finally over. The new album from death metal super group VOODOO GODS feat. George "Corpsegrinder" Fisher on vocals is in stores now worldwide. 'The Divinity Of Blood' was produced by Andy La Rocque of King Diamond, who also took the helm for the mixing and mastering of the record. The result is a huge and powerful Death/Thrash metal album that combines influences from voodooism, rituals and anti-christian forces.
Order 'The Divinity Of Blood' here:
ICYMI:
Comments from VOODOO GODS about 'The Divinity Of Blood'
Victor Smolski (guitar) states:
"A must for all fans of progressive death metal: demanding, aggressive and versatile. New dimensions from a unique mixture of Death and Thrash Metal with a fantastic line up!"
Jacek Hiro (guitar) adds:
"Another album with crazy guitars! I am really excited to see if our fans will like the new material. This album is full of surprises and will turn a few heads."
Alex Voodoo (drums) says:
"'The Divinity Of Blood' is our tribute to contemporary Death Metal and hopefully we will gain some popularity with new fans…so we can present our madness live. This album took a few years in the making, but it is full of great melodies and angry music.
Seth van de Loo (vocals) concludes:
"Finally this piece of darkness will see the light."
About VOODOO GODS:
When death metal icons like George "Corpsegrinder" Fisher, guitar virtuoso Viktor Smolski, bass titan Jean Baudin, and guitar god Jacek Hiro join together to form a death metal band, it reads like a membership list in the Metal Hall of Fame. This is the case with VOODOO GODS, therein cementing their right to be considered a death metal super group without exaggeration.
The second studio album from this all-star band (which eschew from the idea of being called a side project), 'The Divinity Of Blood' is out now worldwide via Reaper Entertainment.
VOODOO GODS Online: