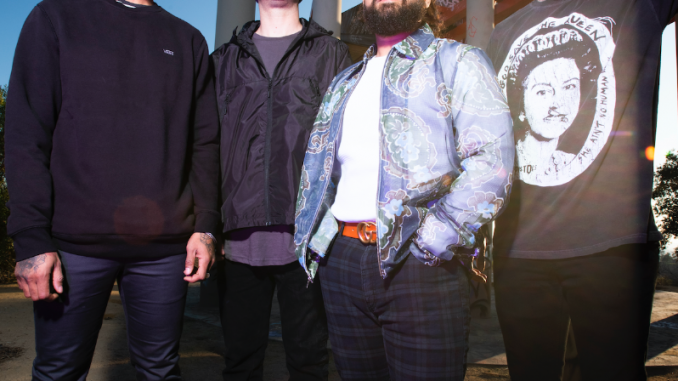 NEW ALBUM HAPPIER? OUT TODAY, NOVEMBER 19, ON FEARLESS RECORDS
It's time to get lost in the "Void."
VOLUMES are releasing their new album Happier? today, November 19, via Fearless Records. Get the metallic juggernaut here.
The band celebrates the release by dropping the new track "Void." Listen to the song, which clocks in at under three minutes but still packs a ferocious punch and is heavier than granite, here.
"'Void' goes into the anxiety ridden, paranoid mindset," vocalist Michael Barr says. "I struggle from anxiety with overthinking situations to the point where it can be detrimental. I think everyone in 2022 has some form of anxiety due to the complex nature of the world as we know it. 'Void' explores the narrative of self-help, whether that's a positive or a negative. Where do we go? What do we do when we are feeling these pressures and anxieties as a society."
Los Angeles quartet Volumes — Myke Terry [vocals], Michael Barr [vocals], Raad Soudani [bass], and Nick Ursich [drums] — strike a balance between twisted melodies and bone-shattering grooves. Selling out countless shows, posting up over 60 million total streams, and receiving widespread acclaim from a variety of sources, such as Alternative Press, New Noise, Rock Sound, Metal Injection, MetalSucks, Nik Nocturnal, and more, the musicians move forward with a clear vision on their fourth full-length offering, Happier?
Volumes entered the scene with 2010's The Concept of Dreaming EP, gaining momentum with Via [2011] and No Sleep [2014] before serving up Different Animals in 2017. The latter boasted the fan favorite "Feels Good," which racked up over 10.9 million Spotify streams. Following the Coming Clean EP, Volumes delivered a one-two punch with "holywater" and "Pixelate" during the 2020 COIVID-19 pandemic lockdown.
Today, the band unleashed Happier? on the world, and it's their most dynamic release to date. The album takes the listener along for as sonic thrill ride from start to finish.
HAPPIER? TRACK LISTING:
"FBX"
"Malevolent"
"Bend"
"Get Enough"
"Lets Me Down"
"Man On Fire"
"Weighted"
"See You Again"
"Into You (Hurt)"
"Void"
"Happier?"
Volumes just wrapped a successful headline Fall 2021 tour. Stay tuned for news about the band's 2022 tour plans.