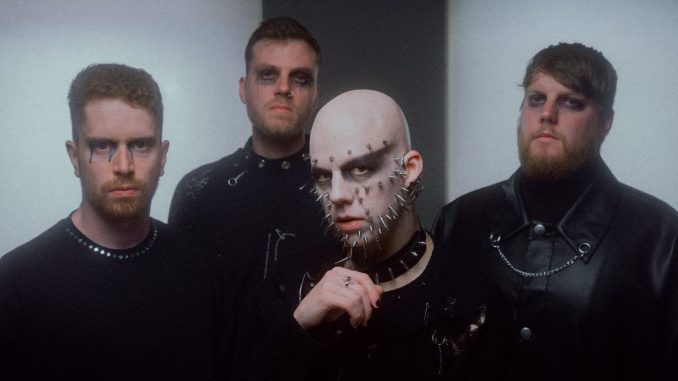 WITNESS A NEW BEGINNING

THE "ANGEL OF DARKNESS" HAS ARRIVED — WATCH
WITNESSES.
The human body known as Jack Bergin has been chosen for ascension.
I will be communicating on his behalf.
You won't believe what happens next.
In observance, your Angel of Darkness.

Following the scintillating conclusion of the CHRONICLES trilogy earlier this year, a metamorphosis is underway for Melbourne's Void Of Vision. The human form of Jack Bergin is gone; his whereabouts unknown, for now. I am here to speak in his place, your Angel of Darkness. Human to some. A deadly kind of divine.

Transcending boundaries and the fabric of reality, I have materialized onto this plane, and invite you now to bear witness to a brand new chapter. Let us begin with a brand new anthem, a sonic tribute to my arrival: "Angel Of Darkness."
Ingest alt metal flourishes, weighted equally by searing heavy and pulsing pop. Experience vulnerable lyricism balanced with a broad range of influences spanning Charli XCX to Meshuggah. No genre can hold Void Of Vision, and the beautiful darkness consumes them after a decade of aggressive onslaught. Are you watching closely?
Witness the video for "Angel Of Darkness" here.
The entity known as Void Of Vision have solidified their standing as an innovative and sonically explosive act in the modern heavy scene for over a decade. In 2023 alone, the band have performed at Australia's first-ever Knotfest edition, alongside Slipknot, Parkway Drive, Megadeth, and more, collaborated with metal-meets-electronic DJ and producer PhaseOne on the ambitious crossover single "
Eyes Wide Shut
," and unveiled the amalgamated
CHRONICLES
series as a complete album, bringing together the previously standalone EPs
LUST
,
HEAVEN
,
and
UNDERWORLD
into a gripping snapshot of Void Of Vision's relentlessly inventive past, present, and future.
Following the release of CHRONICLES, the future is now, with Void Of Vision poised to entice you further into their universe with me, your Angel Of Darkness, at the helm.
Witnesses of North America will experience Void Of Vision supporting Invent Animate this September and October, before the group embark across the UK and Europe supporting Stray From The Path. Void Of Vision will also appear nationally later this month for the Das Ende Australian Tour.
WITNESSES.
Observe, ingest: Angel Of Darkness.
You won't believe what happens next.