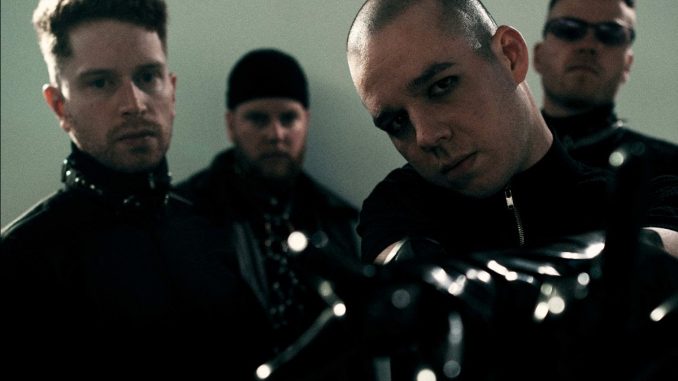 WATCH VIDEO FOR NEW SINGLE "VAMPYR" HERE
This press release discusses issues of toxic behavior and abuse towards women, particularly in the music industry.
Help + resources are available via Beneath The Glass Ceiling
Since bursting onto the scene nearly eight years ago, Australian metal favorites
VOID OF VISION
have used their platform as a projection of anger, apathy, darkness, and despair. Whether faithful fan or peripheral onlooker, the band's previous recorded, visual, and live performance elements made their bleak sentiments clear for anyone to see.
CHRONICLES I: LUST
– the group's newly-announced EP due to drop this Friday, October 22 — smashes this perception.
On a granular level, LUST discusses topics including mental health and music (heard on recent single "THE LONELY PEOPLE"), confronts relationship breakdowns ("GOTHIKA"), and a culture of predatory and abusive men in the music industry as evidenced by the new single "VAMPYR." The EP's visuals — intentionally stark, true-tone black and white — speak to the personal grappling and growth vocalist Jack Bergin experienced during its writing, symbolizing the "seeing it for what it is," plain in black and white reality that he encountered.
Speaking more in-depth about the release of "VAMPYR," Bergin shares that it reflects on a collective process of disappointment turned disgust concerning the music industry's history of toxic behavior towards women.
"We are all a part of the mission to fight against the inappropriate behavior in the Australian music industry, every one of us," he says. "While visible changes are now happening to shift the horrible behavior within our environment, it is still a deep-rooted culture problem that needs to be ripped out from underneath the surface. It all comes down to how we all collectively act upon these situations in our respective fields; we simply cannot allow anyone to continue abusing their power in a way that is harmful to women."
He continues, "I know for a fact that I have stood idle before amongst a world full of dangerous men and their sycophants that will do whatever it takes to protect their unstable world… but this isn't about me. This is about how much more we can all be doing in our positions to actively create a safe space for women. You can neglect accountability or wake up and ask yourself how it is all still happening in this day and age."
ABOUT CHRONICLES 1: LUST:
First introduced by singles "THE LONELY PEOPLE" and "VAMPYR," the
CHRONICLES I: LUST
EP finds Void of Vision frontman Jack Bergin
expressing himself with an openness, clarity, and purpose never before seen. While historically the band has been an outlet for his internal angst and self-loathing,
LUST
unravels the beginning of a personal expedition to become a better human, embrace a new outlook on life, and at the same time lift his focus towards the issues and injustices in the world around him.
"It just got to a stage where I didn't want to be broken anymore, I didn't want to be negative. It was just so off-putting for everyone around me to deal with that kind of person," he divulges.
"Since our first record [2016's Children of Chrome], I just folded back a lot and introverted myself, and I guess that translated to Hyperdaze (2019) being so introspective. Last year, I began to realize how I was behaving in all my relationships and how little effort I was putting in, and I learned I needed to embrace accountability and responsibility. It made me truly grasp the fact that there is more to life than just myself and getting stuck in my own head and not giving a shit about anything else. LUST is really the beginning of my story becoming a better man, but I hope putting my learning through my own mistakes in music will be something that other people can relate to and hopefully take away from as well."
Overall, LUST delivers both big conversation and intriguing and dramatic finite detail to chew on. Musically, it is pulsing, urgent and incredibly heavy — the ultimate Void of Vision implosion.
This is Void of Vision. The Chronicles are beginning. To be continued…
CHRONICLES I: LUST TRACK LISTING:
"OHNE SICHT"
"GOTHIKA"
"VAMPYR"
"THE LONELY PEOPLE"