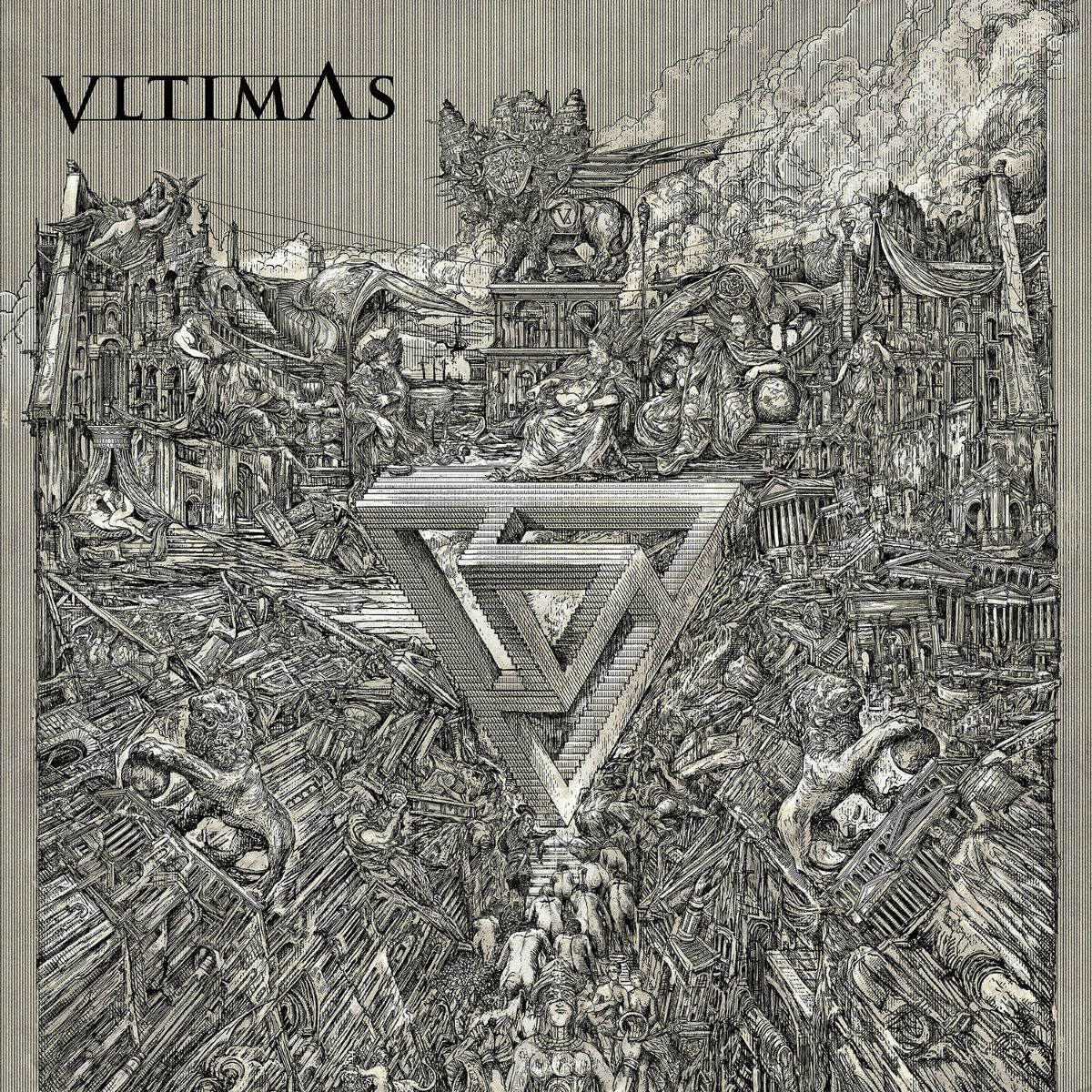 Three-piece extreme metal formation 
VLTIMAS
, which consists of David Vincent (ex-MORBID ANGEL), Rune Blasphemer Eriksen (ex-MAYHEM, AURA NOIR), and Flo Mounier (CRYPTOPSY), have premiered the lyric video for the brand new song, "Diabolus Est Sanguis." The track is taken from their  forthcoming debut album, 'Something Wicked Marches In,' which is due on March 29 via Season of Mist.
"Diabolus Est Sanguis" can be heard HERE.
'Something Wicked Marches In' can be pre-ordered in various formats, including CD Digipak, LP gatefold in various colors, and cassette, at THIS LOCATION.
VLTIMAS are available for interviews via Skype, email, and phone. Please reach out to Katy Irizarry at Katy@season-of-mist.com. Additional assets, such as hi-rez photos, can be found HERE.
VLTIMAS
have previously revealed the cover of 'Something Wicked Marches In' which has been created by renowned Polish artist 
Zbigniew M. Bielak
 (GHOST, PARADISE LOST, BÖLZER, ZHRINE) and can be viewed together with the track-list below.
Track-list
1. Something Wicked Marches In (4:28)
2. Praevalidus (3:39)
3. Total Destroy! (2:57)
4. Monolilith (5:25)
5. Truth And Consequence (3:42)
6. Last Ones Alive Win Nothing (5:29)
7. Everlasting (3:40)
8. Diabolus Est Sanguis (3:27)
9. Marching On (5:34)
Total: 0:38:21
VLTIMAS live:
06/23: Clisson (FR) @ Hellfest 2019
06/28: Oslo (NO) @ Tons of Rock 2019 (Exact date TBA)
08/02: Wacken (DE) @ Wacken Open Air 2019 (Exact date TBA)
After some years of absence from the black metal scene, guitarist Rune Eriksen (AURA NOIR, EARTH ELECTRIC, ex-MAYHEM), decides to venture back into the aural landscapes he's widely known for. Having played with one of Norway's leading extreme metal bands for years, Eriksen seeks to coalesce classic, cold Scandinavian riffing with an air of darkness and the signature force of death metal.
Combining strengths, Eriksen brings in veterans of the extreme, David Vincent of legendary death metal formation MORBID ANGEL, as well as acclaimed drummer Flo Mounier from CRYPTOPSY. The three-piece have completed the work on their debut album, which is slated for release early 2019 via Season of Mist. The new death metal powerhouse will be known under the moniker of
VLTIMAS
.
The foundation for
VLTIMAS
was laid when Rune, after collecting a handful of riffs, presented drummer Flo Mounier with the idea of forming a band together. For the two musicians, having composed and recorded numerous songs together in the past, the musical chemistry was already tried and tested. However, one thing was still missing. This extraordinary musical project needed an extraordinary voice and Eriksen got in touch with David Vincent, with whom he had been in contact for years, to finalize the line-up.
Vincent had just exited Morbid Angel and was ready for a new chapter in his long spanning career. Everything fell into place, and
VLTIMAS
came into being.
During the Noize Factory sessions (Georgetown, USA), the musicians started writing a substantial amount of music. The sessions proved to be a fruitful endeavor and the first ideas and song skeletons were later fleshed out by Rune at his home studio in Portugal, then finalized when Flo Mounier and Eriksen returned to Texas, in order to put the final touches to the material at David's home studio. In a more controlled surrounding the songs started to unveil themselves and the studio was booked.
The band entered Orgone Studios in Woburn, England in May 2018 with producer Jaime Gomez Arellano. Here, the three-piece recorded nine crushing tracks that will appear on the full-length debut album.
The new record offers a vast array of influences, but most notably the distinguished symbioses of these three respected and talented musicians. A dark and sinister ambiance meets a majestic and a commanding death metal energy.

For more on VLTIMAS, visit their Official FACEBOOK, TWITTER, and INSTAGRAM.
Line-up:
David Vincent – Vocals
Rune Blasphemer Eriksen – Guitars
Flo Mounier – Drums – guitars