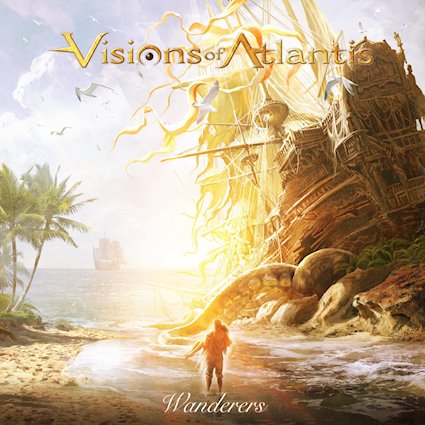 Visions Of Atlantis, the female and male fronted Austrian symphonic metal band will release their latest studio album titled Wanderers on Friday, August 30, 2019 through Napalm Records.
The basic foundation of the eleven track album can be attributed to the quote, "Not all who wonder are lost" from J. R. R. Tolkien's poem titled "All That Is Gold Does Not Glitter" that appears twice in the first volume of the Lord of the Ring series.
With the general concept of Wanderers established from the Tolkien quote, Visions Of Atlantis transports the listener on a magical, musical and lyrical breath taking journey through untamed seas while in search of self-discovery.
Leading the voyage comes from the shared vocal duties of Clementine Delauney and her male counterpart Michele Guaitoli as the duo takes the Vision of Atlantis wanderers on a magical trek through dreamy landscapes.
The album offers up many awe inspiring symphonic moments to the listener during the 49-minute voyage of the Wanderers. Each track easily illustrates its own unique appeal and allure to the Vision of Atlantis voyager. This is most evident in the lighter musical creations such as the title track "Wanderers", "Nothing Lasts Forever" and "Into the Light" as vocals from both Delauney and Guaitoli soar with angelic wings.
But the dual vocals are only one of the several mechanisms needed that allows Wanderers to soar. Include keyboard introductions and passages, flowing leads and amazing choruses. All these elements combined have created a sincere, solid and brilliant symphonic metal offering that wraps up the last several weeks of the summer months upon its release.
The band which has experienced numerous lineup changes during its history including the passing of former vocalist Nicole Bogner in January 2012 from an undisclosed illness should be very pleased with the results of Wanderers.
The members of Visions Of Atlantis may not have been aware of the endeavor set forth as the band embarked on the Wanderers quest, an imaginative musical path but the final results of the album speak volumes.
To breathe more life into the Wanderers, the band set out and travelled to the French island of Quiberon in the Atlantic utilizing the weathered coastline and deteriorating pirate ship wreckage to capture images to accompany the release of the album thus bringing the Wanderers concept full circle.
Photo Credit: Emilie Garcin

Photo Credit: Emilie Garcin
Atlantis has always been a mystery over the centuries but now Visions Of Atlantis can be felt and experience musically.
Like the old wreckages that are visible, the Wanderers album will be around as it solidifies itself in the symphonic metal genre. Simply, Visions Of Atlantis have stepped up firmly planting the band on the next level in the symphonic metal genre. It's a positioning that's been earned and well deserved.