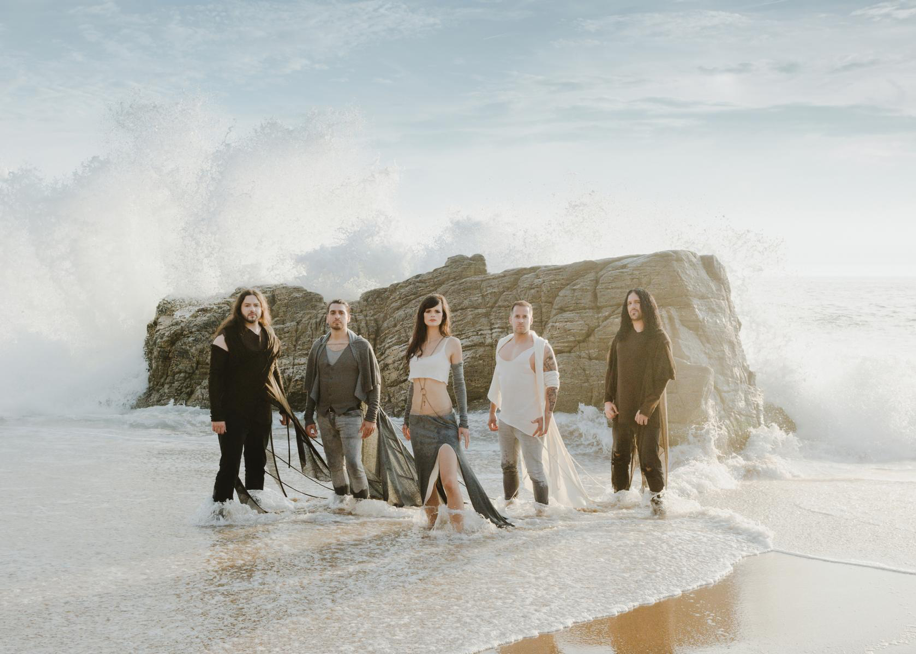 European Tour Kicks Off on October 4th!
New Album available in multiple Formats
HERE
VISIONS OF ATLANTIS inspire their fans worldwide!
VISIONS OF ATLANTIS entered the charts worldwide with their newest successful opus, Wanderers. The new album even topped the chart-breaking The Deep & The Dark (2018), and the Austrian-French-Italian five piece continues their way to the top! See the chart entries below:
It's finally here, and transgresses borders of all imagination! VISIONS OF ATLANTIS released their spectacular seventh album on 30th August via Napalm Records. On Wanderers, VISIONS OF ATLANTIS unfold their unique concept that transcends the stylistic approach of symphonic metal with songs as Heroes of the Dawn or lyrical Nothing Lasts Forever, highlighting the power of spectacular vocal duets by Clémentine Delauney and Michele Guaitoli.
With each track, the listener will be blown away by captivating symphonic metal songs, exploring sides of the group the listener might yet not be familiar with. VISIONS OF ATLANTIS truly take the next step with this release, starting with a photoshoot on the shores of the North Atlantic that resulted in breathtaking pictures, lyrics that touch the heart and soul, and riffs that will take you on a journey to the world unknown.
Wanderers is available as strictly limited Earbook edition, including 48 pages of pure VISIONS OF ATLANTIS art, a bonus CD and an exclusive 7'' vinyl. Singer Clémentine Delauney shows you what this all includes in this video:
Wanderers is available in the following formats:
· EARBOOK 48 + Bonus CD + exclusive 7" vinyl
· GOLDEN Gatefold Vinyl 2LP
· OCEAN BLUE Gatefold Vinyl LP
· Digipack CD
· Digital Album
· OCEAN BLUE Gatefold Vinyl LP + Shirt Bundle
· Digipack CD + Shirt Bundle
After their successful album release shows, VISIONS OF ATLANTIS will immediately return to European stages together with Freedom Call and Seven Thorns to celebrate the new album with their fans all over Europe. Don't miss the chance to see Clémentine Delauney's heartbreaking and intense duets with Michele Guaitoli live on stage on the following dates:
w/ Freedom Call
04.10.19 SK – Kosice / Kasarne
05.10.19 SK – Zvolen / DK ZSR
08.10.19 DE – Hamburg / Knust
09.10.19 DE – Berlin / Musik & Frieden
10.10.19 DE – Aschaffenburg / Colos-Saal
11.10.19 CZ – Prague / Meet Factory
12.10.19 CZ – Zlin / Masters of Rock Cafe
13.10.19 HU – Budapest / Dürer Kert
15.10.19 DE – Munich / Backstage
16.10.19 DE – Cologne / Club Volta
17.10.19 DE – Stuttgart / clubCANN
18.10.19 DE – Erfurt / HsD
19.10.19 CH – Pratteln / Z7
20.10.19 DE – Bochum / Bochum
VISIONS OF ATLANTIS will continue their march of victory in 2020 on the European headline tour with EDENBRIDGE, SCARLET, and LEECHER. 2019 and 2020 are the years OF ATLANTIS'!
08.11.19 DE – Weissenhäuser Strand / Metal Hammer Paradise
09.11.2019 DE – Bad Friedrichshall / Lemmy's
23.11.19 AT – Graz / Ear Gazmic Winternights
VISIONS OF ATLANTIS Wanderers Tour 2020:
w/ Edenbridge, Scarlet, Leecher
18.04.20 CH – Wetzikon / Hall of Fame
19.04.20 DE – Trier / Mergener Hof
21.04.20 DE – Aschaffenburg / Colos Saal
22.04.20 FR – Paris / Backstage By The Mill
23.04.20 UK – London / The Underworld
24.04.20 UK – Manchester / Rebellion
25.04.20 NL – Utrecht / De Helling
26.04.20 DE – Leipzig / Hellraiser
28.04.20 DE – Cologne / Helios 37
29.04.20 NL – Tilburg / 013
30.04.20 DE – Hamburg / Headcrash
01.05.20 DE – Erfurt / From Hell
02.05.20 CZ – Prag / Nova Chmelnice
For more information on VISIONS OF ATLANTIS, visit:
About VISIONS OF ATLANTIS:
VISIONS OF ATLANTIS is an Austrian-French-Italian Symphonic Metal band that was formed in August 2000 in the beautiful town of Bruck an der Mur. VISIONS OF ATLANTIS have featured harmonies of male and female vocals since the beginning of their career, which makes them extraordinary and distinctive from other bands of the genre. The band consists of Clémentine Delauney (vocals), Michele Guaitoli (vocals), Christian Douscha (guitar), Thomas Caser (drums) and Herbert Glos (bass).