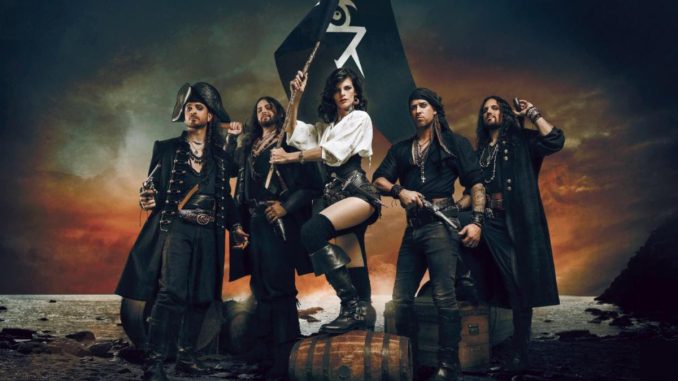 Watch HERE!
New Live Album, 'Pirates Over Wacken', Out Now
Get Your Copy HERE!
European Headline Tour Kicks Off Tomorrow!
Symphonic Metal Pirates VISIONS OF ATLANTIS set sail, LIVE from Wacken Open Air 2022!
2023 is a huge year for VISIONS OF ATLANTIS! After they thrilled fans with their recent release, 'Pirates', the symphonic metal icons are now doubling down on the special experiences. After their very successful first headline tour in the US, the symphonic metal visionaries are ready to set sail in Europe, as their headline tour kicks off tomorrow, April 4th.
Today, the band unveils the beautiful live version of "Melancholy Angel", recorded with a full orchestra and taken from the bonus DVD of their recently released live album, 'Pirates Over Wacken'! The fan favorite from 'Pirates' has already reached more than two million streams on Spotify and over a million views on Youtube.
Watch the Official Live Video for "Melancholy Angel" HERE
VISIONS OF ATLANTIS on 'Pirates Over Wacken':

"There is something purely magical about WACKEN. Maybe it is the collective belief that this is the Holy Ground of Heavy Metal. Maybe it simply is, the Holy Ground of Heavy Metal. Maybe this casts a specific energy around the stages and the fields of this special German town.

"We didn't miss feeling this magic, while shouting the name "WACKEN" out loud on stage or while looking around and seeing thousands of people, at peace, loving being there and sharing this together."

"It was very special to us again, as if it wasn't our first time playing WACKEN. We were overcome with emotion several times during the show. There was so much we wanted to say. We felt empowered as artists and human beings. WACKEN is a place where you feel you can change the world. Watching this crowd and talking to them on that very day felt like something we never experienced before and we will remember it forever.

"Nothing lasts forever, but memories do. Thank you WACKEN for having made us a part of your legend."
'Pirates Over Wacken' Track List:
1.Master the Hurricane
2.A Life of Our Own
3.Clocks
4.The Silent Mutiny
5.In my World
6.A Journey to Remember
8.Heroes of the Dawn
9.Clemi's Speech
10.Freedom
12.Legion of the Seas
'Pirates Over Wacken' is now available in the following configurations:
=> 2 LP Gatefold BLACK (limited to 500 copies worldwide)
=> 3 CD Earbook (36 pages) incl. five-track bonus DVD (recorded on Masters Of Rock Festival in the Czech Republic), 'A Pirates Symphony' (the orchestral version of the studio album Pirates) – SOLD OUT!
=> 1 CD Digisleeve
Featuring songs from 'Pirates' as well as fan favorites like "A Life Of Our Own", "The Silent Mutiny" and "A Journey to Remember", VISIONS OF ATLANTIS bewitched the enthusiastic audience with their new set of eleven tracks embracing freedom and self-confidence. The multinational band kicks the performance off with their majestic single from 'Pirates', "Master The Hurricane". Through its perfectly balanced mixture of dramatic choirs, heavy orchestration and dedicated vocals, the multi-million streamed hit "Heroes Of The Dawn" and 'Pirates' album opener "Pirates Will Return" provide sing-a-long opportunities for listeners to get lost in.

Guiding fans through their powerful discography, the intriguing soundscapes and hauntingly beautiful melodies will take you back to an unforgettable day at Wacken Open Air. VISIONS OF ATLANTIS wrap up the feverishly hot concert with their last hit single, "Melancholy Angel", and "Legion Of The Seas" – presenting their heaviest side without losing their inimitable feeling for creating dreamlike symphonic melodies. This emotive eleven track experience will have you tasting the heat and dust of the palpable Wacken festival air, and embracing the wilderness that only true Pirates know!

'Pirates Over Wacken' is a perfect taste of what lies ahead for VISIONS OF ATLANTIS with long lasting tours through Europe and the US!

Limited special editions, like the beautifully illustrated 36 page Earbook, contain a very special gift for all fans: a five-track bonus DVD recorded at their enchanting appearance at Masters Of Rock Festival in the Czech Republic, as well as 'A Pirates Symphony' – the orchestral version of their successful studio album 'Pirates'.
VISIONS OF ATLANTIS live:
The band is about to start their Pirates Over Europe tour on April 4,
featuring support from Autumn Bride
Pirates Over Europe tour
/w Autumn Bride
04.04.23 DE- Cham / L.A.
05.04.23 IT – Bologna / Alchemica
06.04.23 CH – Monthey / Pont Rouge
07.04.23 FR – Montpellier / Secret Place
08.04.23 FR – Toulouse / L'usine A Musique
10.04.23 PT – Lisbon / RCA Club
11.04.23 ES – Mos-Pontevedra / Sala Rebullon
12.04.23 ES – Madrid / Revi Live
13.04.23 ES – Vitoria / Urban Rock Concept
15.04.23 BE – Gent / JH Asgaard
16.04.23 NL – Amersfoort / Fluor
18.04.23 DE – Aschaffenburg / Colos Saal
19.04.23 DE – Saarbrücken / Garage
20.04.23 DE – Essen / Turock
21.04.23 DE – Hanover / Musikzentrum
22.04.23 DE – Nuremberg / Der Cult
23.04.23 AT – Klagenfurt / Volxhaus
VISIONS OF ATLANTIS are:

Clémentine Delauney – Vocals

Michele Guaitoli – Vocals

Dushi Duscha – Guitars

Herbert Glos – Bass

Thomas Caser – Drums

FOLLOW VISIONS OF ATLANTIS: