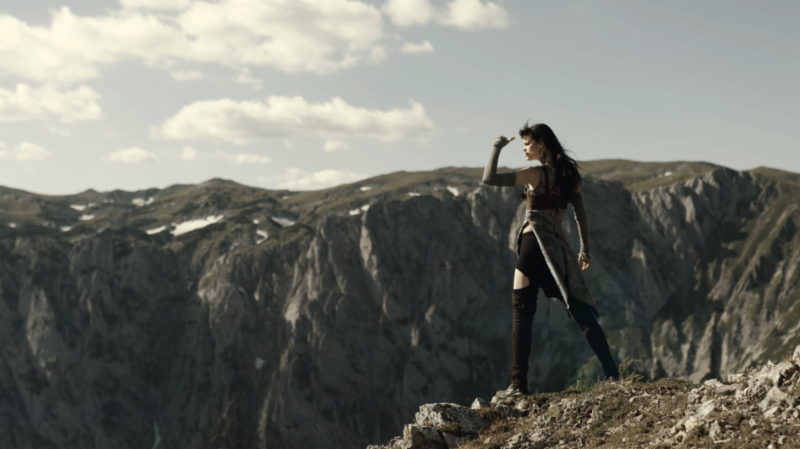 Available Digitally everywhere TODAY!

Pre-Order The New Album "Wanderers"

HERE

!
VISIONS OF ATLANTIS is ready to set sails to start "A Journey To Remember".
VISIONS OF ATLANTIS release their second single off "Wanderers" today along with a beautifully conceptualized video. Leaving behind old memories, the song takes the listener to the wild and untamed nature, and into the dreamscapes of the band.
"A Journey To Remember" is a powerful song, guaranteed to have you captivated and enchanted!
Watch "A Journey To Remember"
HERE
!
On August 30th, VISIONS OF ATLANTIS will release their long awaited seventh studio album "Wanderers" via Napalm Records. The follow up full length album for 2018's The "Deep & The Dark", which hit the charts in Germany, the USA, the UK and Switzerland, continues the everlasting journey of VISIONS OF ATLANTIS in 19 years of band history right into the wideness of the seas.
As OOMPH!'s singer Dero states: "The perfect mixture of female and male vocals, embedded in great symphonic metal hymns!"
The new symphonic masterpiece is ready for Pre-Order
NOW
!
"A big congratulations for this album, I love the title track!"
(Alissa White-Gluz / Arch Enemy)
"Bold, diverse and captivating! VOA returns with an album ready to launch the band to the next level!"
(Thomas Younglood / Kamelot)
"Strong songs with amazing choruses."
(Mark Jansen / Epica)
"That's how symphonic metal has to sound like!"
(Chris Harms / Lord Of The Lost)
"Wanderers" is VISIONS OF ATLANTIS' seventh album. The listener will be taken on a journey into the breathtaking depths of the symphonic metal universe. It offers a captivating musical and lyrical journey across the seas along a powerful path towards self-discovery. "Wanderers" is one of the most intense and profound symphonic metal albums the world has seen (or heard) in the past 15 years.
Tracklist:
1. Release My Symphony
2. Heroes Of The Dawn
3. Nothing Lasts Forever
4. A Journey To Remember
5. A Life Of Our Own
6. To The Universe
7. Into The Light
8. The Silent Scream
9. The Siren & The Sailor
10. Wanderers
11. At The End Of The World
Bonus Tracks:
12. Bring The Storm
13. In And Out of Love
Exclusive 7'' Single (Earbook only!):Memento
"Wanderers" will be available in the following formats:
•Earbook incl 7" Single with exclusive Track "Memento" and full instrumental album – Strictly limited to 500 copies
•2LP Gatefold Vinyl (Gold) – Strictly limited to 200 copies – Napalm Records Shop only!
•2LP Gatefold Vinyl (Ocean Blue) – Strictly limited to 500 copies
•Digipack + 2 Bonus Tracks
VISIONS OF ATLANTIS is set for heavy touring in 2019! At Bang Your Head!! Festival in Germany, the band around singer Clémentine Delauney will play a very special show with Orchestra for the first time ever – A must see for every fan of the genre! This occasion will also be recorded for the band's first ever blu-ray/DVD to be released in 2020!
The end of August starts the album Release Tour through Germany and Austria, before they hit the road with Freedom Call. Don't miss the breathtaking show, including songs of the new album "Wanderers."
Festivals

11.08.19 PT – Vagos / Vagos Metal Fest
16.08.19 CZ – Moravský Krumlov / Rock Heart Festival
17.08.19 SE – Lugnet, Falun / Sabaton Open Air
ALBUM RELEASE SHOWS
28.08.19 AT – Bruck/Mur / Dachbodentheater
29.08.19 DE – Munich / Backstage

30.08.19 DE – Bochum / Rockpalast
31.08.19 DE – Siegburg / Kubana
01.09.19 DE – Frankfurt / Nachtleben
Sepcial Guest for FREEDOM CALL:
04.10.19 SK – Kosice / Kasarne

08.10.19 DE – Hamburg / Knust

09.10.19 DE – Berlin / Musik & Frieden
10.10.19 DE – Aschaffenburg / Colos-Saal
11.10.19 CZ – Prague / Meet Factory
12.10.19 CZ – Zlin / Masters of Rock Cafe
13.10.19 HU – Budapest / Dürer Kert
16.10.19 DE – Cologne / Club Volta
17.10.19 DE – Stuttgart / clubCANN
18.10.19 DE – Erfurt / HsD
\
19.10.19 CH – Pratteln / Z7
For more information on VISIONS OF ATLANTIS, visit:
About VISIONS OF ATLANTIS:
VISIONS OF ATLANTIS is an Austrian-French-Italian Symphonic Metal band that was formed in August 2000 in the beautiful town of Bruck an der Mur. Visions of Atlantis uses harmonies of male and female vocals from the beginning of their career, which makes them extraordinary and distinctive from other bands of the genre. The band consists of Clémentine Delauney (vocals), Michele Guaitoli (vocals), Christian Douscha (guitar), Thomas Caser (drums) and Herbert Glos (bass).