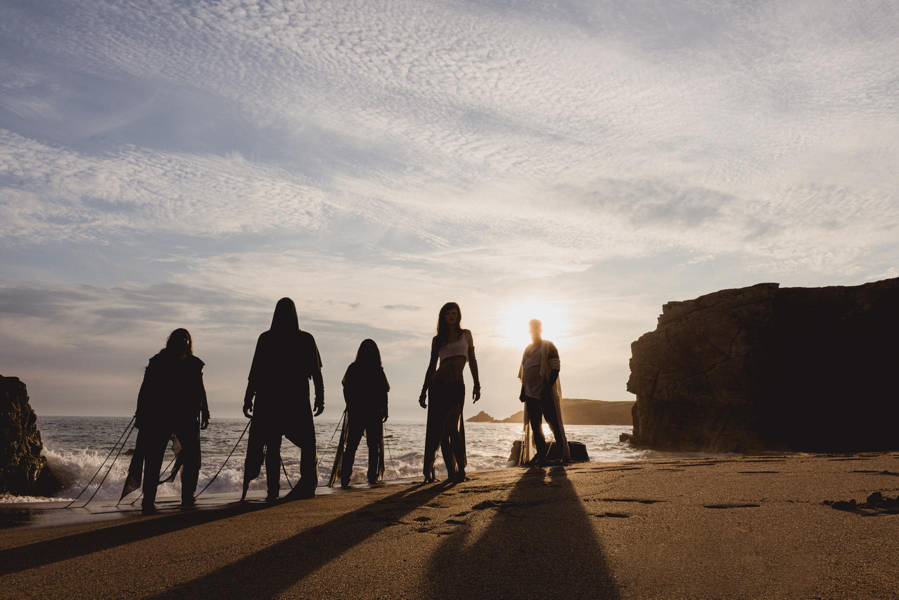 Digitally available everywhere TODAY!

Pre-Order The New Album Wanderers

HERE

!
VISIONS OF ATLANTIScontinue their way up to the top.
With VISIONS OF ATLANTIS' newest and third release "Nothing Lasts Forever" off their upcoming album "Wanderers," the listener will be put into a state of melancholy and thoughtfulness. The newest single speaks of fleeting moments in our lives and how we must cherish every one of them – without a single regret, because they cannot last forever.
VISIONS OF ATLANTIS on the new video:
"This is by far the richest and most emotional video VOA has ever released. It perfectly vehicles the universal message of the song "Nothing Lasts Forever" which is about living the moment and cherishing the present with our loved ones, before they go… We shot this video in the beautiful Styria in Austria, with nature and the very old castle "Rothenfels" as environments, to convey the timeless aspect of our message. Despite the sad connotation of the song theme, this video isn't dark for a metal band video, as we do believe the overall message to be positive and that it will touch music lovers of all genres and ages."
Watch the new official video
HERE
!
"A big congratulations for this album, I love the title track!"
(Alissa White-Gluz / Arch Enemy)
"Bold, diverse and captivating! VOA returns with an album ready to launch the band to the next level!"
(Thomas Younglood / Kamelot)
"Strong songs with amazing choruses."
(Mark Jansen / Epica)
"That's how symphonic metal has to sound like!"
(Chris Harms / Lord Of The Lost)
Tracklist:
1. Release My Symphony
2. Heroes Of The Dawn
3. Nothing Lasts Forever
4. A Journey To Remember
5. A Life Of Our Own
6. To The Universe
7. Into The Light
8. The Silent Scream
9. The Siren & The Sailor
10. Wanderers
11. At The End Of The World
Bonus Tracks:
12. Bring The Storm
13. In And Out of Love
Exclusive 7'' Single (Earbook only!):Memento
"Wanderers" will be available in the following formats:
•Earbook incl 7" Single with exclusive Track "Memento" and full instrumental album – Strictly limited to 500 copies
•2LP Gatefold Vinyl (Gold) – Strictly limited to 200 copies – Napalm Records Shop only!
•2LP Gatefold Vinyl (Ocean Blue) – Strictly limited to 500 copies
•Digipack + 2 Bonus Tracks
VISIONS OF ATLANTIS Live:
ALBUM RELEASE SHOWS
28.08.19 AT – Bruck/Mur / Dachbodentheater
29.08.19 DE – Munich / Backstage

30.08.19 DE – Bochum / Rockpalast
31.08.19 DE – Siegburg / Kubana
01.09.19 DE – Frankfurt / Nachtleben
Sepcial Guest for FREEDOM CALL:
04.10.19 SK – Kosice / Kasarne

08.10.19 DE – Hamburg / Knust

09.10.19 DE – Berlin / Musik & Frieden
10.10.19 DE – Aschaffenburg / Colos-Saal
11.10.19 CZ – Prague / Meet Factory
12.10.19 CZ – Zlin / Masters of Rock Cafe
13.10.19 HU – Budapest / Dürer Kert
16.10.19 DE – Cologne / Club Volta
17.10.19 DE – Stuttgart / clubCANN
18.10.19 DE – Erfurt / HsD
\
19.10.19 CH – Pratteln / Z7
For more information on VISIONS OF ATLANTIS, visit:
About VISIONS OF ATLANTIS:
VISIONS OF ATLANTIS is an Austrian-French-Italian Symphonic Metal band that was formed in August 2000 in the beautiful town of Bruck an der Mur. Visions of Atlantis uses harmonies of male and female vocals from the beginning of their career, which makes them extraordinary and distinctive from other bands of the genre. The band consists of Clémentine Delauney (vocals), Michele Guaitoli (vocals), Christian Douscha (guitar), Thomas Caser (drums) and Herbert Glos (bass).