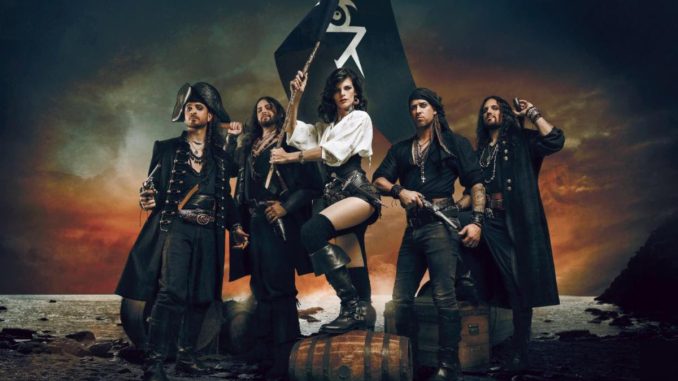 Watch NOW!
Pirates Over Europe Headline Tour Announced for April
North American Tour Begins February 7!
Hitting the German charts in the Top 20 for the first time, VISIONS OF ATLANTIS returned strongly with their most recent acclaimed studio release, 'Pirates' in 2022, followed by extensive touring through Europe and the US. There's no time to rest for the Pirates, so they start 2023 with the release of a brand new high quality official music video.

Capturing their dedicated fans in the video, the rousing single "Clocks" will make every symphonic metal enthusiast's heart pound faster. Fixing itself in the minds of the crowd forever, catchy harmonies are underlined by bouncy metal beats.

The single comes just in time for the band's announcement of their Pirates Over Europe tour, featuring support from Autumn Bride, and kicking off in Germany on April 4. The tour will follow their Pirates Over North America tour, featuring support from The Spider Accomplice and beginning on February 7 in Los Angeles, CA.

VISIONS OF ATLANTIS on "Clocks":

Clémentine Delauney: "We are so excited to be able to release a video for 'Clocks' as we love this song and we noticed that it quickly became one of our fans' favorites as well! We could tell from the crowd's response every time we started to play this song live last year! So here is a fun portrait of what enjoying life as a pirate can be about, remembering the clock is ticking… Let's all make a golden play out of 2023!"

Michele Guaitoli: "We couldn't have a better way to celebrate this new video release than with a tour announcement! Our 2023 won't only start with our first headlining US tour, that will see 'The Spider Accomplice' as special guests, but we're also announcing another European round in cities we couldn't reach during the previous run! Autumn Bride will join us for this new adventure…and believe it or not, more news will follow!

Watch the Official Music Video for "Clocks" HERE
Free as the seven untamed seas, the symphonic metal outfit unleashed their rebellious side with 'Pirates', and delivered their most confident and honest record so far. During their voyage, they played an extensive tour in the USA supporting Dragonforce, and headlined in Europe, selling out several venues, as well as multiple festival shows – beyond others at Wacken Open Air in summer 2022.
Experience VISIONS OF ATLANTIS on tour in 2023!
Pirates Over North America tour
w/ The Spider Accomplice
02/07/23 US – Los Angeles, CA / 1720
02/11/23 US – Seattle, WA / El Corazon
02/13/23 US – Denver, CO / The Oriental Theater
02/14/23 US – Minneapolis, MN / The Cabooze
02/15/23 US – Chicago, IL / WC Social Club
02/16/23 US – Detroit, MI / The Sanctuary
02/17/23 US – Pittsburgh, PA / Black Forge
02/19/23 US – Rochester, NY / Montage Music Hall
02/20/23 CA – Quebec City, QC / L'Anti Bar & Spectacles
02/21/23 US – Boston, MA / Upstairs
02/22/23 US – Brooklyn, NY / The Meadows
02/23/23 US – Clifton, NJ / Dingbatz
02/24/23 US – Atlantic City, NJ / Anchor Rock Club
02/25/23 US – Chapel Hill, NC / Local 506
02/26/23 US – Spartanburg, SC / Ground Zero
02/28/23 US – Dallas, TX / Amplified Live
03/01/23 US – Austin, TX / Come And Take It Live
03/03/23 US – Phoenix, AZ / The Rebel Lounge
03/04/23 US –Las Vegas, NV / Backstage Bar & Billiards
03/05/23 US – San Diego, CA / Brick By Brick
Pirates Over Europe tour
w/ Autumn Bride
04.04.23 DE – Cham / L.A.
05.04.23 IT – Bologna / Alchemica
06.04.23 CH – Monthey / Pont Rouge
07.04.23 FR – Montpellier / Secret Place
08.04.23 FR – Toulouse / L'usine A Musique
10.04.23 PT – Lisbon / RCA Club
11.04.23 ES – Mos-Pontevedra / Sala Rebullon
12.04.23 ES -Madrid / Revi Live
13.04.23 ES – Vitoria / Urban Rock Concept
15.04.23 BE – Gent / JH Asgaard
16.04.23 NL – Amersfoort / Fluor
18.04.23 DE – Aschaffenburg / Colos Saal
19.04.23 DE – Saarbrücken / Garage
20.04.23 DE – Essen / Turock
21.04.23 DE – Hannover / Musikzentrum
22.04.23 DE – Nuremberg / Der Cult
23.04.23 AT – Klagenfurt / Volxhaus
VISIONS OF ATLANTIS are:

Clémentine Delauney – Vocals

Michele Guaitoli – Vocals

Dushi Duscha – Guitars

Herbert Glos – Bass

Thomas Caser – Drums

FOLLOW VISIONS OF ATLANTIS: