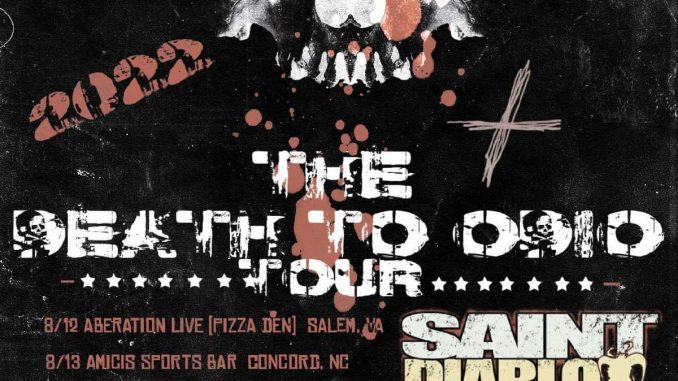 The Death to Odio Tour featuring Saint Diablo, Artusha and The Plan is heading to the East Coast in August 2022. With nine dates in six different states, this is THE Independent US East Coast Metal Tour of the year. Find a date near you!
8/12 Aberation Live – Salem, VA
8/13 Amicis Sports Bar – Concord, NC
8/14 Riff House – Chesapeake, VA
8/19 Dingbatz – Clifton, NJ
8/20 "The Church" – Lebanon, PA
8/21 VFW Pavilion – California, MD
8/26 TBA
8/27 Another Round Bar and Grill – Richmond, VA
9/2 Bad Habits – Martinsburg, WV
photo by Preta Path Photography
About ARTHUSA:
ARTUSHA is a finely tuned Groove Metal quintet that doesn't strictly adhere to the boundaries of genre. Creatively, it's as if they have combined raw power and the weight of meaning with a genuinely curious heart which makes something beautiful and filled with purpose. It's not just a band, it's a way of life.
ARTUSHA is an independent band that does just about everything in house. All music is recorded, mixed and mastered in guitarist David Lander's studio Zero Label Studio.
When you buy a ticket to see ARTUSHA or turn up their latest single, you will experience something bold and uncompromising. True to themselves, they write, produce and perform above all for the passion and love of music and soul. Bonded by a long standing history together and native to Richmond, Virginia. ARTUSHA is Kent Stewart (Vocals), David Landers (Guitar), Caylon Landers (Guitar), Brian Hase (Bass) and Cody Mausolf (Drums).
ARTUSHA online:
https://www.facebook.com/Artusharva/
https://www.instagram.com/artusha_rva/
https://www.youtube.com/channel/UCS9J8pNUHg1YMVTwrmKxAZQ
https://www.bandsintown.com/a/3647637
photo by Brandon Delano
About SAINT DIABLO:
SAINT DIABLO are a savage Latin Metal band who hail from Virginia. Three years after releasing their self-titled national debut, Saint Diablo returned with their sophomore metal masterpiece entitled, Devil Horns and Halos'(2015). The album was produced by Tim "Rumblefish" Gilles (Anthrax, Taking Back Sunday, Ill Nino) at Big Blue Meenie studios in Jersey City, NJ. The album featured ten ferocious tracks of raging metal which captured the band's abilities as songwriters and performers as they had never been showcased before. SAINT DIABLO are Tito Quinones (Vocals), Justin Adams (Guitar), Anthony San Pietro (Drums), Jessie Hailey (Bass).
Facebook.com/officialsaintdiablo
Instagram.com/Saint_Diablo
Founded in Fredericksburg VA by guitarist Chris, THE PLAN is a heavy metal act with a passion to write and play heavy music while having the time of their lives. Deeply influenced by Pantera and their signature heavy groove, THE PLAN set out to bring it back while also fusing in their own brand of deathcore creating a unique vibe. Dominating one stage at a time. THE PLAN is Chris Dodd Jr. on guitar, Josh Trautman on drums, Sean Harmon on vocals and David Dodd on Bass.

Facebook.com/theplanfxbgva

Instagram.com/the.plan.fxbg.va.official