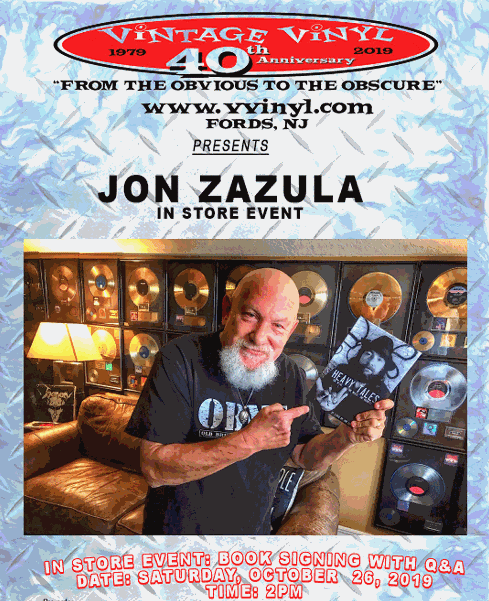 Jon Zazula, founder of Megaforce Records, will celebrate the release of his new book, Heavy Tales. The Metal. The Music. The Madness., with an in-store signing atVintage Vinyl Records in Fords, NJ, on Saturday, October 26 from 2 to 4 p.m.
This event will also feature a Q&A session with Jon Zazula. This will be Zazula's only New Jersey signing.
Rob Roth, Owner, Vintage Vinyl Records says, "Jon Zazula is a New Jersey legend who changed the course of musical history."
Says Zazula, who also notes the irony of appearing at Vintage Vinyl, a longtime destination for metal fans throughout the Tri-State area and an early competitor of Zazula's own Rock N' Roll Heaven stores in East Brunswick and Clark, NJ, "Ever since the early days of Rock N' Roll Heaven, I was competing with Vintage Vinyl to be the coolest record store in New Jersey. Now, 38 years later, I am appearing at Vintage Vinyl and everything is coming full circle. I'm so jazzed and I can't wait to be back in New Jersey with my friends again. This should be loads of fun."
Heavy Talesis the detailed, never-before-told story of how Jonny Z founded legendary New Jersey-based label Megaforce Records with his wife, Marsha, and built a dynasty unmatched by others – forever changing the scope of heavy metal.
In the winter of 1982, Jonny Z received an unexpected demo tape from underground, unsigned band Metallica. Eager and determined to have the music heard by the entire world, Jonny and Marsha founded Megaforce Records in 1983, and soon after, released Metallica's debut album, Kill 'Em All. Current Metallica guitarist Kirk Hammett even made his debut with the band at a show in Dover, NJ. Through the release of Kill 'Em All, Megaforce cemented its position as the de-facto music label in America for heavy metal – but that's just the start. The bands they would go on to work with released some of the most prolific and important albums in heavy metal history, giving it its Golden Era.
Heavy Talesdetails the stories of how visionary Jonny Z worked miracles by releasing the first records by Metallica and also by managing and launching the careers of metal and rock giants Anthrax, Testament, Mercyful Fate, Raven, Overkill, Exciter, Stormtroopers of Death, Method of Destruction, Ace Frehley, King's X, Ministry, Mindfunk, Nudeswirl, Warren Haynes, Disco Biscuits and others, and how one night in 1984, he embarrassingly created the persona of rap metal guru The Lone Rager and penned a classic rap metal mashup.
Pre-orders for the book are available now, in-person at the Fords, NJ, store or online at
www.vvinyl.com
. Event wristbands are included with the pre-orders. The Q&A is open to the public but a wristband guarantees the book signing. Vintage Vinyl Records is located at 51 Lafayette Road, Fords, NJ 08863.
Heavy Tales is set for an official release on Tuesday, October 29.
Photo: Gary Schwartz
About Jon Zazula:
Jon Zazula, is the visionary known the world over as Jonny Z, has lived an intense life. Born in 1952, he began his extraordinary journey as a renegade youth who went from living on the streets of the Bronx in New York City, to later working on Wall Street, and eventually (and unexpectedly) transitioning into the music business and discovering metal music's royalty, including Metallica, Anthrax, Testament, Overkill, Exciter, Stormtroopers of Death, Method of Destruction, Ace Frehley (solo career), King's X, Ministry, Mindfunk, Nudeswirl, Warren Haynes, Disco Biscuits andmany others.
From humble beginnings with a record shop called Rock N' Roll Heaven in Clark and then East Brunswick, NJ, Zazula went on to establish the iconic Megaforce Records and Crazed Management in 1981. The offices were originally based out of the Zazulas' home at 60 York Street in Old Bridge, NJ, before moving to suburban East Brunswick, Manalapan and eventually Morganville, NJ.