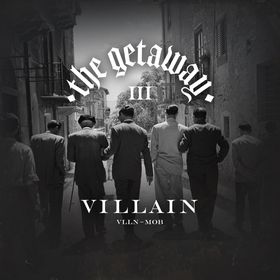 By Austin Bowcutt
2020 has brought us wildfires, hurricanes, tornados, earthquakes, and a global pandemic. There have been almost zero upsides to this year. Until now! Salt Lake City hardcore veterans Villain have jumped in like a group of superheroes to provide some light in this darkness with their devastatingly brutal release ACT III- The Getaway. This seven-song EP grabs your attention from the first song, and it never lets it go.
The album's title track, "The Getaway," starts off the murderous onslaught of heavy-hitting songs. Lulling you into a sense of ease, the track begins with a clean guitar slowly picking along with a melancholy trumpet line when abruptly, Villains enters. The ferocity of Trent Falcone's vocals has been ringing in my head since my first listen. This vocal style reminds me of the iconic 90's hardcore band Unbroken. A layered bellowing emanating from deep in one's soul shouting the chorus, "Make no mistake. There is no one coming to save you."
Track three, "Demons," showcases the driving bass lines of Spencer Jacobs. This heavy and thick sounding bass tone mixed with Trent's vocals remind me of early Deftones.
A highlight of this album is Track four "Destroy Everything." The song begins with the rhythmic primal sound of Brad Butterfield's drums surging over the ringing distorted tones of guitar. As the song progresses the instrumentation begins to converge into an impenetrable wall of sound. The recording engineer has added a panning stereoscopic sound to help intensify a disorienting feeling of the arrangement. This shows this is not your typical "hardcore" album.
Rounding out the favorite tracks on the album is the final installment titled "Forgiveness." The hauntingly beautiful vocals layered over what I can only describe as a throwback to early 80's metal guitar sounds thrown down by Justin Spencer and Jay Wilkinson.
An experienced group of musicians and a deft audio engineer have crafted an album that is interesting and new without being an unlistenable mess of exploration. This album hit on all cylinders from beginning to end. If you are looking for something heavy, hard, and vulgar, then ACT III-The Getaway by Villain is the album for you. The album is available now via the band's Facebook page and all streaming sites.
ACT III- The Getaway was recorded by David Evanoff at David Evanoff Sound Designs.
For more information on new releases and news you can follow Villian at :
https://www.facebook.com/villainslc/