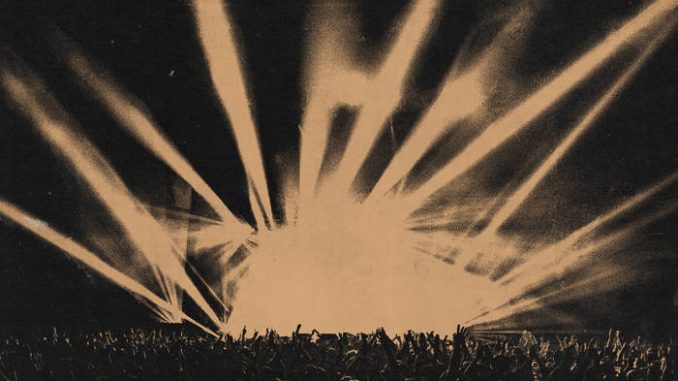 Villagers of Ioannina City, an experimental psychedelic/rock band from Ioannina City (Greece) released a monster of a record in April 2020.
The album titled Age of Aquarius was originally released by Mantra Records in September 2019. Six months later though, AoA was re-released to the masses by Napalm Records in April 2020.
By the time the re-release hit the streets, the global pandemic was in full swing. Live music events were simply non-existent.
Fortunately, the event stemming from a true story and a real dream is now available. VIC played a headline show to their fellow Greek countrymen at the Faliro Sports Pavilion Arena in Athens. Evidence of this magical night from February 15, 2020 is ready for a listening and visual experience in video and audio formats.
The band premiered the video footage of this night that has been titled Through Space & Time (Alive in Athens) via their YouTube Channel on May 1, 2021. The digital soundtrack in download / streaming formats are readily available as of Friday, May 21, 2021 through VIC's bandcamp page.
Through Space & Time sees the band playing AoA in its entirety except for "Sparkle Out of Black Hole." Now the song does play as the credits for the film roll at the end.
VIC opens with "Welcome" from AoA, followed by the eight minute title track and "Part V." It's at this point that VIC steps back pulling "Nova," "Perdikomata" and "Skaros" from Riza, their 2014 release.
The band returns to AoA for "Dance of Night" followed by "Zarva" from their 2014 EP. VIC circles back for "Arrival," "Father Sun" and "Millennium Blues from AoA.
The Greeks once again reach back to Riza for "Ti Kako" followed by "Audience I," audio from within the crowd. This allows VIC to take a breather while relishing in the moment that has blossomed in front of them.
Recharged, VIC revisits "Cosmic Soul" and "For the Innocent," the first single from AoA. With the energy level already amped up, the onstage video footage behind VIC increases the intense energy level even more. "Audience II" allows for another short break. VIC performs the 11:27 "Karakolia" from the EP which closes out the incredible set.
The folk elements that VIC utilizes in their music are all there. The inclusion of the didgeridoo, bagpipes and flute elevate Through Space & Time even more. Those elements are not just on AoA, they're part of the VIC's musical DNA. These things were consistent throughout the night.
Add the multi camera angles, incredible camera work, footage fluidity from all perspectives, thus resulting in stunning footage.
A clutter free stage and massive projection screen stretching the width of the stage just add to the concert package.
Live releases these days have become more common and at times, more of filler in a band's discography. That's not the case for Through Space and Time. The album may just be a contender the live album of 2021 even though it was captured 15 months prior. Whether visually or digital, it's an amazing capture of 17 tracks over a two hour period.
For purists, there is hope on the horizon. There is an overwhelming demand and Through Space & Time is on the books for a release by Napalm Records in physical formats this fall. At this time though, no other information is available.
Such a release of this magnitude may have traditionalists rethinking downloads among a sea of vinyl against the wall. A seven Euro or higher recommended purchase just may pacify those music purists. It will be well worth it but most of all, great health for the musical soul.