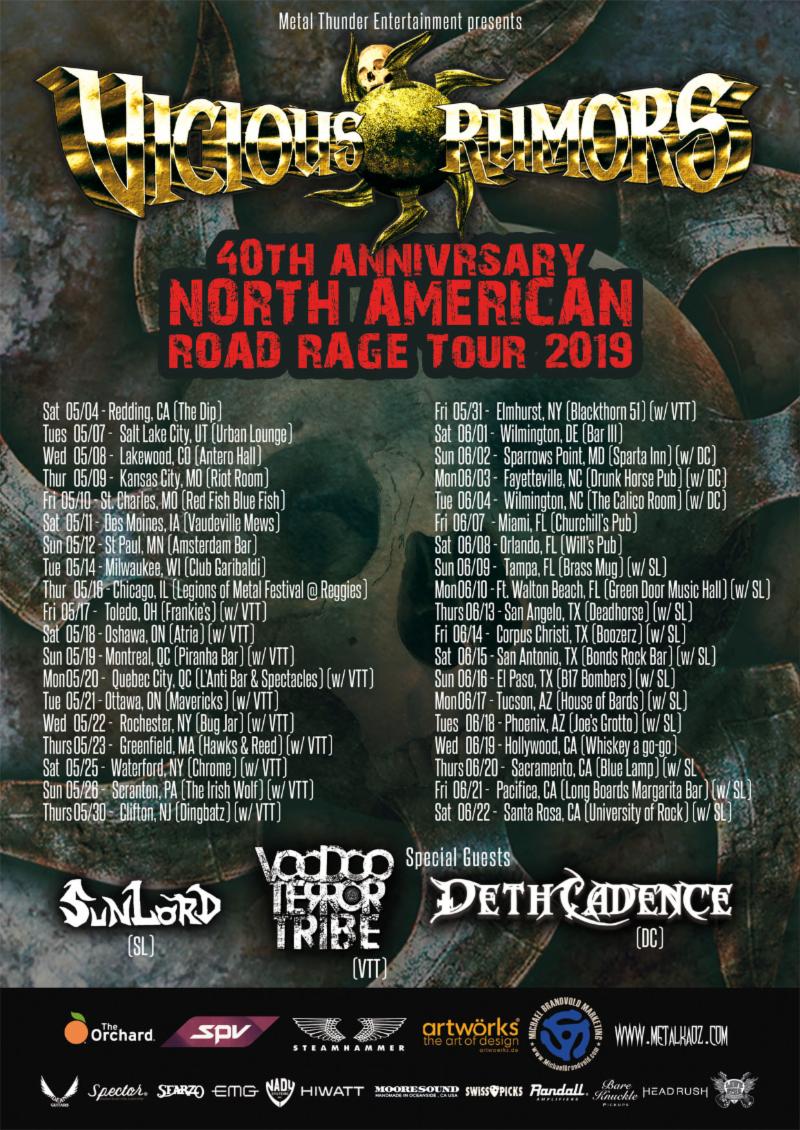 | | |
| --- | --- |
| VICIOUS RUMORS Announce "40th Anniversary Road Rage" North American Tour" and "30th Anniversary Digital Dictator" European Tour! | |
Metal legends Vicious Rumors announce the first 38 dates of the "40th Anniversary North American Road Rage Tour" with special guests Voodoo Terror Tribe, Sunlord and Deth Cadences on select dates.
Geoff Thorpe said: "Its been an incredible year of touring! The fan response has been fantastic! We're ready to hit the road and make a killer new album! After a crushing 45 dates in the states in 2018 the band returns with a new show from May 4 to June 22nd!"
The tour will follow the 4 week European "Digital Dictator Tour" this April. Vicious Rumors will be performing in Spain, Italy, Switzerland, Germany, Austria, Belgium and the Netherlands. Some of the highlights will be the Delta Metal Meeting, Tattoo Fest and the legendary Full Metal Cruise.
11 full weeks of metal madness with no end in sight! The band is also currently in pre-production for a new studio album.
The best is yet to come!
VICIOUS RUMORS
"40th Anniversary Road Rage" North American Tour 2019
special guests: VOODOO TERROR TRIBE, SUNLORD & DETH CADENCES
5/4: Redding, CA – The Dip
5/7: Salt Lake City, UT – Urban Lounge
5/8: Lakewood, CO – Antero Hall
5/9: Kansas City, MO – Riot Room
5/10: St. Charles, MO – Red Fish Blue Fish
5/11: Des Moines, IA – Vaudeville Mews
5/12: St. Paul, MN – Amsterdam Bar
5/14: Milwaukee, WI – Club Garibaldi
5/16: Chicago, IL – Legions Of Metal Festival
5/17: Toledo, OH – Frankie's
5/18: Oshawa, ON – Attria
5/19: Montreal, QC – Piranha Bar
5/20: Quebec City, QC – L'anti Bar & Spectacles
5/21: Ottawa, ON – Mavericks
5/22: Rochester, NY – Bug Jar
5/23: Greenfield ,MA – Hawks & Reed
5/25: Waterford, NY – Chrome
5/26: Scranton, PA – The Irish Wolf
5/30: Clifton, NJ – Dingbatz
5/31: Elmhurst, NY – Blackthorn 51
6/1: Wilmington, DE – Bar III
6/2: Sparrows Point, MD – Sparta Inn
6/3: Fayetteville, NC – Drunk Horse Pub
6/4: Wilmington, NC – The Calico Room
6/7: Miami, FL – Churchill's Pub
6/8: Orlando, FL – Will's Pub
6/9: Tampa, FL – Brass Mug
6/10: Ft. Walton Beach, FL – Green Door Music Hall
6/13: San Angelo, TX – Deadhorse
6/14: Corpus Christi, TX – Boozerz
6/15: San Antonio, TX – Bonds Rock Bar
6/16: El Paso, TX – B17 Bombers
6/17: Tucson, AZ – House Of Bards
6/18: Phoenix, AZ – Joe's Grotto
6/19: Hollywood, CA – Whiskey A Go Go
6/20: Sacramento, CA – Blue Lamp
6/21: Pacifica, CA – Long Boards Margarita Bar
6/22: Santa Rosa, CA University Of Rock
VICIOUS RUMORS 30th Anniversary "Digital Dictator" European Tour 2019
special guests: AIR RAID & MAGISTARIUM
03.04. ES-Barcelona – Upload Club
04.04. ES-Zaragoza – Sala Lopez
05.04. ES-Valencia – Paberse Club
06.04. ES-Irun – Club Tunk
08.04. IT-Milan – Slaughter Club
09.04. IT-Florence – Circus Club
10.04. IT-Rome – Traffic Club
11.04. CH-Lenzburg – Metbar
13.04. DE-Mannheim – Delta Metal Meeting
15.04. AT-Vienna – Viper Room
16.04. DE-Munich – Backstage
17.04. DE-Nürnberg – Der Cult
18.04. NL-Leiden – Gebr. de Nobel
19.04. BE-Deinze – Elpee
20.04. NL-Uden – De Pul
21.04. NL-Nijverdal – Tattoo Fest
24.04. ES-Mallorca – Full Metal Cruise
For More Info Visit: