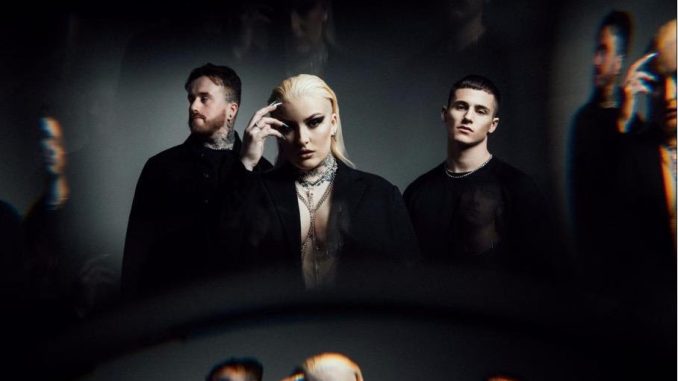 + Official Music Video | Watch HERE!
New Album, 'Negative Energy',
Out June 23, 2023 | Pre-Order NOW!
One of the hottest newcomers in alternative metal, UK trio VEXED, unleash their second single off of their anticipated sophomore full-length, 'Negative Energy', out on June 23 via Napalm Records! The disturbingly heavy new track is entitled "X my <3 (Hope To Die)", and comes with a haunting official music video.

Fierce "X my <3 (Hope To Die)" deals with the eternal question of what happens after death, and the idea that it should be okay to never get this answer. Vocalist Megan Targett's vicious growls kick right in after the lurking intro, and together with heavy drum patterns and electronic-sounding guitars, her multifaceted vocals create a captivating, restless soundscape.

VEXED's crushing first single "Anti-Fetish" has already received great attention! The track was recently aired on BBC's Radio 1 Rock Show, and is currently in rotation on SiriusXM Liquid Metal while commanding at #6 on their weekly countdown show, The Devil's Dozen. Upon release, it was lauded by the likes of Revolver (Best New Songs), Loudwire (Weekly Wire), Knotfest and many more, and was also added to various official Apple Music, Spotify, Tidal and Deezer playlists.

VEXED on "X my <3 (Hope To Die)":

"'X my <3 (hope to die)' was the catalyst for 'Negative Energy'. After months of writers block and feeling like giving up, this song opened the floodgates for inspiration and creativity. Inspired by the victims of religious extremists, cults or abuse of power, this song is about how one person shouldn't be able to dictate other people's lives based on their own personal opinions."

Watch the Official Music Video for "X my <3 (Hope To Die)" HERE
'Negative Energy' achieves pinnacle musicianship and gripping, profound and brave lyricism. Instead of opting for forced positivity like many of their contemporaries, the Hertfordshire three-piece channel every ounce of their 'Negative Energy' into these 13 tracks – recharging themselves for an uphill battle.

The band states:

"We are so proud to present to you our second album. Since our first release, we have each endured traumatic experiences, surrounded by death, betrayal, pain and grief. In order to find any strength, we first had to accept that we weren't okay, then take our trauma and face it head on, sharing our vulnerability, fears and weaknesses. Instead of forcing ourselves to try and be positive we put all our negative energy into the album in order to begin our own repair and to overcome."
Haunting intro track "PTSD" sets a stage of dread for the carnage to come. "We don't talk about it" – featuring pitch-shifted verses emulating a disguised voice – explores childhood trauma and survivor's guilt. "X my <3 (Hope to die)" deals with what happens after we die and that it should be okay to never get this answer, while "Panic attack" centers on mental health issues, representing terror and frustration through heavy riffs and grooving vocals.

Furious "Lay down your flowers" (feat. Alpha Wolf vocalist Lochie Keogh) showcases extreme vocals and bombarding drums, while disturbingly groovy following track, "There's no place like home", draws inspiration from 'The Wizard of Oz'. The unbelievably heavy "Extremist" gets straight to the point, kicking off with fast and demanding vocal rhythms, while "Default", on the other hand, displays multifaceted lead singer-to-watch Megan Targett's high-soaring clean vocals juxtaposed against her menacing deep growls. This is equally evident on standout, dynamic "Trauma Euphoria", also featuring some of the most impressive guitar work on the album.

The album's most emotional offering, "It's Not The End", serves as a magnificent dedication to a loved one passing away while manifesting their legacy, before sliding into instrumental interlude "DMT" – cradled by lo-fi beats with hints of 808, delivered in fresh VEXED style. Intense album finale "Nepotism" wraps up 'Negative Energy' with a knot of rage before slowly fading out into darkness. 'Negative Energy' proves itself as a stunning, devastating musical conduit – ventilating the band's pain-stricken burdens and breathing life into their fresh approach, delivered with a vengeance.
'Negative Energy' Track List:
1. PTSD
2. Anti-Fetish
3. We don't talk about it
5. Panic attack
6. Lay down your flowers
7. There's no place like home
8. Extremist
9. Default
10. Trauma Euphoria
11. It's not the end
12. DMT
13. Nepotism
'Negative Energy' will be available in the following formats:
1-LP Gatefold Baby Blue – Napalm Records Online Shop + EMP only (ltd. to 300 copies)
1 CD Digisleeve + T-Shirt – Napalm Records Online Shop only
1-LP Gatefold Black
1 CD Digisleeve
[1-LP Gatefold Baby Blue]
VEXED are:

Megan Targett – Vocals

Jay Bacon – Guitar

Willem Mason-Geraghty – Drums