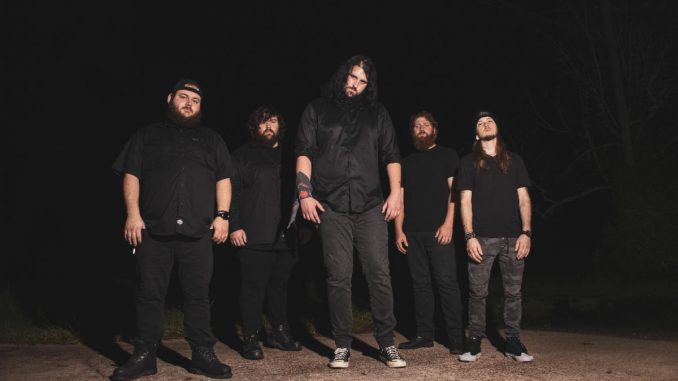 BATON Rogue, LA – VENTRUSS RELEASE THEIR NEW SINGLE/VIDEO
"SPIRIT OF THE CHOSEN"
FROM THEIR NEW EP THE SERPENT. Bringing with them into the studio that same high intense energy their listeners experience live Ventruss continues to carve their name across the defining edge of the southern Hard Rock/Metal scene.
ABOUT:
A heavy, dark, and melodic sound, straight out of Baton Rouge, LA, Ventruss is on a mission to spread their infectious sound to the entire world. Formed in 2012, the current lineup consists of Ben Jewell on vocals, Shawn Saizan and Jesse Newman on guitar, Jake Chenevert on bass, and BJ Davidson on drums.
For fans of Avenged Sevenfold, All That Remains, and Trivium, Ventruss will be the perfect fit for you.
In early 2014, Ventruss hit the studio with David Troia (Evanescence, Down, Godsmack) to begin recording their 7 track EP entitled Come Alive which was released December 26, 2014, and received a significant amount of airtime on Louisiana radio stations such as Planet Radio 105.1 out in Lafayette, and the now-defunct Rock 93.7. In July of 2017, Ventruss took their talents to Eric Woolard of Warlord Studios in Jackson, Mississippi and released their second self-titled effort Ventruss released on February 23, 2019. Their second EP broadened their fanbase and received airplay throughout national and international radio stations.
May of 2020 gave Ventruss their biggest struggle yet. The pandemic had just ensued and it was time to come through with another release. Unsure if it was in their best interest, they went back to Warlord Studios to complete their third release. Their first singles "Talladega", "Sentiment", and "Serpent" received several spins around the world and kept their ship sailing. During this time, Ventruss signed a management deal with Orlando, Florida-based MVK Music Group.
Ventruss has played several shows throughout the United States, rocking big venues such as the House of Blues in downtown New Orleans, Welcome To Rockville in Daytona Beach, Florida featuring Metallica, Slipknot, etc., and shared the stage with national and international touring artists such as Cannibal Corpse, Superjoint, Hellyeah, Pop Evil, Tetrarch, All That Remains, Starset, Puddle of Mudd, 12 Stones and many more. Ventruss is set to continue its uphill stride with their upcoming EP release The Serpent released on April 22, 2022.
The sound is unique, unexpected, and stays with you. You will be headbanging one minute, then singing melodies the next. It will satisfy your taste for all types of heavy metal and leave you wanting what is next.
VENTRUSS RELEASE THEIR NEW EP 'THE SERPENT' ++++ THEIR SINGLE "SPIRIT OF THE CHOSEN"
"This EP has been a huge stepping stone for the band. Our new material shows the true meaning behind what this band stands for. We worked through a major pandemic, dealt with personal life-changing events, and pushed through the gritty workmanship of creating an album that we know took everything out of us to make. These songs will kick your a** and we are proud of it!"
Engineer – Eric Woolard; Studio – Warlord Studios; Film Production Manager – Khader Alherimi; Film Production – Dreamseeker Productions
THE SERPENT EP
Track List:
Relinquished
Facebook:
Twitter:
Instagram:
https://www.instagram.com/ventruss_official/?hl=en
Spotify:
https://open.spotify.com/album/4tUYBAF4Q0Wo40B59pm1fN?si=_cJGeXpXSly9FW3bEKZINg
TikTok:
Ventrussband
Website:
Purchase Album The Serpent:
https://music.apple.com/us/album/the-serpent-ep/1617323860
Merchandise:
https://ventrussmusic.com/merch-store/
Ventruss would like to thank: All of our family and friends who allow us to do what we do, Steven Sessum Jr., Mikey Baham, John Rabaste, Chris Culter, Chance Martinez, Brad Saizan, Dustin Loupe, Michael Jarreau, Attila Czako, Brian Paul, Allyson Song River Jaynes of CowGirlZen Entertainment Publicity, The entire team at MVK Music Group, The Sound 228, Rock Rage Radio, Melody Baylis, Seth Thomas, Cujo Wolf, Janet Olive, Debbie Addest, Steven Larson, Christian Larson, Jody Snapp, Christi Gran, James Cripps, Steven Seuferling, When Dark, Thousand Years Wide, Danny Wimmer Presents, Space Zebra show, The Varsity Theatre, House of Blues New Orleans, Josh Dartez, Josh Cook (RIP), Khader Alherimi along with Dreamseeker Productions, Christian Wilkinson, Ty Trehern, Dexter Rousseau of Rousseau's Reptiles.
The nice people of Jackson, Mississippi who are always hospitable every time we go up there.
This album is dedicated to the memory of:
Craig Jewell
Steven Sessum Sr.
Josh Cook
Hanna Steele
Joe Pickens