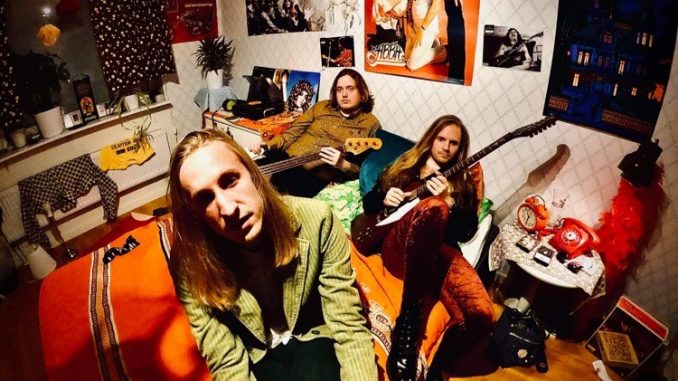 New Album 'Rock n' Roll Glitter Suit' out July 16
Velvet Insane are following up the success of their new album 'Rock N' Roll Glitter Suit' with a lyric video for the track "Space Age DJ". The band comments:
"This video is a tribute to all the music that We love and everything we are. It's a magnificent piece of art made by our good friend Martin Sweet from Crashdiet."
VELVET INSANE – "Space Age DJ" (Lyric Video)
Velvet Insane formed in 2013 as a four-piece outfit, but by the time of their self-titled debut album, they were billed as a duo. The first album took them around the world touring Europe, Japan, the USA & Australia.
Their critically acclaimed debut was a fresh mix between classic rock, pop, inches of folk influences and it also contained traces of early 70's British glam rock. And the band kept walking that glam track and now they're back as a trio and this time it's glam glitter boogie all over.
They hired the cult glam rockers Diamond Dogs frontman Sulo as a producer and together they've created a bright shining monster. The 11-track-long 'Rock 'n' Roll Glitter Suit' sounds, breathes, and swaggers like it was made in London 1973. Smooth pop harmonies pumped up by heavy drums and barbed wire guitars and a singer that wear it well. It brings back memories of a time when Slade, TREX, Bowie & Roxy Music were topping the charts.
From the catchy singalong choruses of the pop gems "Velvet Tongue", "Riding the Skyways" & "Sound of Sirens" to the frantic boogie energy in barroom stompers "Driving Down the Mountain", "Backstreet Liberace" & "Space Age DJ", it's the real thing. You also get a glimpse of Ziggy Stardust in the acoustic ballad "Midnight Sunshine Serenade".
Velvet Insane are a band that plays with their hearts on their sleeves and its satisfaction guaranteed. Dregen and Nicke Andersson from The Hellacopters jump in the backseat in "Backstreet Liberace" and just like Rolling Stones honoured the tradition of Muddy Waters blues Velvet Insane takes on the job to keep rock 'n' roll alive.