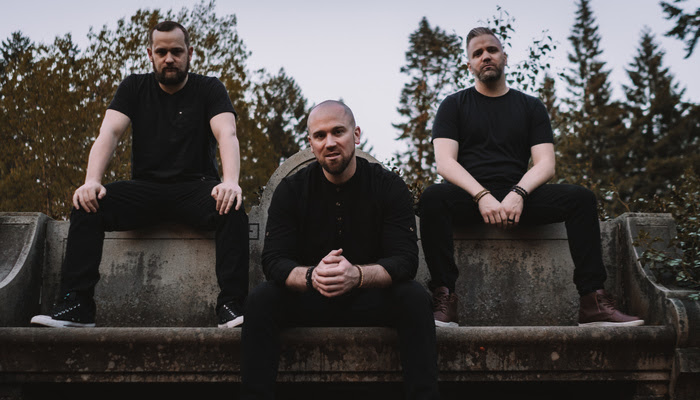 Lead Single "Flare Of Defiance"
Breaks Top 30 At Active Rock Radio,
Named Top 10 Metal Contraband Track
Alt Metal-Prog Rockers From Portland
Marked 1 Million Spotify Streams in 2020
Following Tours With Seether, Tremonti, Starset
(Photo: Morgan Larsen)
Following the release of a bold new track last September—the popular radio hit "Flare of Defiance"—Portland, Oregon's alt metal-prog hard rockers Veio are set to release their new album Vitruvian on June 19 through Silent Majority Group.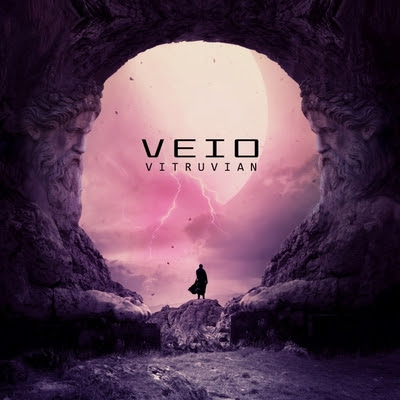 Inspired by the name of a famous sketch from Leonardo da Vinci in 1490, the band has conceptualized and translated the artist's legendary "proportions of man" into a sonic interpretation by giving each song on Vitruvian a theme, emotion and proportion of its own.
"The themes and emotions distinctly expressed on this record are defiance, self-ownership, spirituality, anxiety and depression, deceit, bloodlust, grief and awe and wonder," says bassist/vocalist Kris Lewis who joins brothers Cameron Byrd (vocals/guitar) and Brett Byrd (drums) in the project, which is named for an Etruscan city-state during the time of the Roman Empire.
Vitruvian was recorded over a year-and-a-half with Stephan Hawkes (Chelsea Grin, Attila, I Declare War) at Interlace Audio in Portland, with additional production by Sylvia Massy (Tool, System of a Down) who has called Veio "the loudest band" she ever recorded. To her point, the cops were called as the band tracked drum parts.
"We have experimented in taking the programming and synth production to a level we've never incorporated before," adds Lewis. "We have also spent a lot of time on new guitar tones and effects to take, what we feel, is a step forward for our music. We wanted to incorporate subtle elements of electronica to give it a bit of a cinematic effect to enhance the depth of the instrumentation, while still playing around with odd time signatures and polymeters and maintaining anthemic and singable choruses."
The first single, "Flare Of Defiance" was a hit at Active Rock Radio, entering into the Top 30, while also being named a Top 10 Metal Contraband Track. After being placed on a number of official playlists, the song has also helped the band reach the 1 million streams benchmark on Spotify in recent weeks.
Vitruvian follows Veio's 2017 debut album Infinite Light/Desperate Shadows and tours with the likes of Seether, Tremonti, Starset, The Veer Union, Skyharbor and RED.
Veio is part of the notable Silent Majority Group that has managed the careers of Creed, Saving Abel, Paramore, Candlebox, Sevendust, Tantric, Framing Hanley and Brother Sundance. SMG is a music company made up of Silent Majority Recordings, a global and fully functioning record label currently promoted and distributed by Warner Music Group/ADA, and JHMP, a full-service artist management company.
Here's what the press and industry veterans have said about Veio:
"We get that comparing a band to the highly revered Tool is sacrilege to many, but these boys deserve to be at least in the conversation for their mature and dynamic sound creations."
– Matt Simon, Ear to the Ground Music Blog 

"With comparisons being made to Tool and Thrice, it's a lot to live up to. I see it as a nod to Veio's genuineness and quality control for the music they put out there. Every new Veio song I hear lives up to expectations."
– Todd McCarty (GM Fearless / VP Sales at Sony/Century Media) 

"Veio are that unique combination of progressive, metal and alternative that produces a memorable style that few bands are able to achieve."
– Roie Avin (Prog Report)
Find Veio Online: